If you have been looking out for some of the best Translation Apps for Android, then your search is now finally over. We have curated a list of some of the most exciting and easy to use translation apps that you can download and try on your Android phones right now! Read on to learn more about a few of our top picks that are available on the Google Play Store.
With the increase in global smartphone sales, it is no surprise to see companies like Xiaomi and OnePlus dominating even the eastern part of the globe. Believe it or not, smartphones are much more in use and popular in terms of availability and purchase in countries from Asia than they are in the rest of the Western world. The problem with this little scenario is that there are several apps and services that aren't being translated by the developers who make popular apps, mostly geared towards the English speaking countries. It is in this area where the widespread use of Translation apps comes into action.
Forget about native apps, translation services can be a life-changing feature to those who like to travel a lot, and find it difficult to navigate about new areas and talk to people using a different language. In the recent few years, there has been a lot of development and improvement in terms of translation apps and the AI behind it. Stuff like live translation, translation straight from images instead of text, voice input, and output, and more have taken the center stage when it comes to translation apps. However, which ones should you invest your time and interest in? While there are plenty of such translation apps available to download on the Google Play Store, we have curated a list of some of the best for you guys down below!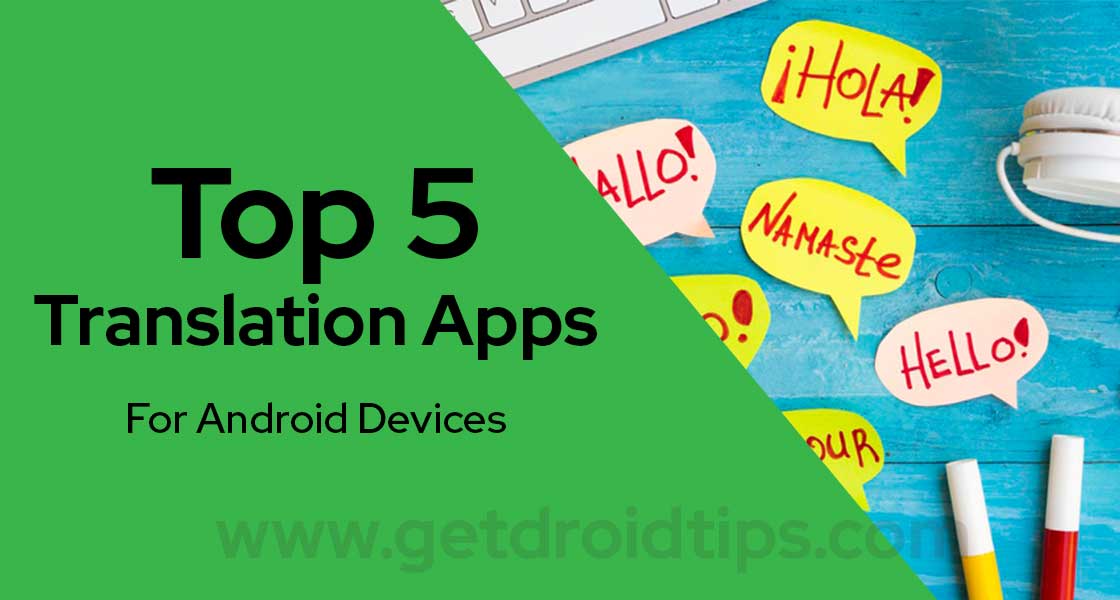 Top 5 Translation Apps for Android in 2020
All of the apps mentioned below have been tried and tested by yours truly, and I recommend only those apps that provide a fulfilling user experience. As far as availability goes, most of the apps we've mentioned below are free, to begin with, but run on a freemium basis which means users can opt into buying the premium versions which unlocks a whole lot of other cool features. Overall, if you don't plan on spending any money for a translation Android app, you can still enjoy most of the listings here too! With that being said, let's take a look at our top picks!
#1 – Google Translate
The first mention on our list is the most obvious, and also the most feature-packed in our opinion. Yep, we are talking about Google Translate, the app that started it all. Being made by large cooperation such as Google itself, you benefit from accurate translation, and AI-enabled features thanks to the wide amount of data that Google gets to collect and analyze upon. The app itself is neat and has several features. For starters, you can instantly translate text and voice from over 103 different languages, and that's the highest as far as a translation service available to the masses and go! You can also use the live translate feature to quickly pull out your phone, grab a picture of any image that has any text in a foreign language, and Google Translate will do its best to translate it for you. Even without the internet, you can translate to and from over 59 different languages. There is also a two way instant translation feature that is useful for when you want to talk to a different linguistic person without wasting any time while typing. Lastly, you can also type on the screen, and Google will use the OCR feature to convert it into text and keep the translation ready for you. You can grab the latest version of Google Translate over at the Google Play Store by following the link below :
#2 – Microsoft Translator
Next up is Microsoft Translator, and it is in many regards very similar to Google Translate. Firstly, you can translate from and to over 60 different languages, and choose to have any language locally saved on your phone for offline use. This makes the offline translation feature of Microsoft Translator much more powerful than Google Translate. You also have the live translation feature where you can partake in a conversation with a different lingual person, and the app will live translate all of whatever he/she is saying. This works both ways, so the person on the other end also gets a live translated version of your text in his/her language. However, Microsoft Translator takes this to the next level by implementing the same feature to work in a group call supporting over 100 different people, now that's just fantastic! Other features include being able to save recurring translations or languages for ease of access, sharing your translated text or images to other apps, and much more. You can grab the latest version of Microsoft Translator over at the Google Play Store by following the link below :
#3 – Translate All – Speech Text Translator
The third pick on our list today goes by the name of Translate All and is in our opinion one of the most minimally designed translation apps available to download on the Google Play Store. The app has a rich taste in UI and other design elements and has big, bold options and toggles to choose from, making it easier for anyone to understand and use. Translate All also has an extensively good data collection that allows translations from over 60 different languages, and that too, accurately. With this app in hand, you can use the instant translation mode for quick and efficient text conversion, and also star a few languages or translated sentences later for use. You can grab the latest version of Translate All over at the Google Play Store by following the link below :
#4 – Hi Translate
Next up is an app named Hi Translate, and it is mostly geared towards Asian languages such as Hindi, Marathi, and more. What makes this app so cool to use is the fact that you can seamlessly integrate it with chat services such as WhatsApp, Facebook Messenger, Hike, Telegram, or more. The way it works is pretty ingenious. You get a floating ball whenever you're chatting with someone in a different language, and you can expand this to automatically translate their sentences into your preferred language, and also vice-versa. You can use the powerful clipboard translation feature to get copied sentences translated much faster than you normally could. Of course, you will have to provide a few accessibility permissions for the app to have the floating ball feature, and we feel it is really useful in long conversations over text. You can grab the latest version of Hi Translate over at the Google Play Store by following the link below :
5 – U-Dictionary: Oxford Dictionary Free Now, Translate
Weird name aside, the U-Dictionary app has a powerful translation feature built-in that we thought would intrigue a lot of you readers! Not only does it support over 108 different languages, but has an extensive dictionary mode for 12 different languages too. This means you can rely on translating even the most complicated of words without breaking a sweat using this application. You can also point your phone at any text in real life, and it will use the live camera translation feature to live transcript the written text in your preferred language. Just like Hi Translate that we talked about above, U-Dictionary also has a magic floating ball feature that users can use to quickly get translations done while being involved in long conversations on apps such as WhatsApp, Messenger, Telegram, Viber, and more. You can grab the latest version of U-Dictionary over at the Google Play Store by following the link below :
That's all folks! We hope you enjoyed our roundup of some of the best translation apps for Android devices to make things simpler! Which one among the list is your favorite, and how many of these translation apps have you already known or have been using? Know other good Android translation apps that you feel people might find interesting? Do let us know in the comments section below, we'd be delighted to hear from you guys!