It doesn't matter you are transferring your videos from one PC to another or transferring a huge file to a backup network drive. You need it to happen fastly. Even though you have time, it is better to look at the real world instead of looking at the progress bar. It's time to transfer files at warp-speed using Teamviewer's latest version.
Teamviewer is a lifesaver when it comes to remote desktop connections and sending files for both personal and professional use. But the transfer speed in Teamviewer is not as fast to facilitate large file transfers. In the modern world, everything is deemed to be fast, whether it is your connections, replies and anything else. So it's a little bit inconvenient to wait an extended period of time just to transfer a file.
The transfer speed of sending and receiving files in Teamviewer depends majorly on your connection type and network speed. But with the latest Teamviewer 12/13 file transfer protocols, this is improved and new users can send or receive files at super speed. So in this article, we will explain how you can transfer files at warp speeds using Teamviewer version 12 or 13.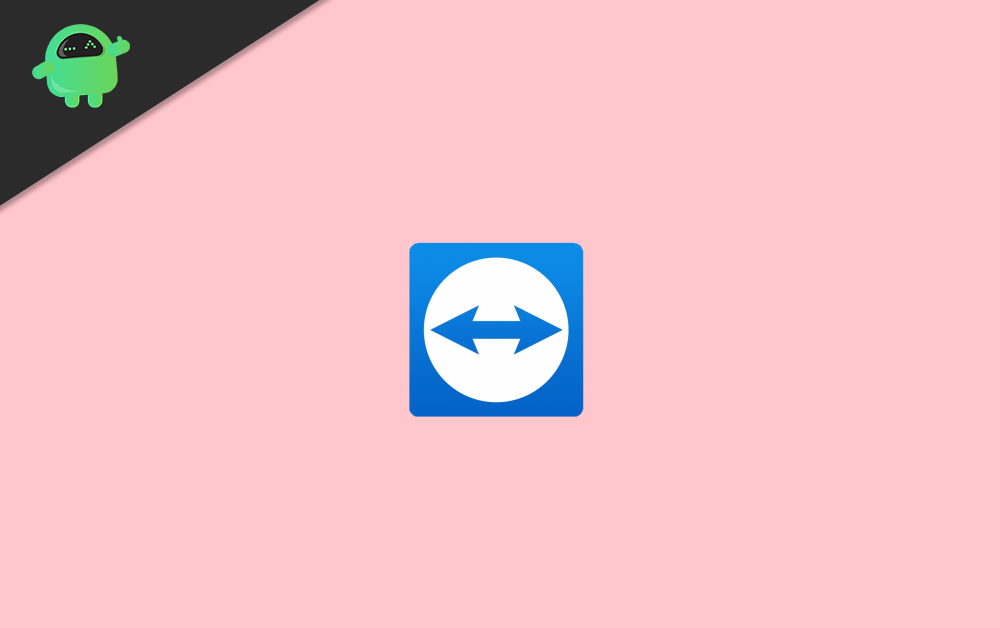 How To Transfer Files at Warp Speed Using TeamViewer 12/13 File Transfer
Even though you have a faster LAN connection, say 1 GB ethernet, or faster, your file transfer speeds will depend on more than just that. It depends on the file size, no of files you are transferring, your CPU speed available, RAM, and at last, the software or the operating system. So, in theory, what Teamviewer does is compress the file from the sender's end and decompressed it on the receiver's end.
This reduces the file sizes and results in faster transfer speeds. So in practice, you should get much more transfer speeds when compared to normal file sharing through Explorer or any similar software. Along with compression, Teamviewer also performs file splitting, which can again increase the transfer speeds.
Method 1: When Connecting to a remote computer
When connecting with Teamviewer, you get to choose from two options. One is Remote Control, and another one is File Transfer. So When connecting, you have to select the File transfer option listed under the Partner ID box then, as usual, enter the password for the target system.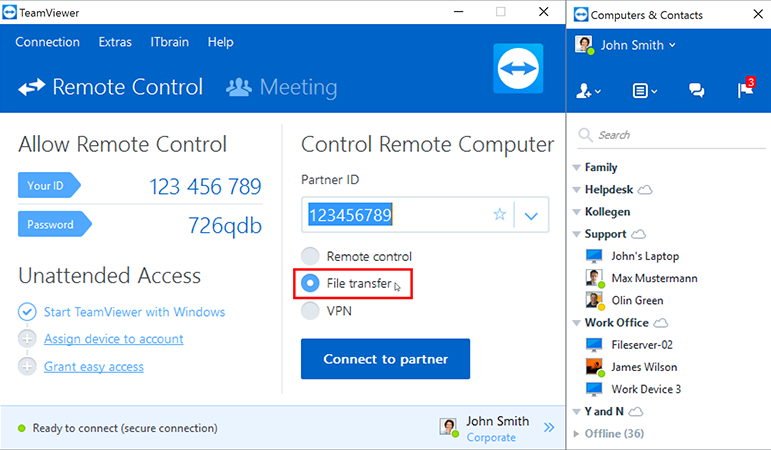 (Image Credits: Team Viewer)
Once connected successfully, you can send files from your computer to the remote computer and vice versa. You can also drag and drop files between connected computers to transfer files.
Method 2: After connecting to Remote Computer
If you did not choose the file transfer option when connecting, don't worry. Because you can also transfer files after establishing a remote control connection. To do so,
Expand the options menu bar in the Teamviewer.
Click on Files and Extras.

(Image Credits: Team Viewer)
Select open file transfer to open the file transfer menu.
Method 3: From the File Explorer
If you have navigated to a file that you want to send to a remote system, you can use the send to dialogue in the file explorer. However, it works best when you have added some computers to your contacts list.
Open the File Explorer and navigate to the file you wish to transfer.
Right Click on the file and click on Send to
Select Team Viewer from the options listed.

(Image Credits: Team Viewer)
Select the target computer you wish to send it to.
Accept the file transfer request on the remote computer.
That's it, and you can start sending the file straight from windows explorer.
Although as mentioned above, the download speed will depend on other factors as well. So you have to take care of those factors as well. You cannot expect much more from it. Although sometimes, when compared to the existing file transfers methods, this could be a real time-saver.
Conclusion
So as you can see, this is how you can transfer files with your Teamviewer. Although I have mentioned that this is for TeamViewer 12 and 1also bean be also applied to 10 as well. Although you cannot get higher speeds as the technology has been optimized from versions 12 onwards. So if you are running an older version of Teamviewer, upgrade it to the latest version to get the most out of it.