In-game chat is a voice conversation that allows you to interact with everyone in the match you're playing. On the other hand, party chat is a voice chat that allows you to interact with those you invite or invite in a group on your Xbox consoles. You can use the party chat on Twitch.
With the Twitch Party chat, you can easily interact with the audience you have invited to join the party. But unfortunately, some Xbox gamers may experience issues with Twitch party chat from time to time.
If your Twitch party chat is not working on Xbox One, Xbox Series X|S, and you don't know how to fix it, we'll show you how in this troubleshooting article. So, let's get started with this troubleshooting article:
Reason Why Twitch Party Chat Not Working on Xbox Console
Twitch Party Chat not working on Xbox console can be caused by various reasons, including internet connectivity issues, privacy settings, outdated software, or incorrect configurations. Some possible reasons are:
Internet connectivity issues: Poor or unstable internet connectivity can cause problems with the Twitch Party Chat on Xbox.
Privacy settings: Xbox privacy settings may prevent users from joining or participating in a Twitch Party Chat.
Outdated software: Outdated software versions may cause compatibility issues, leading to problems with Twitch Party Chat.
Incorrect configurations: Incorrectly configured settings in the Xbox console or Twitch app may cause issues with the Party Chat feature.
Xbox Live Service outage: In some cases, Xbox Live Service may experience an outage or maintenance, which can cause Party Chat problems
How To Fix Twitch Party Chat Not Working on Xbox One, Xbox Series X|S
If you cannot hear yourself or others on your Twitch broadcast, then here are some fixes that will help you regain the previous state again. So, let's get started with those fixes:
Fix 1: Restart Twitch App
Initially, you must restart your Twitch app on the Xbox console because there are chances that your device may not be able to run the app properly due to some temporary cache files. Therefore, you must try restarting your Twitch app and check if the party chat again started working or not.
Fix 2: Reboot Your Xbox Console
If the issue doesn't get resolved by restarting your app, you need to reboot your Xbox console to give your device a fresh start by flushing the RAM. So, you have to can simply use the steps to reboot your device:
Initially, press the

Xbox

button on your Xbox controller.

Thereafter, you require to select

the

Profile & System

.

Then, navigate to

Settings

and click on the

General

option.

Now, tap on the

Power Mode & Startup

.

That's it. Now, tap on the

Restart Now

button along with the

Ok

.
Fix 3: Party Chat Server Are Down
Chances are also there that the party chat servers may be down, due to which it stops working on your Xbox console. Therefore, if that's the case, then except waiting, you do not have any other option. To check out the latest news and updates regarding this, you can follow the Twitch officials on Twitter.
Fix 4: Check Your Internet Connection
In order to use the Twitch party chat on your live stream, a good internet connection is very important. However, if you have any issue with your internet because this might be the main reason why your Twitch party chat is not working on your Xbox console.
Therefore, we suggest you check if your internet is working and do so; you can simply hover to the Ookla speed tester website to check the speed. Meanwhile, in case you find that your internet is not working, then power cycle your router/modem using these steps:
First of all, turn off the power button.

Then, plug out all the cables connected to your router/modem.

Finally, wait for 1-2 minutes and plug in the cable. Then, turn on the power button.
Now, simply check if the internet speed comes back to its normal state. Once your internet starts working again, the Twitch party not working issue automatically gets resolved.
Fix 5: Check The Xbox Server Status
Did you check if your Xbox is connected to the Microsoft servers or not? Well, chances are there that your Xbox may not be connected to its server; therefore, you must check out the DownDetector.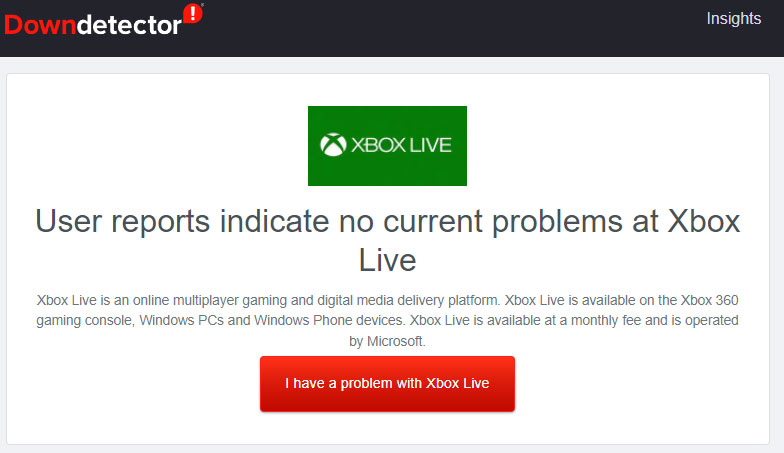 You must check if other users are also there who reported the same. Also, we advise you to hit the I have a problem with Xbox button; this helps other users to know that they are not alone in this world who faces this issue.
Fix 6: Install System Software Update
Keeping your Xbox system software is very important because sometimes an older version of the system software may come up as the main cause behind this type of issue.
So, we suggest you to check if your Xbox system software has any pending updates. However, if you find any updates, then install them and check if the issue gets resolved or not.
Fix 7: Update The Twitch App
It is worth mentioning that keeping your Twitch application also helo you to resolve the party chat not working issue. Hence, we advise you to check for Twitch updates on your Xbox console using these steps:
Initially, use your controller and press the

Xbox

button to open the guide.

After that, tap on the

My games & apps

and click on the

See all

.

Finally, select the Twitch app from the list and check if it is updated or not.
Fix 8: Check The NAT Type
Using the proper NAT type on your Xbox will be the best because this enables you to connect to other people with no issues. So, a wrong configuration of NAT type may be the reason why you are getting this Twitch Party Chat not working issue. Therefore, you can use these steps to change it:
Initially, go to the Xbox

Home screen

and tap on the

Settings

.

After that, tap on the

Network

.

Then, click on the

Test network connection

.

That's it. If you wish to check the NAT type, tap the

Detailed Network Statistic

on the previous network screen.
Fix 9: Contact To Support Team
In case you have tried all the fixes we have mentioned in this guide, then it may be possible that you may not fix this issue from your end. Therefore, it is suggested to contact the Xbox support team and let them know about this error so that they can investigate and start working on it.
So, that's all on how to fix the Twitch party chat is not working on Xbox One, Xbox Series X|S. We hope that this troubleshooting article may help you. But, if you still have any doubts or queries, comment below and let us know.