In this tutorial, we will show you the steps to unlock the bootloader on Xiaomi Poco F1. This device revolutionized the budget segment by making the Snapdragon 845 chipset affordable for the masses. Up until that point, getting one of the highest-end chipsets along with 256GB 8GB RAM and Adreno 630 was something that not many could have imagined. But after this device, all this has become along the expected lines.
Furthermore, the device runs on Xiaomi's own Android skin dubbed as MIUI. This is among the most customizable OEM skin with a plethora of baked-in features. But as an everyday user, these tweaks are mostly related to icon packs, themes, and changing font styles. However, there exist a plethora of other modifications that you could carry out on your Poco device. All that is needed is an unlocked bootloader, and in this guide, we will help you achieve just that. So without further ado, here the steps to unlock the bootloader on Xiaomi Poco F1.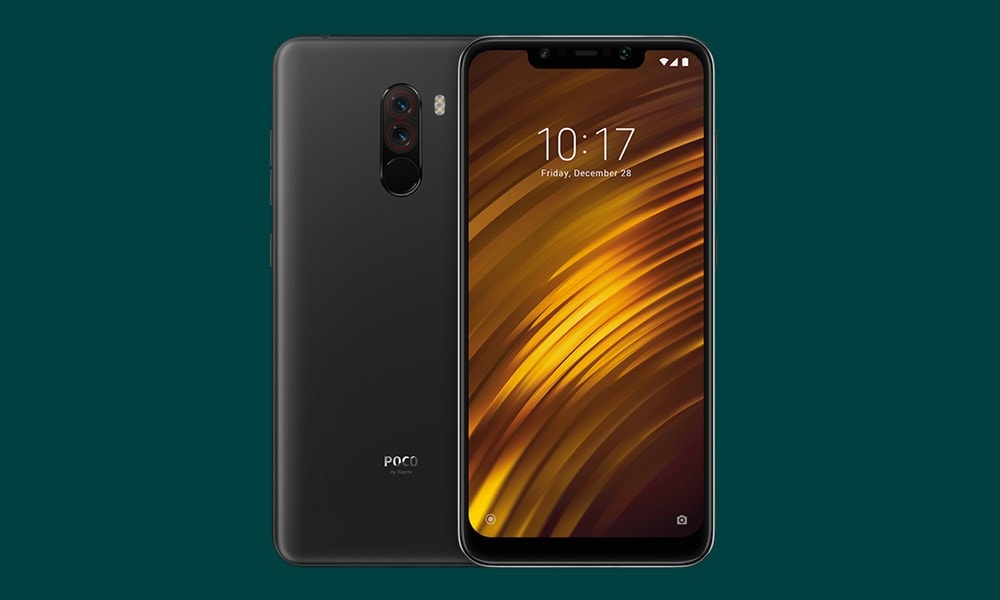 What is Bootloader?
A bootloader is a software program that instructs what all programs the OS needs to load at boot time. Along with that, it also helps in booting your device to recovery. By default, every OEM ships their devices with a locked bootloader, and Xiaomi is no different. The reason for their part is simple: they want the user to only use the stock OS experience that they have provided.
However, not everyone seems to be a fan of MIUI. As a result, they could take the help of the custom developments to modify the device as per their liking. And that is the reason they end up unlocking the bootloader. With that said, here are all the perks and risks of an unlocked bootloader.
Advantages and Risks of Unlocked Bootloader
Once the bootloader on your device is unlocked, you could install a custom ROM, or replace the device's stock recovery with a custom one like TWRP. This in turn will help you to take Nandroid backup, flash ZIPs and IMG files, etc. Then you could also gain administrative privileges by rooting your device via Magisk. This will then allow you to try out Substratum Themes, Xposed Frameworks, and tons of other mods. However, this process comes with a few risks and caveats as well.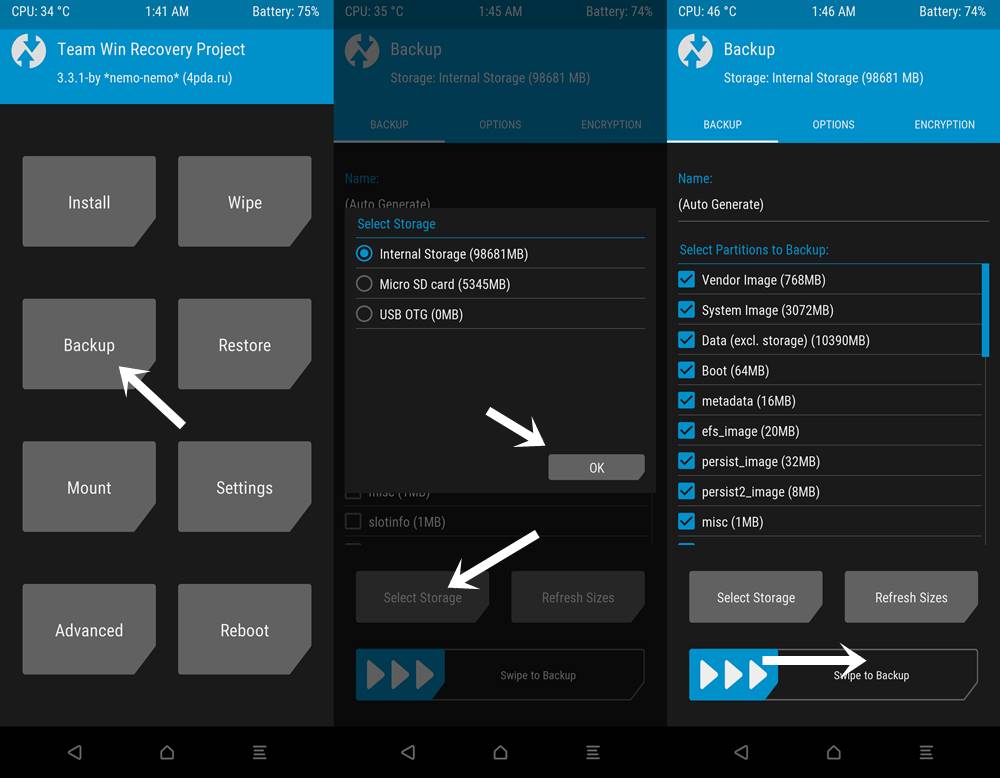 To begin with, you might lose the warranty on your device. Furthermore, all the data will be wiped off. Along the same lines, apps like Google Pay, Pokemon GO, and Netflix might have issues in their proper functioning. The entire process is itself risky and might brick your device if not done correctly. With this, you have got a perfect knowledge about the risks and perks of this process. If you are ready to proceed ahead, then here are the steps to unlock the bootloader on Xiaomi Poco F1.
How to Unlock Bootloader on Xiaomi Poco F1
Before we list out the instructions, there are a few requirements that your device needs to qualify. Please go through them before you start off with the unlocking process.
Prerequisites
STEP 1: Enable USB Debugging and OEM Unlocking on Poco F1
First off, you will have to enable USB Debugging and OEM Unlocking. The former is needed so that your device gets recognized by your PC in ADB Mode while the latter allows you to unlock the device's bootloader. So here is how both of these could be enabled: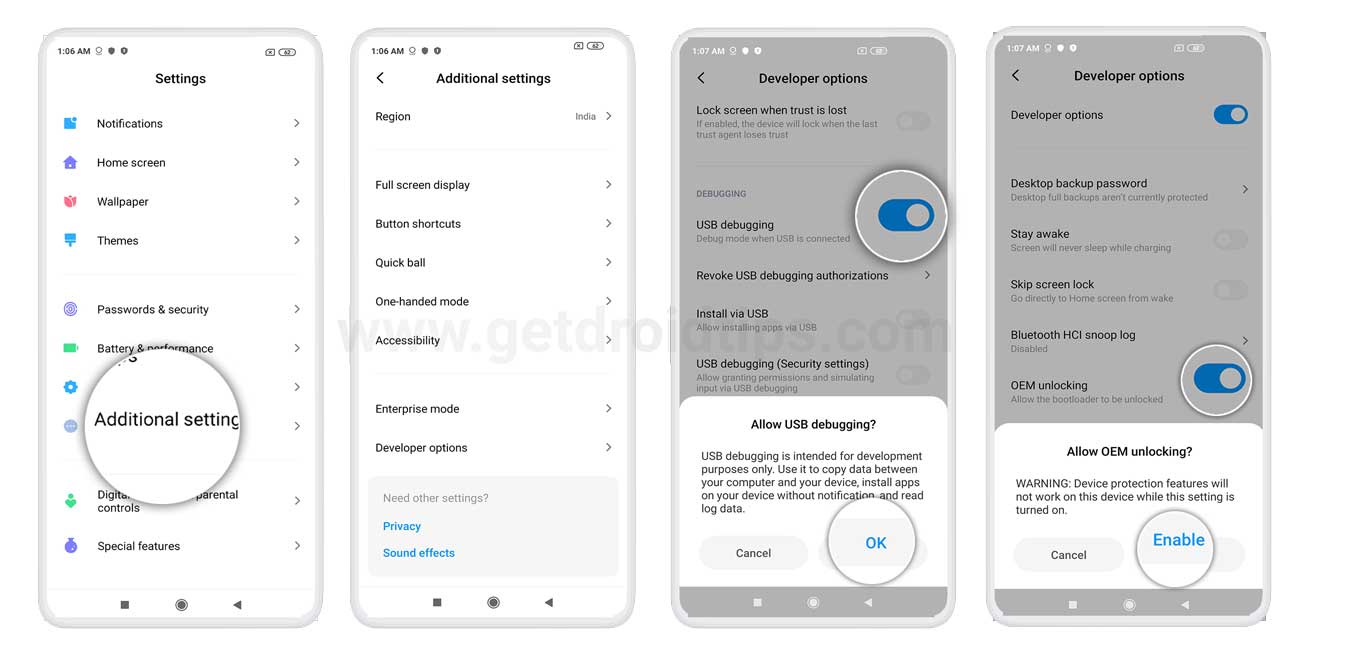 Head over to Settings on your Xiaomi device.
Then go to About Phone and tap on the MIUI version 7 times.
Now go back to Settings and tap on System.
Within that, go to Additional Settings and tap on Developer Options.
Finally, enable both the USB Debugging and OEM Unlock toggles.
STEP 2: Bind your Mi Account to Poco Device
You will now have to bind your Mi Account to your Poco device. For that, you will need to have a Xiaomi account. If you haven't created one, then do so right away using this link. Once the registration is complete, you may then proceed with the below steps:
Head over to Settings on your Xiaomi device.
Then go to Additional Settings followed by Developer options.
Scroll to the Mi Unlock Status option and tap on it.
Now tap on the Add account and device button situated at the bottom and proceed with the on-screen instructions.

At this point in time, make sure you have inserted the SIM card. When Xiaomi asks for a phone number, enter the same that you are currently using on your device.
After this, your Xiaomi account will be linked to your device. You should get the message that "Added successfully. MI account is associated with this device now".
You may now proceed with the steps to boot the device to Fastboot and then unlock the bootloader on Xiaomi Poco F1.
STEP 3: Boot Poco F1 to Fastboot Mode
Connect your device to PC via USB Cable. Make sure USB Debugging is enabled.
Then head over to the platform-tools folder, type in CMD in the address bar, and hit Enter. This will launch the Command Prompt window.

Execute the below command in the CMD window to boot your device to Fastboot Mode:

adb reboot bootloader

Fastboot Mode Xiaomi

You should now see the famous Mi Bunny logo with the Fastboot text written. With that, you may now start the process to unlock the bootloader on Poco F1 via Mi Unlock Tool.
STEP 4: Unlock the Bootloader on Poco F1
Launch the Mi Unlock Tool on your PC. Make sure that your device is connected to PC via USB cable, and is booted in Fastboot mode.
You will now have to sign in to this tool. Enter the same details that you had used while binding your device with the Mi Account. It will then verify whether the account is linked or not. Since you have already done so in STEP 2, you should get the Phone Connected message.

After this, click on the Unlock button in the Mi Unlock Tool. A confirmation message will then pop up, click on the Unlock anyway button.

The tool will then wipe off the data from your device and start off with the unlocking process. It should take a couple of minutes. Once the process completes, the tool will display the Unlocked Success message.

Finally, click on the Reboot phone button to boot up your device.
With this, we conclude the guide on how to unlock the bootloader on Xiaomi Poco F1. Do keep in mind that the first boot might take up some time, this is completely normal. Furthermore, you will also have to set up your device from scratch as a complete device wipe has taken place. Apart from that, if you have any other queries, do let us know in the comments section below. Rounding off, here are some iPhone Tips and Tricks, PC tips and tricks, and Android Tips and Trick that you should check out as well.