2020 has been largely known as the year of quarantine, and by a good measure. Most people would admit that their daily usually activities have dried out just thanks to the fact that they can't step out of their homes. While many people have resorted to doing different tasks such as helping around their houses or learning something new from online courses, a lot of us have gone back to good old gaming with our friends. This is also the reason why game sales have skyrocketed within the past couple of months.
So if you do find yourself gaming a lot with your pals, you also must have a way to talk to them while enjoying your game. Discord is one such application that is widely regarded as the king of voice chats and video calls. It works great with almost every game you could think of and has options that specifically favor gamers. You can create different voice lobbies in different servers, add bots to enjoy services such as music or memes, and have a proper hierarchy within your server if you have a lot of participants in it.
However, there isn't always glitter and gold when it comes to any specific service. Discord isn't perfect and many people still only use it because there's no good alternative, or at least that's what they think. The truth is that Discord has a lot of good competition out there and you just have to look in the right place. In this read, we have broken down some of the best Discord alternatives that you can try in 2020 to spice up your voice calls with the best of your friends or family members! With that being said, sit back, relax, and enjoy the read!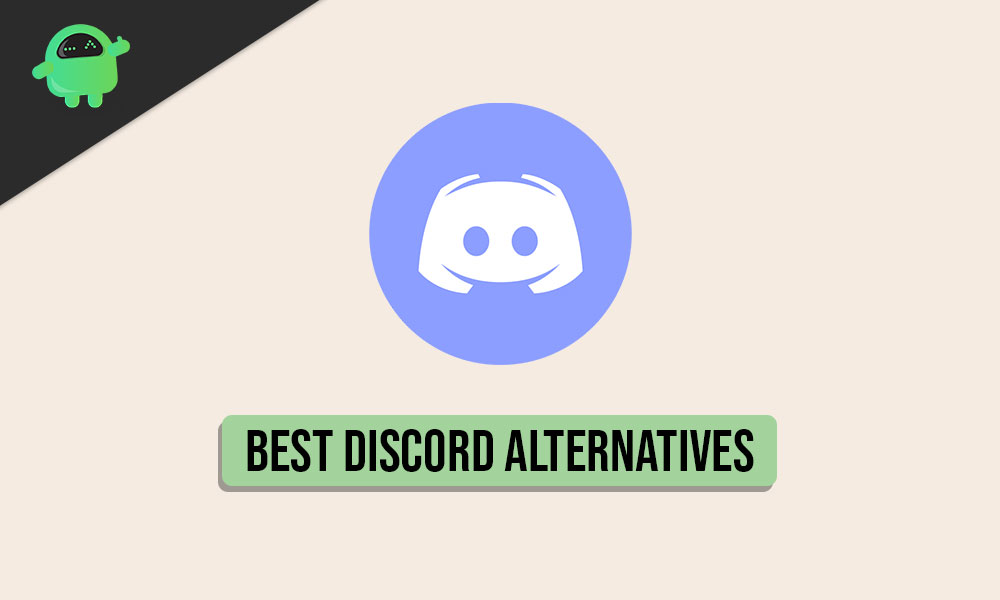 Best Discord Alternatives You Should Try in 2020
1. TeamSpeak
Kicking the list off, we have probably the best VoIP Discord alternatives that you can find. TeamSpeak is a strict voice and text-only service that allows you to have a robust communication with your team members while playing a game. It is so reliable and lag-free that it is in fact what most pro players use in the gaming and e-sports industry.
TeamSpeak has many handy options that you can use to enhance your voice calls to give better callouts and communication. It has an automatic microphone adjustment mode which does exactly what it says and levels your microphone input to match your ambient sound to give off a much more uniform sound output to your teammates.
Another aspect where TeamSpeak is better than Discord is security. Discord has had some fishy occurrences in the past and the server raid issues have been all over the internet. TeamSpeak solves this by having military-grade encryption and security to all of your servers. A new member can step his/her foot inside your server only if the admin specifically invites them over.
There are many other great things about TeamSpeak that one will start to appreciate the more they use it. You get access to over 100 different add-ons including skins, voice filters and stickers. We would recommend TeamSpeak to those who don't have full faith in Discord's own security or to those who want a much more streamlined voice chatting experience while playing a competitive game. You can learn more about TeamSpeak by following the link given below:
TeamSpeak
2. Overtone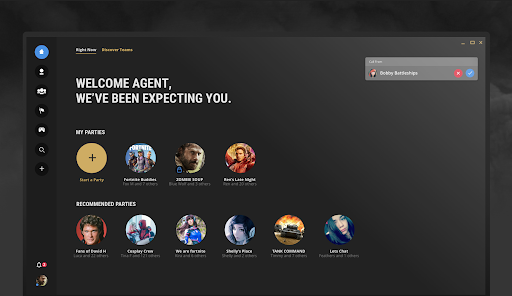 Next up is Overtone, which is one of the best discord alternatives you can try – in the sense that it follows a very similar design language and also the same philosophies. So in case your computer just cannot handle the amount of RAM and CPU that Discord asks for (which is quite high indeed), then Overtone might be an option that you could consider trying out.
When it comes to the design and UI, Overtone absolutely smashes its competition. It has sections and themes built for specific games that you play and settings that will adapt accordingly as well. The design is quite similar to Discord and will take only a little time to get used to. The app is also what is being recommended by most of the large gaming studios out there such as Tencent, Apex and more.
Overtone is also home to gaming communities which are filtered based on either the game studio or individual games. You can thus find and try out new games that you might not have known about before. This is also a great way to find new teammates for the games you play. Some examples of the most popular gaming communities that you can find on Overtone are Apex Legends Official, GTFO Official, Call of Duty, Nintendo Switch and more.
Apart from all the goodness that you can get out of the community features, Overtone offers a lot of customizability to your own private servers as well. As we mentioned previously, Overtone is quite reminiscent of Discord and thus feels like a homely experience. Overtone would be our top recommendation to those who are finding compelling Discord alternatives for gaming. You can learn more about Overtone by following the link given below:
Overtone
3. Slack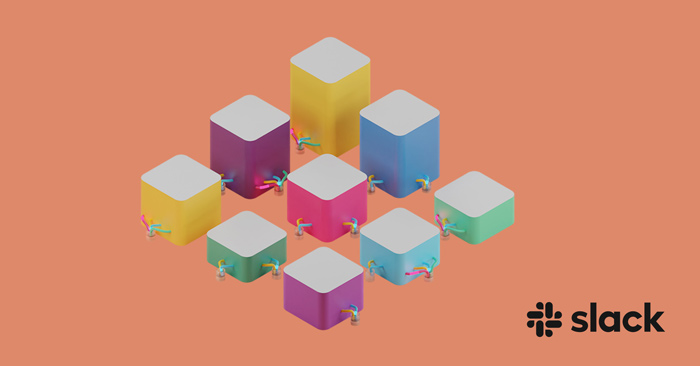 Believer it or not, gaming is not the only reason why people use Discord. The flexibility that the servers in Discord offer and the thousands of bots that are available to add for free are the reason why many people from different interests also use Discord to remain in contact with their friends who have similar interests. Some workplaces use Discord as well, and as weird as that might sound, it just works well for them.
However, Discord isn't built for just one specific target audience. While it does offer features that everyone appreciates, once you get down to the core, Discord is quite lacklustre in terms of productive needs. This is where Slack comes into action. We have talked about Slack before and how great of a productivity app it really is.
Slack is designed for strict work chats, but nobody has to know if you want to use it to have fun conversations within private servers with your colleagues too. Slack also follows a similar server hierarchy that Discord features, but you can get much more in-depth with permissions and privileges. You can create different chat lobbies that represent different aspects of work.
Slack also offers great levels of integration with apps like Trello, Dropbox and more. It has all the features you could think of while working on a team-based collaborative project. Overall, if you have been heavily reliant on Discord to fulfil your work chats and other productive projects, we highly recommend you try out Slack. You can learn more about Slack by following the link given below:
Slack
4. Microsoft Teams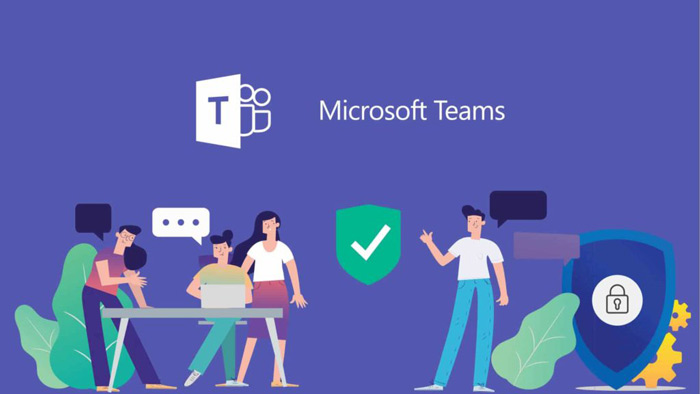 Following a similar target audience as that of Slack, Microsoft Teams has soon skyrocketed in being one of the most used voice and video calling services in 2020. This is all thanks to the quarantine and the entire work from home environment that most people around the globe have gotten accustomed to.
Microsoft Teams has a great user interface and design as it should – since it is one of the youngest team chat services out right now. It has options and settings that one can tweak to have any kind of server with their friends or other loved ones. While it is true that Microsoft Teams is dedicated to work-chats and is popular among colleagues of different statures, one can still use it to have fun conversations albeit not as good as they could on apps like Discord.
When it does come to work though, Microsoft Teams has built an entire experience around it. You can assign work to different colleagues of yours and have everyone update their progress every few hours to keep tabs on the entire project. You can create different lobbies where you can discuss specific aspects of your project to keep things streamlined.
Probably the best use-case scenario of Microsoft Teams is its ability to integrate services such as Word, PowerPoint, Excel and all the other apps that the Office 365 comes bundled with. You can painlessly attach documents on the go and have them set to only-view or give edit rights to only specific people in the team chat. Overall, if you have had troubles finding a good and reliable team-based work chatting app for your colleagues and yourself, give Microsoft Teams a shot! You can learn more about Microsoft Teams by following the link given below:
Microsoft Teams
5. Element (formerly Riot.im)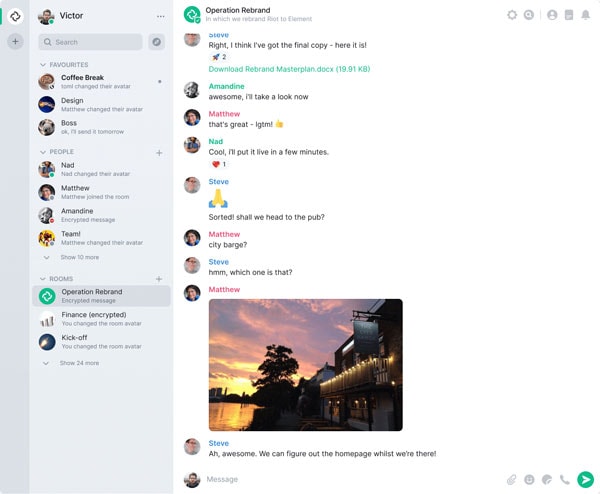 Next up on our list of some of the best alternatives to Discord to use on your PC, laptop or your phone is Element. This software was better known by its older name – Riot.im and is well-reputed when it comes to privacy and security. Unlike Discord and a lot of other voice calling platforms, Element offers full end-to-end encryption which pretty much gives the users no reason to be worried about their conversations being recorded or getting leaked by a third-party.
Element has recently gone through a full revamp, including the name as well as the entire user interface. It now features a much cleaner interface and user-friendly options and toggles. It resembles the UI of Discord and Slack a bit but offers much more when it comes to collaborative features. So if you've been looking for a reliable voice calling platform for you and your team of colleagues or friends, then Element will not disappoint.
Element has been evolving as a service faster than ever before thanks to the pandemic and it now offers many other useful features. You can either stick with the free version of Element which still offers a ton of great and essential features, but there are paid plans in case you need all the collaborative features to smoothly run your organization. Overall, Element is a great way to communicate with your friends, family, or colleagues without the paranoia of security and privacy bothering you. You can learn more about Element by following the link given below:
Element
6. Steam Chat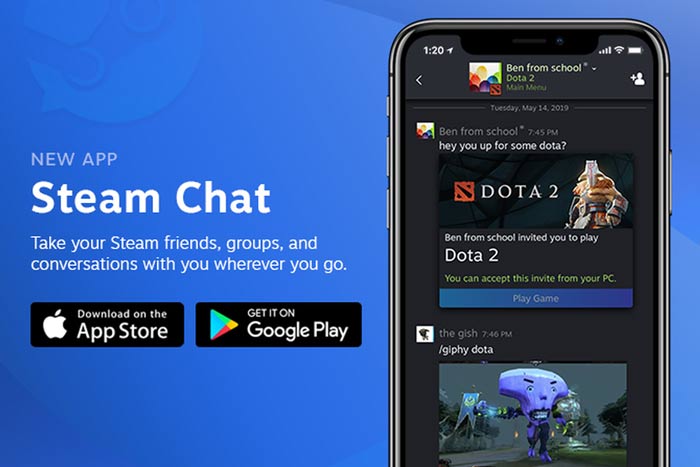 Ending our list of some of the best Discord alternatives that you can try out in 2020, we have one of the most obvious ones. Steam Chat has been around for quite some time now, but the recent few updates have really made it a viable alternative to discord. Firstly, the entire user interface closely resembles that of Discord, with the same dark grey background theme with a big, bold font for the text and icons that are easily recognizable from afar.
Steam Chat is also recommended to those who play a lot of games on Steam. Now it isn't necessary for you to only play games that are available on Steam while using Steam Chat since you can simply run it in the background while playing a non-Steam game. However, if you are playing a game on Steam (which, let's admit, a lot of people are) then using this service that works flawlessly is a no-brainer.
Steam Chat doesn't offer half of the features that Discord does like being able to add bots or have complicated permissions to your servers, but as a service that you can rely on to just have voice calls with your friends, Steam Chat doesn't disappoint. It works well with computers that have CPU and memory issues while using Discord in the background thanks to the fact that Steam Chat is meant to be used natively.
I've already used Steam Chat before, and there was no noticeable voice lag or delay between communication. It works flawlessly for games that are based on quick reaction time and fast movements. I do wish that Steam worked a bit on their voice chatting app though, bringing over a few features such as bot support or a better UI. However, in case you want a barebones voice calling experience, Steam Chat works splendidly. You can try out Steam Chat within the "Friends" section in the Steam client installed on your computer.
That's all, folks! We hope you enjoyed our roundup of some of the best Discord alternatives to try out in 2020! Which one among the list is your favourite, and how many of the best Discord alternatives have you already known or have been using? Know other good voice calling apps that you feel people might find interesting and helpful in communicating with their loved ones? Do let us know in the comments section below; we'd be delighted to hear from you guys!