In this guide, I have explained how to combine two images using the Shortcuts app on iPhone or iPad. Usually, for editing photos, we use fancy photo editors like Lightroom or Photoshop. They are full of features but they are not free to use. Everyone may not be able to afford to pay for such apps. Here I'm talking about non-pro users. I know professional photographers and content creators are different from layman users. The former sect of users always invests in professional software and equipment.
On the other hand, if you have an iPhone or iPad, you can also edit images. Particularly, if you wish to combine two images on your Apple mobile devices, You don't need to have any high-end editing app. Here, I'm not refering about the native image editing tools you get on iOS or iPadOS. You can use the Shortcuts app for merging two pictures. I have put up the detailed steps for you to follow about how to use a Shortcut to combine two images. Check it out.
How Does This Shortcut Will Work on iPhone/iPad
This works just the same way you integrate a plugin or browser extension on your PC web browser. The shortcuts tool is a native tool for automation. It adds various actions that you can carry out when you invoke the shortcut.
The shortcut that we will use in this guide goes by the name Combine images. As the name suggests, you can merge two images by defining the attributes like spacing, padding, and orientation. It is a third-party shortcut that is hosted on the official iCloud website of Apple. Mostly, these shortcuts are developed by enthusiasts and shared within the Apple community.
Download Combine Images Shortcut for iPhone
Here is the download link for the shortcut. It will take you to the official iCloud website.
Download the shortcut from the browser of your Apple iPhone or iPad.
As the link opens in the iCloud site, tap on Get Shortcut

You will be redirected to the Shortcuts app
The functional code of the Combine Images shortcut will show up. Don't mess with that
Scroll down to the option Add Untrusted Shortcuts [because this is not an official shortcut from Apple]

In the Shortcuts app, you have to tap on the My Shortcuts tab

Now tap on Combine Images which is the shortcut you just added to your iPhone/iPad
The shortcut will seek your permission to access your photos.

Click OK to allow
Here I want to mention that you must allow untrusted Shortcuts on your iPhone/iPad. Otherwise, Shortcuts security settings won't allow you to add the Combine Images shortcuts as it is not official. It happens because Apple never reviews the shortcuts that are not official. You will see a message like this.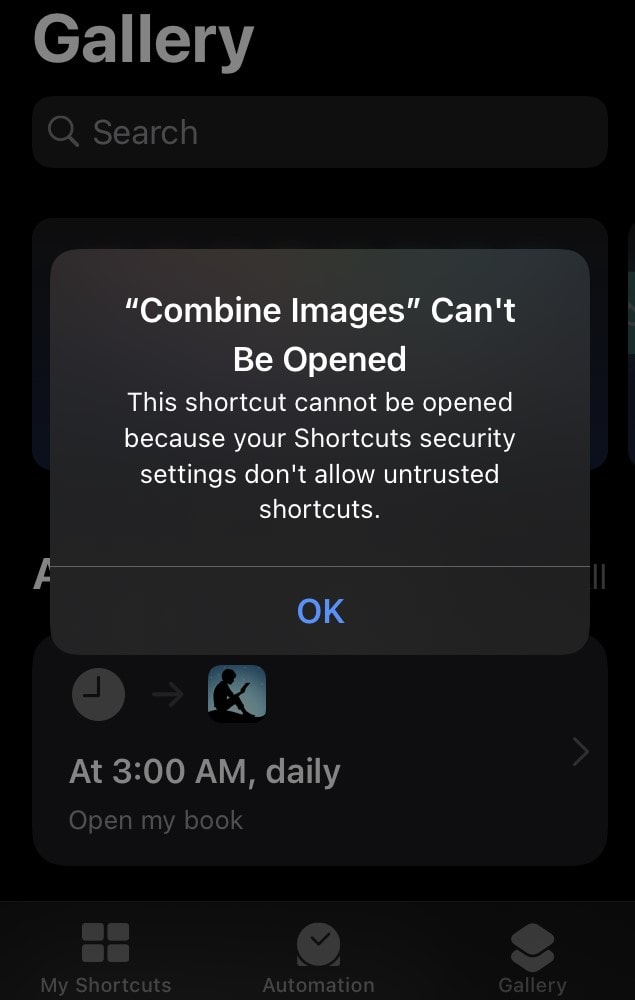 Allowing Untrusted Shortcuts on iPhone/iPad
Here are the simple steps to enable using third-party shortcuts on your iOS and iPadOS devices.
Go to the Settings app
Scroll down to Shortcuts

Under Sharing Security tab, tap the toggle to enable Allow Untrusted Shortcuts

To confirm your action tap on Allow
Note that to enable untrusted shortcuts you must first run some pre-existing shortcut on your iPhone or iPad.
Combining Two Images
Browse for the photos that you want to combine
Then click on Add

Next, you have to fix the order of the images. There are two options for that: Chronological and Reverse Chronological.
Set the spacing between the images that you an to combine
Next, you have to select the orientation of your resulting combination of pictures.
You have three options: combine images horizontally, vertically, or in a grid.

Now, the image will combine and you will see the output [I have vertically combined two images as you can see]
Tap on Done

Then save the resulting image to Camera roll

To access the combined image you can easily go to the Photos app and find the image. So, that's how you can combine two images on iPhone or iPad using the Shortcuts app.