The tutorial outlines the instructions to fix the Destiny 2 error code Weasel. This online multiplayer game is one of the more widely played first-person shooting games. The game takes its cue from the shared-world environment and has elements that once could find in role-playing games. The Player versus Player and Player vs Environment are two of its most well-known game modes.
While you are engrossed in the missions protecting the last safe city on Earth, you might face an error or two. This will not only ruin your gameplay experience but may cause issues in its proper functioning. And if you are one of the users facing the said issue, then there are quite a workarounds that you could try out. In this guide, we will be sharing different methods to fix the Destiny 2 error code Weasel. So without further ado, let us check out the steps.
How to Fix Destiny 2 Error Code Weasel?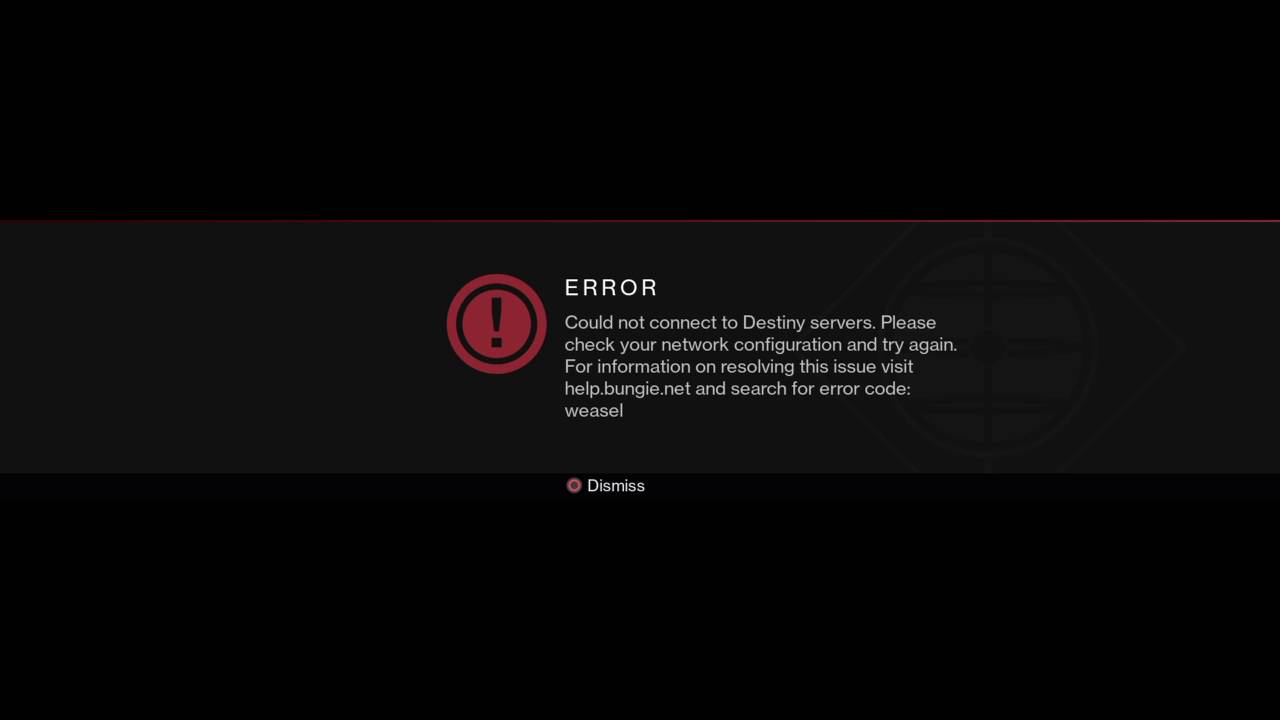 The issue might be related to the gaming console, your internet connectivity or game server issues. We will have a look at all the different reasons regarding the Destiny 2 Error Code Weasel and hence will list out the associated fixes.
Fix 1: Restart your device
Before going on ahead, you should try rebooting your device once. It doesn't matter whether you are playing on Playstation, Xbox or PC, make sure to force restart the device. Once done, relaunch the game and check if the Destiny 2 Error Code Weasel has been fixed or not.
Fix 2: Check Internet Connection
The problem might also stem out from a poor internet connection. The game is solely based on online multiplayer mode. So if the game isn't able to establish a proper connection with the server, the error is bound to happen. So go ahead, and have a look at your internet connection speed and strength. You could also try changing the network mode, i.e. from wireless to wired (or vice versa). Doing so should fix the Destiny 2 Error Code Weasel. If not, then here are some other things to try out.

Fix 3: Check Pending Clan Invites
Although this might sound a little bit strange, some users have also faced the issue when they have any pending clan invites. So make sure to act on all the pending invites, either accept or decline them. To do so, make sure to get yourself removed from any clan or its request. You could ask that clan's admin to remove yourself from that group. This might fix the Destiny 2 Error Code Weasel.
Fix 4: Create a New Playstation Account
Playing the game on a PlayStation and facing the said issue. Well then, considering creating a new Playstation account. This might fix the aforementioned issue.
On your PS4, head over to the New User section and click on Create a User on the login screen.
Do keep in mind that by doing so, you are creating a new local user and not a new Playstation account.
Now click on Next followed by New to Playstation Network.
Click on Create an Account and then on Sign Up Now.
Now go to your avatar on the PS4 home screen. If you are using it for the first time, then go to User 1's Profile. Enter the required information and click Next.
If you're under 18, then you have to create a local user for offline play. But you will still need an adult's help to approve this account.
On the other hand, if you're 18+, then you have the liberty to use your credit and debit card as well.
Next up, create an Online ID and enter your first and last name. This name will be visible to all the other Playstation users as well.
Now you will have to choose the Sharing, Friends, and Messages section. Any changes that you do here will only be visible on your profile, others won't be able to take a note of the same.
You should now have received an email with the verification link. If it is not there in your Inbox, make sure to have a look at the Promotions or Spam folder as well. If it's even not there, then make sure you have entered the correct Email-ID. You could also try logging in with your Facebook ID.
Once you log in with the new account, the Destiny 2 Error Code Weasel should have been fixed. if not, try the below-mentioned solutions.
Fix 5: Clear Cache on your Xbox One
Users playing the game on their Xbox could try out one more fix. It might happen that cache and local data files might accrue over time. These files aren't of much use but definitely have adverse effects on the game. So it's better to clear these temporary data files right away.
To do so, head over to the Xbox One Setting page and navigate to the Network menu.
Then select the Advanced Settings option. Within that, scroll to the Alternate Mac Address and select the Clear option.
In the confirmation dialog box that appears, click Yes. This will clear the game's cache and hence the Destiny 2 Error Code Weasel could be fixed.
Fix 6: Unlink your Account from Destiny App on your Smartphone
The game also has a companion app that provides some useful information related to it. Some users have reported that unlinking their accounts from their smartphones or uninstalling the app altogether helps them in rectifying the said issue.
First of all, sign in to Bungie.net using your login credentials.
Head over to the Setting page and click on Accounts and Links.
Now to remove your account, you will see an Unlink option, tap on it.
Or you could also uninstall the app from your device. To do so, head over to the Settings page and go to the Apps and Notifications section.
Scroll to the app, tap on it and select Uninstall. This will remove the app from your device and will fix the problem as well.
Conclusion
With this, we conclude the guide on how to fix the Destiny 2 Error Code Weasel. Do keep us informed in the comments which method was able to rectify the said issue. And if you are stuck in any of the steps, let us know your doubts in the comments. On that note, also check out our iPhone Tips and Tricks, PC tips and tricks, and Android Tips and Tricks.