Apple is at the top of the leading companies that make smartwatches, and the Apple Watch absolutely decimates its competition. It has some of the greatest sports, fitness, and health features with a high level of accuracy that you simply can't find on other contenders in this space. This totally justifies its rather high price tag. However, the Apple Watch is not without its flaws.
One of the biggest complaints that users of the Apple Watch worldwide reported was poor battery life. This issue seems justified if the device was years old, but most new customers of the Series 7 Apple Watch have also claimed to have been suffering from this problem. In this guide, we will dive into what causes battery drain on the Apple Watch Series 7 and a few measures you can take to prevent this from happening regularly.
What Causes Poor Battery Life on Apple Watch?
There could be a multitude of factors that might lead to your Apple Watch giving you poor battery performance. The first one as we have already mentioned is age, the older the device, the higher are the charge cycles which directly translate into degraded battery life. But that's not the only factor. It is a well-known fact that the Apple Watch has rather poor battery life when compared to other smartwatches, providing just over 18 hours of use on a single charge.
Many smartwatches in the Android realm provide days, and sometimes weeks' worth of battery on a single charge. The reason why the Apple Watch has such a short battery life is simply due to how precisely the sensors work every second to monitor your fitness and health tracking. Most Apple Watch users find it convenient to charge their smartwatch overnight, however many users complain of getting less than a day's worth of battery too.
Fix Apple Watch 7 Battery Draining Too Fast
Luckily, there are a few ways that you can use to dramatically boost your Apple Watch 7's battery life. All of these are settings you can access directly on your watch or through your iPhone.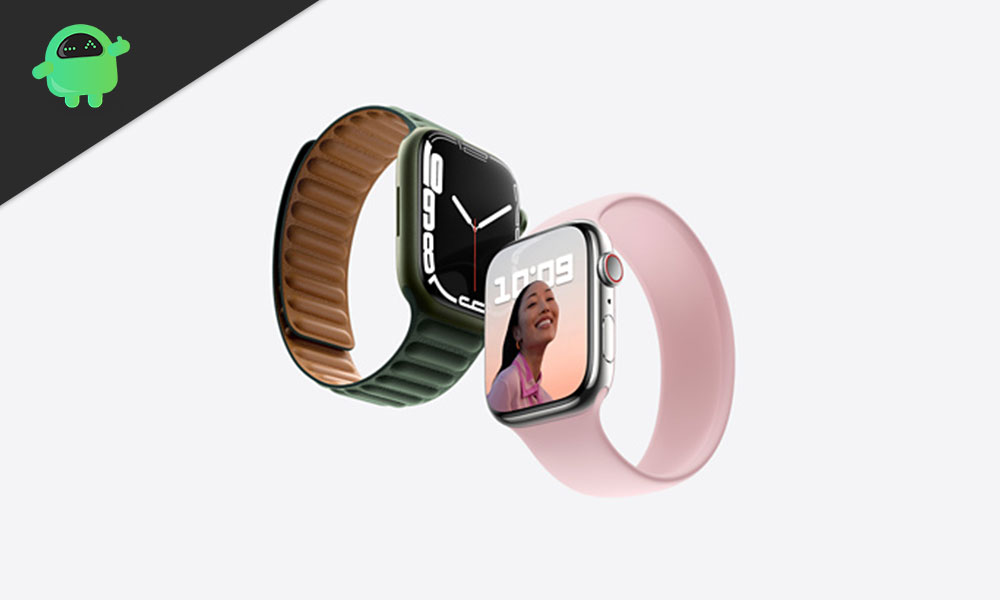 1. Reset your Apple Watch
While this first step sounds a bit extreme, if there's anything wrong with any of the settings on your watch, this ought to fix it. Don't worry, all of your fitness and health tracking data is still backed up on your iPhone. Resetting the watch will restore it to factory settings, and allow you to pair your Apple Watch to your iPhone once again. This way, you could fix if there were any problems intercepting the connection previously between your watch and your phone.
Launch the Settings app on your Apple Watch.
Navigate to General > Reset and tap on Erase all Content and Settings.
Enter your passcode.
Once your watch is done getting erased, it will reboot and ask you to pair it with your iPhone again.
2. Turn on Reduce Motion
If you've used the Reduce Motion option on your iPhone before, you know exactly how significantly it can boost your phone's battery life. Turning this feature on basically gets rid of all the animations that usually take a huge toll on the battery. The same can be done on the Apple Watch if you don't mind seeing a little less eye candy while using it.
On your iPhone, open the Watch app and tap on General.
Tap on Accessibility and then tap on Reduce Motion.
Toggle the switch to turn on Reduce Motion on your Apple Watch.
3. Disable Background App Refresh
The Background App Refresh functionality makes it possible for the various apps on your iPhone and Apple Watch to communicate with one another in the background. They do this mostly to exchange information such as your health data, notifications, and more. As you can imagine, this can cause the watch to take a considerable hit in battery life. You may disable this feature if you don't mind waiting a bit longer for receiving notifications and syncing your watch with your phone.
On your iPhone, open the Watch app.
In the My Watch tab, tap on Background App Refresh.
Here, you can disable the feature altogether or select individual apps to stop communicating with your watch.
4. Disable the Raise to Wake Gesture
The famous wake screen on the wrist raise gesture has been praised by many to be extremely accurate and helpful in saving time by eliminating the need for you to use your other hand to manually check the time. However, this constantly uses your watch's accelerometer sensor to check for motion. Disabling this feature means you can no longer simply raise your wrist to check for the time, but it also improves battery life by a mile.
On your iPhone, open the Watch app.
In the My Watch tab, tap on General.
Tap on Wake Screen and turn the first toggle off.
Additionally, you can also reduce the time your Apple Watch's display stays awake from 70 seconds down to 15 seconds if you still want to keep the raise to wake gesture enabled.
5. Turn off Notifications
If all you use your Apple Watch is for fitness tracking, then you might want to consider completely turning off push notifications on your watch. This obviously reduces the smarts of your "smart" watch by a bunch, but it gives you that little boost in battery that you've been seeking.
On your iPhone, open the Watch app.
In the My Watch tab, tap on Notifications.
Here, you can individually select apps that you don't want notifications from on your Apple Watch.
6. Schedule a Repair
If all else fails, then maybe it's time to replace your watch's battery itself. You can dial up the closest Apple Store and book an appointment to get your Apple Watch fixed.
Conclusion
We hope our guide on how to fix your Apple Watch's battery draining issue was helpful to you. If you have any tips other than what we've mentioned, do let the other readers know in the comments below! If you have any queries regarding the guide, feel free to contact us, we'd be happy to help!