Diablo 4 is a top-grossing game in the 2023 gaming market due to its amazing dungeon-crawling action that fans love. The game is set up in an online space where players have to complete several quests and enjoy adventures along their game story journey. But just like any online game, users face multiple issues from time to time. A recent issue that currently most users are facing is the Diablo 4 your account is currently locked issue, also known as error code 395002. Today in this guide, we will explain more about this error and share some troubleshooting ways to fix the same.
The issue of Diablo 4 locked account is being reported by numerous players, and online forums are filled with posts about the frustration with the issue. This error code prevents players from logging in to the game and accessing their characters, items, and overall game progress. We understand that the issue can frustrate players who want to enjoy the newly launched game. If you are also facing a similar issue, do not worry; below are some troubleshooting methods that will help you to fix the issue.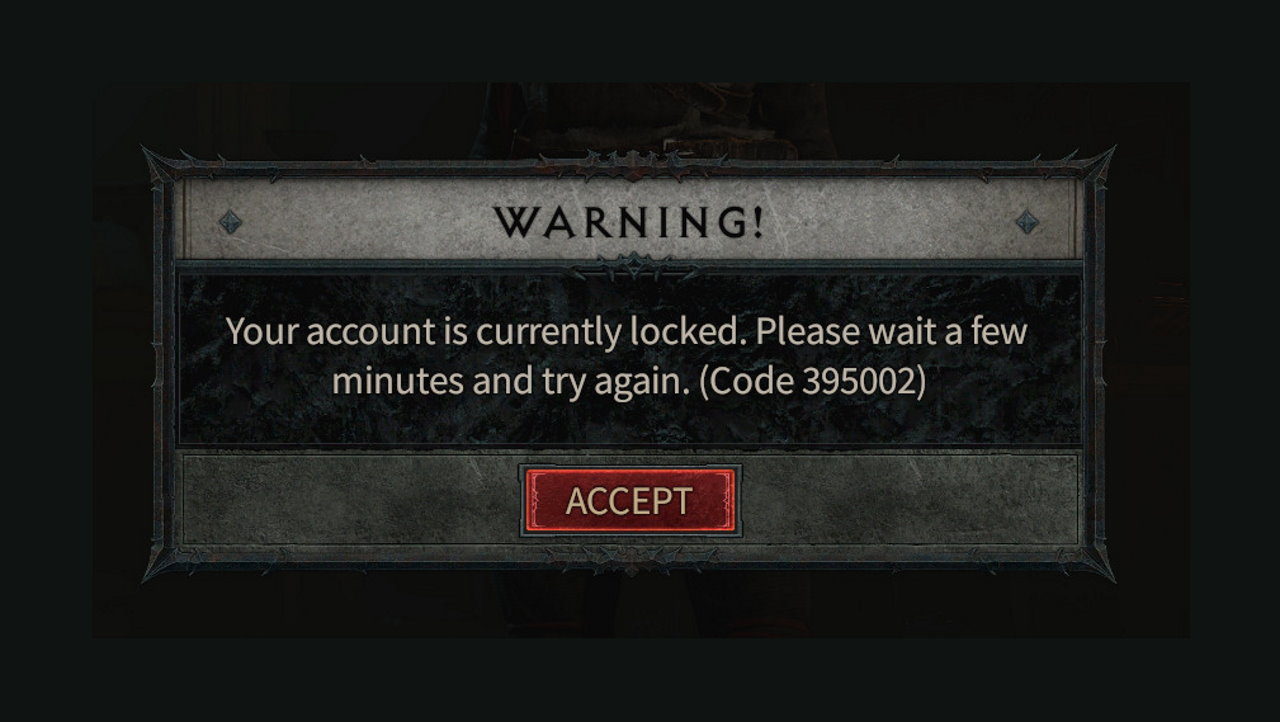 Fix: Diablo 4 Your Account is Currently Locked | Error Code 395002
Currently, the reason behind the account locked issue is not registered by game officials or any game experts. But when an account is locked in Diablo 4, players are unable to access their characters, items, or progress. This can be a significant setback, especially for players who have invested a lot of time and effort into the game. Below are some troubleshooting methods that shall help you recover from this issue easily.
Method 1: Retry Loggin in
Oftentimes, the game may not respond due to technical glitches which can cause several issues. According to many users, the account-locked issue is a technical glitch that can be solved after re-logging into the game. To log in, close the game, then restart the game again, and enter your login credentials.
Method 2: Restart Game
If the above method does not help you much, it could be due to the game's internal fault. Many users over Diablo 4 game forums have suggested that restarting the game can help fix the issue. However, once you restart the game, you might have to wait in the login queue. Give this method a try and see if this helps.
Method 3: Reset Network Connection
Diablo 4 is an online multiplayer game and requires an internet connection to work correctly. Even when you just login into the game or competing in the missions, it's important that you maintain a stable internet connection. So make sure you reset the internet and talk with your internet service provider to upgrade the internet plan if required.
Method 4: Check Game Servers
Diablo 4 is an online game that relies on different online cloud mechanisms to run properly. One such mechanism is the game servers, which help the game distribute the load of thousands of users. But sometimes, due to maintenance or other technical reasons, the game services may not b working correctly or offline. So, please check if the game servers are up and running. Diablo Team often releases updates on their Twitter channel regarding any server down or maintenance issues. Or you can check it on their official website.
Method 5: Remove VPN or Proxy
Many players use VPN or proxy services to log in to Diablo so they can enjoy playing with different players worldwide. This is a wonderful tactic, but it doesn't work every time. If your VPN service provider is down or inactive, it can also create issues with your connection and ultimately hamper the login process. So make sure you disable the VPN or Proxy service and then re-try logging into the game.
Method 6: Remove Game Mods
Various game mods and other software available can help you tweak the game according to your liking. This is great, but this can often create several problems with the game. Due to such mod applications, the game is not able to verify its game files and hence may throw you error code 395002 or a warning message saying – your account is currently locked. So make sure you remove such game mods and then try again to see if this helps.
Method 7: Remove Game Patcher
The issue of error code 395002 or Diablo 4 your account is currently locked, can be due to unethical practices that few gamers use. Some of them include using several game patcher or other software to tweak the game to gain an unfair advantage.
It's important to know that Diablo 4 has a fair play policy in place, and who so ever violates this policy, their account may get banned or suspended. So, make sure you remove such patcher software and see if this helps. If not, your account may already be banned, and you must contact the game's support team to get it unbanned.
Method 8: Contact Game Support
If none of the above methods work for you, then the problem must be with your gaming account itself. This can happen due to multiple reasons. Sometimes it could be just a shadow ban, or it could be due to the flagging of an account due to suspicious behavior. Nonetheless, raise a ticket with the game support and explain the issue in detail; they will be able to help you out.
Conclusion
This brings us to the end of this guide for fixing error code 395002 or Diablo 4 your account is currently locked problem. Please note that in the majority of cases, such issues arise when players use cheating mechanisms to cheat their game progress. So make sure you are playing the game ethically and do not void the game's terms and conditions. I hope the above methods will help you solve this problem, but if not, please raise a ticket to the game support website, and they shall help you.