Roku is a hardware digital media player brand that offers access to streaming media content from multiple online services. It has been released back in 2008 and still offers a huge number of movies, TV, news free of cost. Additionally, it includes online content from multiple platforms like Netflix, Amazon Prime Video, Hulu, and more. Although it does have paid channels or subscription packages, Roku is quite popular among TV streaming lovers. Meanwhile, plenty of Roku Streaming TV users are reporting that they Cannot See The Video or somehow the Streaming Not Working. If you're also one of the victims, make sure to check out this troubleshooting guide completely.
To be very precise, whenever Roku Streaming TV users turn it on, they're unable to see the video on the screen which very much frustrating. Now, if you're facing the same problem, don't worry because you're not alone here. Fortunately, the official Roku Support has provided a couple of methods that we're gonna share with you below. Sometimes it can also possible that either your player isn't turned on or you can't hear the audio. Follow the full article to know more about it.
Fix Roku Streaming TV: Cannot See The Video or Not Working
Keep in mind that your Roku player is connected directly to the TV. If you have the Roku player already connected to an audio/video receiver (AVR) then disconnect it first and then connect it directly to the TV. Additionally, make sure that your TV is turned on. You'll need to press a button on the Roku remote control to wake your TV from standby or sleep mode.
As we've already mentioned, there are a couple of possible workarounds mentioned below that you should follow one by one.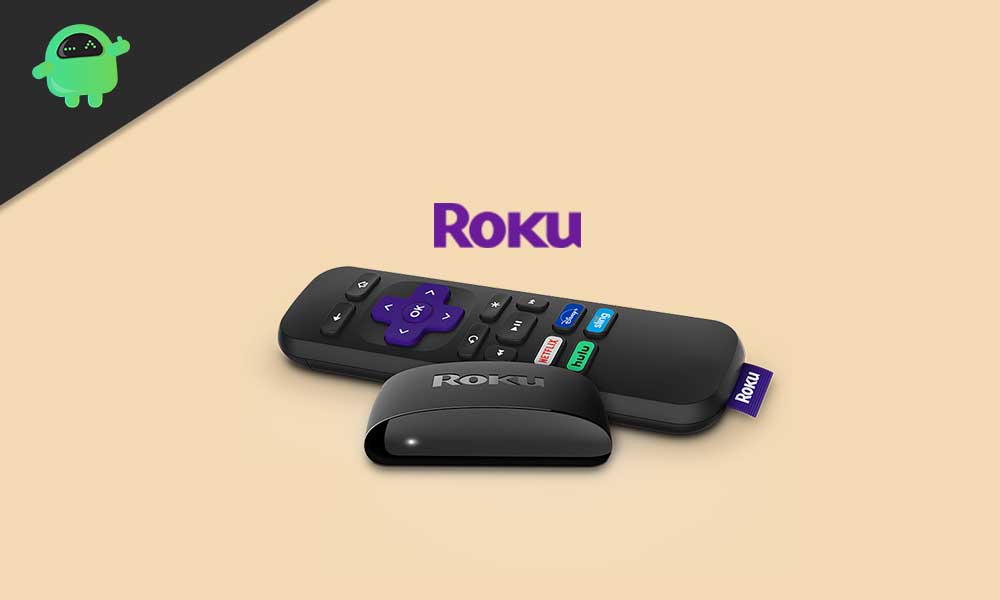 1. Check your TV Input (Source)
Well, this is one of the most common issues that plenty of users can't think about initially. Most TVs have multiple audio and video inputs on the backside or even sideways. So, you'll need to make sure that whether you've properly connected the cable of the Roku player to your TV input or not. It's also known as Source. To do so:
Check which input you have connected to the Roku player. The video connector called HDMI 1, HDMI 2, AUX, VIDEO IN 1, etc.
Meanwhile, you can also change the TV inputs from the remote control in an easy way. To do this:
Look for an Input button on your TV remote control and press it. [It can be labeled as Source, AUX, Video, TV/Video, or something else]
According to the TV model, pressing the button and using up-down keys can navigate to available inputs.
If you have changed the TV input from the remote control, you can wait for around a couple of seconds to allow the TV to detect the video or even changing the input again. Even if the menu appears, cycle it through the preferred input similarly.
However, if no video is detected on the input, then your TV will show a message in most cases something like "No video" or "No signal detected".
2. Connect the Video Cable Properly
Make sure to check whether the video cable is properly connected to the back of the Roku player as well as the HDMI port on your TV. If one side of the connector becomes loose, the video won't be displayed.
If you have a Roku Streaming Stick check for the same.
Additionally, you can check whether you're using a faulty or physically damaged cable on your Roku player or TV.
3. Check your TV
Sometimes the chances are high that connecting the Roku player to a different input on the TV may not work if the ports are damaged.
Make sure to check the HDMI cable of your TV as well to see if there is any issue happening or not.
Make sure to try connecting the Roku player to a different TV to see if the problem is with your Roku player or with the TV.
4. Reconnect all cables
If none of the methods worked for you, simply trying to disconnect and reconnect all video cables on your Roku player and TV including the power cable.
If you're already connected to a TV or AVR that's capable of displaying the 4K resolution, you may wish to check the steps below to set up your Roku streaming player for 4K playback.
Guide to Set Up Roku Streaming Player for 4K
4K basically means 4K UHD (Ultra High Definition) that offers 3840×2160 pixels resolution quality. Obviously, the picture will bring out sharper & clearer than Full-HD resolution. To enjoy the 4K resolution from the Roku player, you'll require the following things.
Requirements
You need a 4K Ultra HD TV that has HDMI 2.0 input (HDCP 2.2 supported).
Make sure that the Roku player is capable of streaming 4K Ultra HD.
A good internet connection that supports 4K Ultra HD video streaming without struggling.
Additionally, you'll need a Netflix subscription or another service that supports 4K Ultra HD video streaming.
A High-Speed HDMI cable (NOT required when connecting Roku Streaming Stick + directly to compatible TV)
Steps to Set up for 4K
First of all, connect your Streaming Stick+ to the HDMI 2.0 input on your TV.
Now, you'll have to connect your Streaming Stick+ to the HDMI 2.0 input on your AVR (supports HDCP 2.2).
Connect a high-speed HDMI cable to the AVR output or soundbar.
Then connect the opposite end to the HDMI 2.0 input on your TV.
Next, you have to connect your Streaming Stick+ to the HDMI 2.0 input on your TV.
Connect a high-speed HDMI cable to the HDMI port on your TV (ARC or Audio Return Channel supported).
Then make sure to connect the opposite end to an HDMI port on the AVR.
Please Note: Both the TV and AVR (soundbar) must support ARC. That's important.
If nothing seems helpful to you, make sure to contact Roku Support Agent. If there is any issue with your TV, you can either visit the authorized service center or any local TV repairing shop to get it fixed.
That's it, guys. We assume this guide was helpful to you. For further queries, you can comment below.