In this guide, we will show you how to fix the Google Docs Encountered an Error issue. This online word processor application has completely streamlined the workflow. The biggest perk of this app is that you don't need to install any standalone application on your PC. Just launch any browser of your choice, head over to its official site, and begin with your work. Then its collaborative feature that allows other members to make changes to the document on the go also deserves a few praises.
However, in sipe of the plethora of features that it beholds, there seems to be a few issues bugging this service. Among them, Google Docs Encountered an Error seems to be the most common one. Many users have already voiced their concern about the same at Google Support Forum. So if you are also on the same page as those users, then this guide will help you out. In this guide, we will list out all the plausible reasons for this issue and more importantly the steps to fix it.
Google Docs Encountered an Error | How to Fix?
There could be quite a few reasons for the aforementioned issue. To begin with, if a lot of cookies and cache have accumulated, then it might conflict with the proper working of Docs. Along the same lines, a third-party extension might also cause an issue or two.

Likewise, Windows Firewall could also block the functionality of Docs. In some instances, the issue might be with your browser itself. So with that said, here are the various methods to fix these issues which in turn will fix the Google Docs Encountered an Error issue. Follow along for the detailed instructions.
Fix 1: Clear Cache and Cookies
These files store some data that could speed up your user experience, but the excess of these files might end up doing more harm than good. So, if a lot of temporary data has been accrued over the due course of time, then it's probably the right time to delete them. Given below are the steps to do so on Chrome, it might be along similar lines for other Chromium browsers as well.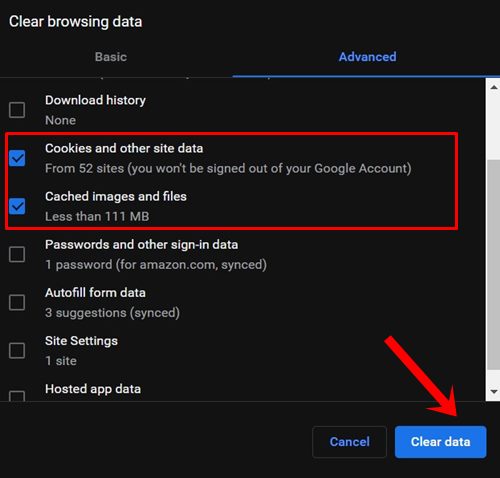 Launch Chrome on your PC and click on the overflow icon situated at the top right.
Then select More Tools followed by the Clear Browsing Data option.
You should now be taken to the Advanced tab. Select Cookies and other site data and Cached images and files.
Finally, hit the Clear Data button and wait for the process to finish.
Once that is done, restart your browser. Now visit the Docs website, check if the Google Docs Encountered an Error issue has been fixed or not.
Fix 2: Disable Extensions
In some instances, a third-party extension might also conflict with a few sites or even the browser as a whole. The best bet, in that case, is to disable all the extensions and then re-enable them one at a time to recreate that issue. This will help you identify the culprit which you could then disable or uninstall from the browser. Here are the instructions to do so on your Chrome browser.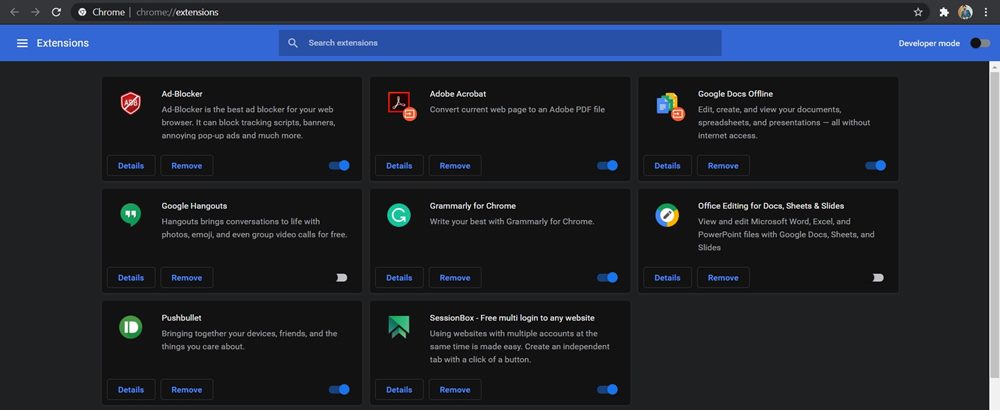 Open the Chrome browser and click on the overflow icon situated at the top right.
Select More > Extensions. This should take you to the list of all the installed extensions.
Disable all the extensions and then restart the browser.
Also Read: How to Enable or Disable Extensions Toolbar Menu in Google Chrome
If it fixes the Google Docs Encountered an Error issue, then you could then identify the issue causing extension as mentioned above. Keep that extension disabled while you could enable the rest. However, if extensions weren't the reason, then here are some other workarounds that might come in handy.
Fix 3: Switch to a Different Browser
If clearing the cache and data or disabling extensions of your browser didn't do any good, then you might have to look out for alternatives. The issue might be related to your browser and hence you should consider making a switch to a different one. For example, if the issue is persistent on the Chrome browser, then you could give Firefox, Edge, Brave, Opera, and other browsers a try. Try out the alternatives and see if the Google Docs Encountered an Error issue has been fixed or not.
Fix 4: Disable Windows Firewall
If you have reached this stage, then the issue isn't just limited to the application side, it might have encompassed a much broader domain. Sometimes, Windows Firewall might become a little overprotective and ends up raising a false positive on a particular site.
So it seems the Firewall app has recognized Docs as a potentially harmful program and hence blocked its network access. But since we are aware that Docs is safe to visit, you could disable Windows Firewall or add the program (browser) to the whitelist. Here's how it could be done:
Search for Windows Defender Firewall from the Start menu.
Then click on Turn Windows Defender Firewall On or Off from the left menu bar.

Select Turn off Windows Defender Firewall option under both the Public and Private networks.

However, if you wish to add your browser to the exclusion list, then click on Allow an app or program through Windows Defender Firewall.

Then click on Change Settings from the subsequent dialog box that appears (it requires administrative privileges).
Select the app from the list and hit OK.

However, if it isn't there, then click on the Allow Another App button.
Then go to the app's installation directory and select that app.
Once that is done, the Docs error should have been rectified.
So this was all from this guide on how to fix the Google Docs Encountered an Error issue. We have shared four different methods for the same, any one of which should work out in your favor. Do let us know in the comments which one managed to spell out success. Rounding off, here are some other iPhone Tips and Tricks, PC tips and tricks, and Android Tips and Trick that you should check out as well.