Galaxy S8 is an amazing device that has been launched recently by Samsung. There is nothing wrong to say that it is getting appreciation and wonder tags all over the world. However, the dark side just like any Android device is minor bugs. A lot of users have reported about the issues in the screen color. If you are a user of this device and are already facing this issue, here I will show you my complete guide on how to fix Galaxy Note 8 screen color problems easily.
The Galaxy Note 8 comes with a 6.3-inch super AMOLED screen and has been designed to provide 1440 × 2960 HD resolution but a few users have complained about the purple or yellow tint on the display. There is no need for you to worry about anything as it's a minor issue and can easily be fixed. Check out the steps below to keep up the pace in this matter.
How to Fix Galaxy Note 8 Screen Color Problems
The major cause of this issue is nothing but because the calibration of the display is not as per recommendation. To manage the same, the steps are written below. Simply follow them
Open "Settings" on your Galaxy Note 8 and choose "Display"
Under Display, you will find the option "Screen Mode", simply tap on it.
Under Screen Mode, you get four options – Adaptive Display, AMOLED Cinema, AMOLED Photo and Basic. Try switching your modes and see the changes in the picture displayed above.
The problem would probably be gone and you would be able to get the best effect.
There is another option that you can find below these options and i.e. "Color Balance". Adjusting the same manually simply let you keep up the pace. It is up to you whether you choose co0ller or warmer tints. Check which colors suits best for your eyes on the screen. So this is how you can fix the Samsung Galaxy Note 8 screen color problems.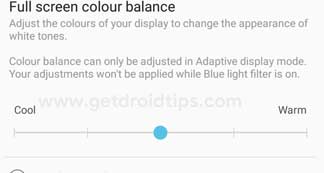 I hope this guide will be helpful to Fix Galaxy Note 8 Screen Color Problems.
Useful Post: