Apple Watch Series 5 comes with an always-on display featuring a Low-Temperature Polycrystalline Oxide (LTPO) display. This Display technology didn't affect Apple Watch's battery life, suggesting being a negligible, but it was a Significant feature to comes handy. This feature comes handy during quick watch the time by just a Lift or tap. Meanwhile, some users notice a reduction in battery performance of Apple Watch.
Furthermore, Whereas Apple users didn't know to disable the always-on display from Apple Watch Series 5, today, We are going to teach you to disable and enable always-on display depending on Apple Watch Preference.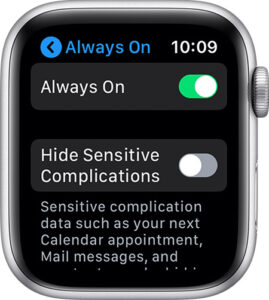 How to Turn off Apple Always-on Display
You can disable the Always-on Apple Watch Display feature throughout the device setting.
Starting With Pressing "Apple Watch's Digital" Crown.
Open the "Setting" app on your Apple Watch Series 5.
(Scroll down and Find the Gear icon to open Setting.)
Scroll down, Head over to "Display & Brightness."
(You Will Find the "Display & Brightness" option before Accessibility.)
Tap the toggle for "Always On," Toggle to Switch ON/OFF on Apple Watch Display.
(You can Turn toggle green to "On" and Turn Left or Black to "OFF" always-on display.)
Exit "Setting."
Note: If you turn off the Always-on to hide the private message, then you can Toggle on for "Hide Sensitive Complications." It will keep your private information protected, and you continue to enjoy the Always-on Display on your Apple Watch Series 5.
How to Disable Always-on from Watch App on iPhone or iPad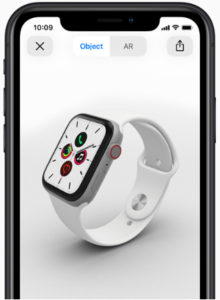 Yes, Apple allows you to Manage your Watch from your devices like Apple iPhone and iPad.
Open "Watch" on your iPhone or iPad.
Scroll down and select "Display & Brightness."
Tap on "Always On."
(Your Apple watch always shows the time; you can also choose if your complication shows sensitive data.)
Now, You can Turn off the "Always On" to disable Apple's Watch's Always-On Display.
Additionally, Disabling Always on Disable on Apple Watch might improve battery performance for Some users depending on the Apple Watch uses. Not to mention, There Were other factors also affecting the battery. Apple Watch Screen With Always On Display keep the display particularly on means it just dims, you can wake it up with lift or tap.
How to Enable the Always Display on Apple Watch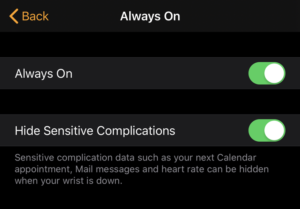 Language is different in many countries because Apple designed based on Regional language. It also refers to the Screen-off Display. It was only applicable for Selected models.
Open your Apple Watch.
(Starting With Pressing "Apple Watch's Digital" Crown.)
Scroll down in Setting and find the Gear icon for Setting.
Open the "Setting" app on your Apple Watch.
Scroll and Choose "Display & Brightness."
Now, Tap on the "Always on" setting.
(Toggle to Turn on/off to enable and Disable the Always-on Apple Watch Screen.)
Exist Setting, That's it and use Apple Watch as usual.
Hopefully, you successfully approach your Query. We like to know your valuable opinion and feedback in the comment section down below. Setting you prefer for your Apple Watch.