The demand for waterproof smartphones is increasing day by day. Due to this demand, many smartphones companies are stating giving official IP68 certifications to all its major products. Well, let's see if that's the case with the new Motorola One Action. We will check whether the new Motorola One Action comes with IP68 waterproof ratings. We will also conduct a quick Motorola One Action waterproof test to find out the waterproofing features of the device.
Motorola is still surprising us with its budget-oriented smartphone range like never before. The new Motorola One Action is a powerful package which comes at a reasonable budget price segment. It's like a mini version of the original Moto G7 with an easy to use form factor and a better camera. With the new device, customers have many expectations from the device such as the waterproof capabilities of the device. Given the price range, the company may or may not be able to provide official IP68 certification. However, we will conduct the Motorola One Action Waterproof test to know the truth. But before we test whether the new Motorola One Action is waterproof or not, let's get to know about the device first.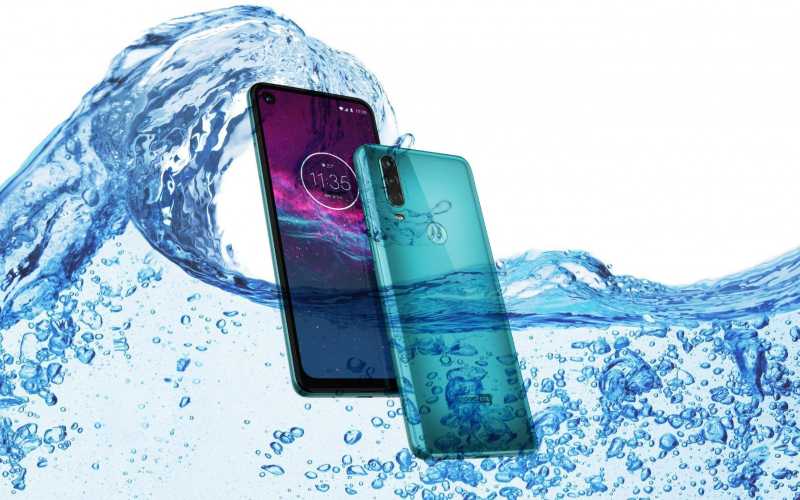 Is Motorola One Action Waterproof Device?
A modern smartphone is only considered waterproof if it has special IP ratings for the device. The IP Code (or International Protection Rating, sometimes also interpreted as Ingress Protection Rating*) consists of the letters IP followed by two digits and an optional letter. It mainly tells us whether the device is splashproof or waterproof. Every officially waterproof smartphone has IP ratings which prove its waterproof features.
Also read: Is Samsung Galaxy Note 10 and 10 Plus waterproof device?
Anyway, you will be slightly disappointed to notice that the new Motorola One Action doesn't come with any official IP68 waterproof ratings. This means that the device is not waterproof at all. However, we will still conduct our Motorola One Action waterproof test which will reveal whether the new Motorola One Action is waterproof or not.
Motorola One Action Waterproof Test
Since the official website doesn't contain any reliable info about the device waterproofing capabilities, so we are going to conduct our own test. Get ready for the Motorola One Action waterproof test. But before that, have a look at device specifications:
| | |
| --- | --- |
| Device Name | Motorola One Action |
| Screen | 6.3 inch, 1080 x 2520 pixels, 21:9 ratio |
| Processor | Octa-core 2.2 GHz |
| RAM/ROM | 3 GB | 32 GB |
| Battery | 3500 mAh |
| Primary Camera | 12.6 MP (wide) + 8 MP (ultrawide) + 5 MP depth sensor |
| Waterproof ratings | not found |
warning
You are advised not to try to mimic this test at your home. We do not take responsibility for the authenticity of this test. This test is purely based on individual/team observation. This test will only give an idea of whether a device is waterproof or not. We recommend users not to try this test at home, as it might damage your device.
Motorola One Action Splashproof Test
In this waterproof test, we are going to put the device in artificial rain condition. It will mimic the condition of an accidental water splash. This test will give us a rough idea of whether the new Motorola One Action is splashproof or not.
| | |
| --- | --- |
| Camera | works |
| Screen | works |
| Speaker | Little sound distortion |
After conducting this test, we can say that this smartphone is surprisingly splashproof to come extent. So you don't have to worry when you accidentally spill your coffee or juice over it while sitting in a meeting. However it's not officially waterproof, so take proper care while sitting near water ponds, lakes, beaches and swimming pool.
Motorola One Action Dustproof Test
In our dustproof test, we will keep the device in a sandy environment with lots of grain and sand particles with a running fan around it. This situation mimics dust storms and will check how the device holds in such conditions.
| | |
| --- | --- |
| Camera | works |
| Headphone jack | works |
| I/O ports | Little dust, but ports still work fine |
As you can see from the test results above that the new Motorola One Action is fully dustproof. This is because it doesn't have any moving mechanical parts like pop up camera etc.
Conclusion
After conducting both the tests, we can see that the new Motorola One Action isn't fully waterproof. However, it can sustain a little water damage as it is coated with oleophobic coating on the screen which prevents it from accidental water splashes. Additionally, the device is fully dustproof so you if you leaving near to a farm or sand dunes, this device will work fine there.
Users are recommended:
Since the smartphone is not fully waterproof, here are some precautions you should take to avoid any water damage:
Not to take underwater photos with the devices
Don't make or receive calls in rain or while taking a shower
Not to take underwater selfies etc.
How to Care for Motorola One Action
Since Motorola One Action is not a waterproof smartphone, you cannot use it underwater. Also, you need to take special care while you're near water bodies. Down below are a few things you should take care of:
Don't make or receive calls while its raining or you're in the shower.
Use a waterproof pouch if you're near a pond, swimming pool or a water park.
Don't try to wash your device with tap water
Do not try to take underwater pictures or selfies with Motorola One Action.
If accidentally device comes in contact with water, dip the device in a jar full of rice for 1 hour.