In this guide, we will show you how to use Live Voice Chat on Telegram. This cloud-based instant messaging app is always on the rise and keeps on adding new features to its arsenal. As far as its latest functionality is concerned, it has added an always-on group voice chats. As a result, you wouldn't have to manually call someone to have a real-time conversation. Apart from the fact that any one part of this group could directly join this voice chat, there are some other flexibilities as well.
For example, even after you are part of the chat, you could minimize it and still be able to use other components of the app. Android users could even create a floating widget of this feature. This would then allow them to easily switch over to Telegram's Voice Chat, even if they are currently using another app. With that said, let's now check out the steps to make full use of this latest feature. Follow along.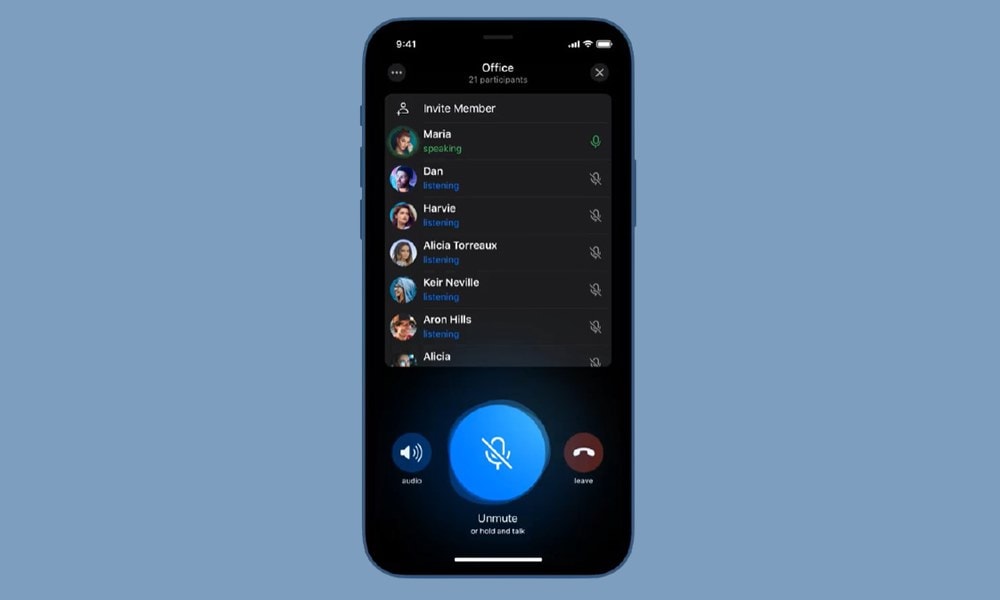 The Voice Chat Feature in Telegram
You could try out this new feature across the Telegram app for Android and iOS, on Telegram Desktop as well as on its macOS app. Given hereby are the detailed instructions regarding the same, right from creating a Voice Chat, inviting a member to this chat, and minimizing or leaving this chat for good. So without further ado, let's start off with the guide.
How to Start a Voice Chat
There's just one prerequisite that you need to keep in mind: you should be the admin of the group. If you qualify this requirement, then head over to the desired group, tap on the overflow icon, and select Start a Voice Chat. Along the same lines, there is another pretty nifty feature that allows only the admin of the group to speak. The rest of the participants could only listen to your voice. To turn on this feature, you need to enable the Only admins can talk option and hit Create.
How to Invite Someone
Now that you have created a Voice Chat, it's time to invite members. To do so, head over to the Voice Chat screen and tap on the Invite Member option.
How to Join
If you wish to be a part of any Voice Chat, then just that tap on the 'Join' button situated on the right side of the screen.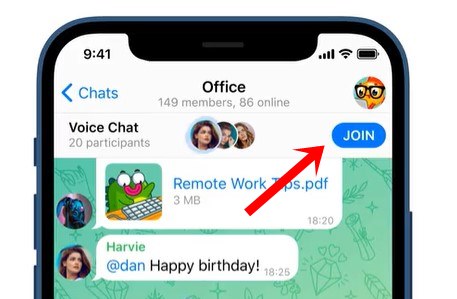 As and when you join a Voice Chat on Telegram, your microphone will be muted by default. This will also be indicated by the Blue Microphone icon. So if you wish to start off a conversation then tap on the Microphone icon and you would be unmuted. Likewise, the blue color of the microphone will now turn green as well.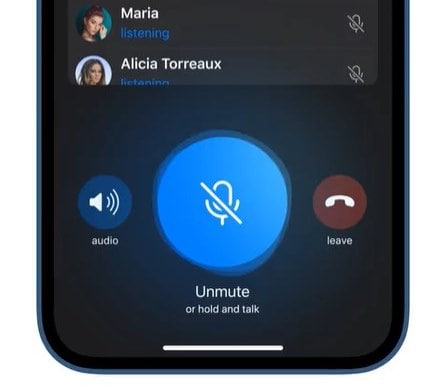 Minimize Voice Chat
Well, if you wish to carry out some other task inside the Telegram app, then you don't need to leave this Voice Chat. You could simply tap on the Cross icon situated at the top right. As soon as you do so, the Voice Chat will be condensed inside the Microphone icon and would be placed at the bottom right corner of the screen. You could now carry out the desired task inside the app.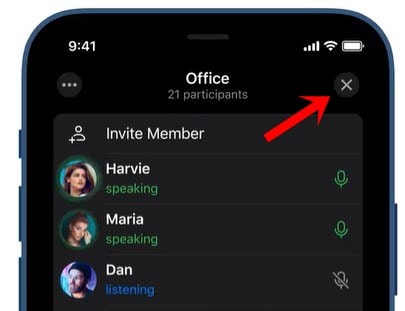 Along the same lines, you could even minimize the entire app, which will then end up creating a Floating Widget for the Voice Chat. However, you will have to enable this feature first. For that, go to the Voice Chat's member list and then tap on the Overlay icon situated next to the overflow menu. Then tap on the Enable option inside the Voice Chat overlay dialog box.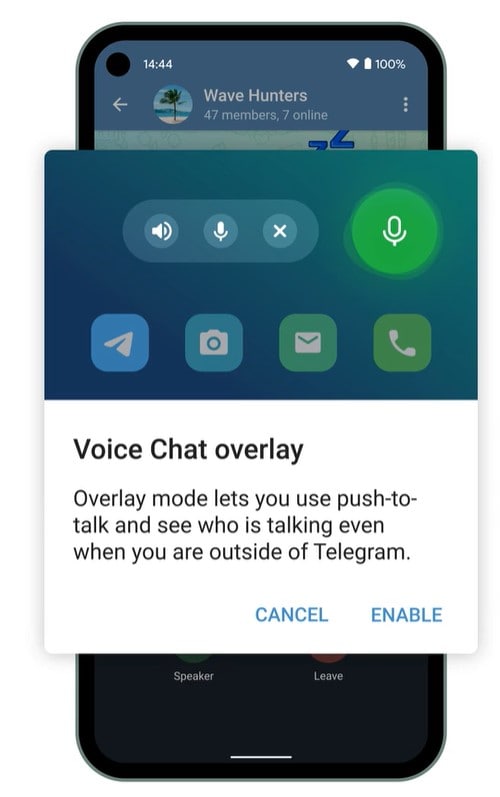 This will bring up a floating microphone widget. Now if you are using any other app and wish to switch to Voice Chat, just tap on this icon and select from the Speaker, Mute, or Leave options.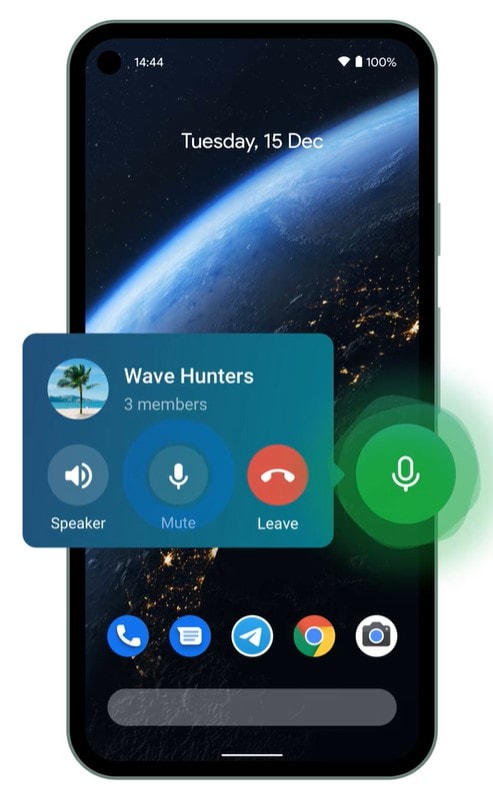 If you are done using this floating widget, then press it for a couple of seconds and the Trash icon will now be visible at the bottom. Just drag the widget to that bin.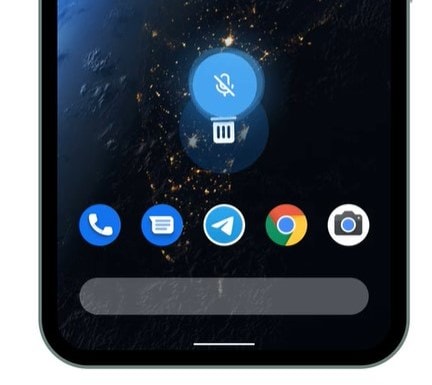 End Voice Chat
If you wish to bid adieu to the Chat, then head over to the desired group's Voice Chat screen. Then tap on the Leave button situated to the right of the Microphone icon.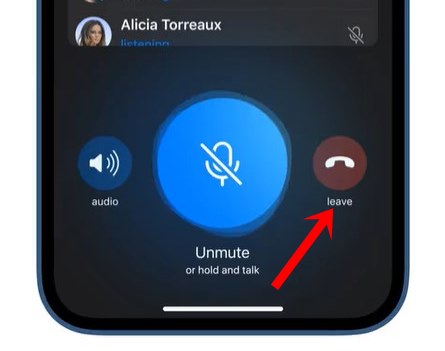 So this was all from this guide regarding how to use Telegram's Voice Chat. Do let us know your views about this feature in the comments section below. Rounding off, here are some iPhone Tips and Tricks, PC tips and tricks, and Android Tips and Tricks that you should check out as well.