Social media is a great way to connect with near and dear ones in the virtual platform. However, it also has its shortcomings. We have seen a substantial amount of reports regarding stalkers making life miserable for female social media users. I'm talking about the stalkers and the ones who send lewd messages randomly to women and ask for their phone numbers. This creepy phenomenon is quite common on Facebook and every other social media site out there. In a civilized society, this kind of anti-social behavior is not tolerable. So, Facebook has taken steps to deal with this issue. Hence, there is a nifty new feature that enables users to lock their Facebook profiles.
In this guide, I have explained the steps on how to lock a Facebook profile. I know a lot of users may not be tech-savvy. So, this guide will enable them to protect their respective profiles. It can ensure they only connect with people they know in person or they wish to connect to. Female or male, no social media user deserves to be stalked, bullied, or harassed online. Earlier Facebook has also released the Facebook Profile Picture Guard feature. It disallows a person, who is not in the friend list of a user to expand the profile picture to full size and view or download it.
What are the Advantages
Now, you may want to know in detail about what are the other benefits of making the profile limited to friends by locking. Here I have outlined the same.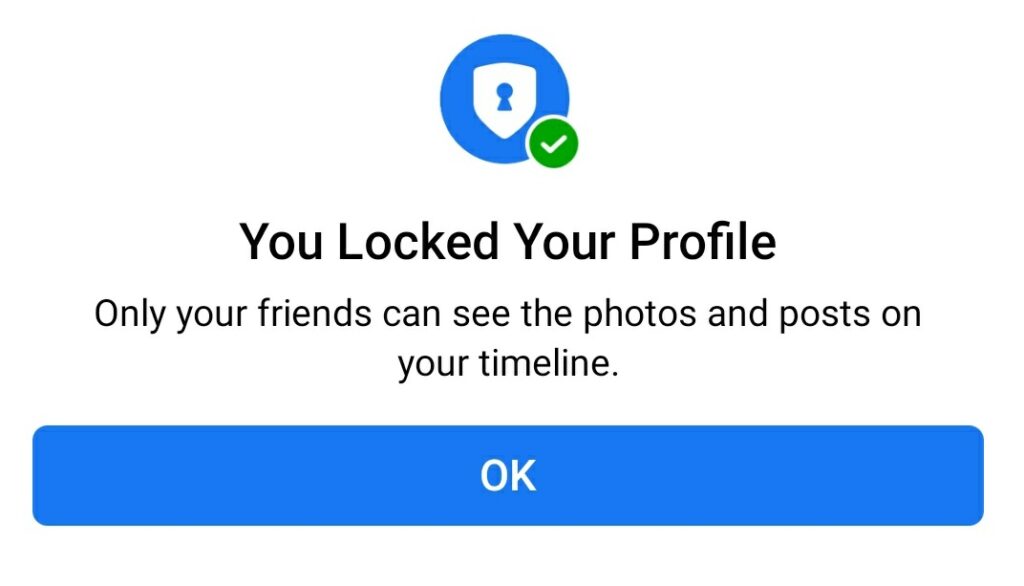 All the content you have shared previously, currently, or the ones you will share in the future will only be visible to the users in your Friend list.
Your profile picture will be visible in full size to only your friends. So, other people who are not in your friend list or a possible stalker will not be able to access the full size of the profile picture or screenshot/download it.
All stories you post will be visible to Friends
If you have described yourself in the About Yourself section, it will have a limited viewability as well.
Note
Facebook Profile locking is available only in selected countries. It is available for Facebook users in India.
How to Lock Facebook Profile
I have described the method that you can follow on your smartphone.
Login to Facebook
Go to your Profile > Tap on the 3-dot button beside Add to Story
It will open Profile Settings
Scroll down to the option that says "Lock Profile"

Then tap on the button Lock Your Profile to confirm the action
So, if you prefer privacy while using social media, then it's better to lock your Facebook profile. I hope this guide will help out those who are new to Facebook. Social media should be a fun experience and need not be creepy. Locking the profile and limiting it will ensure the same.