If you are a hardcore crypto investor, you are most probably familiar with the recent hot talks about the MetaMask. Well, many users recently started reporting that the MetaMask app is started crashing on their Android or iPhone after the latest patch update.
However, users have to face huge losses in crypto investment due to this. I think this is really an expensive threat to users, and that's why they are angry with the developer. However, developers, on the other hand, consider this issue and stated that their team is working on it, and soon they will provide some fixes or a patch update to fix the crashing issue.
But, until they provide something, are you just sitting and watching your crypto portfolio go downtrend? Of course not, I think! But, what are the options available for you to resolve this MetaMask crashing issue on Android or iPhone devices? Don't worry! Just read the guide all the way to the end.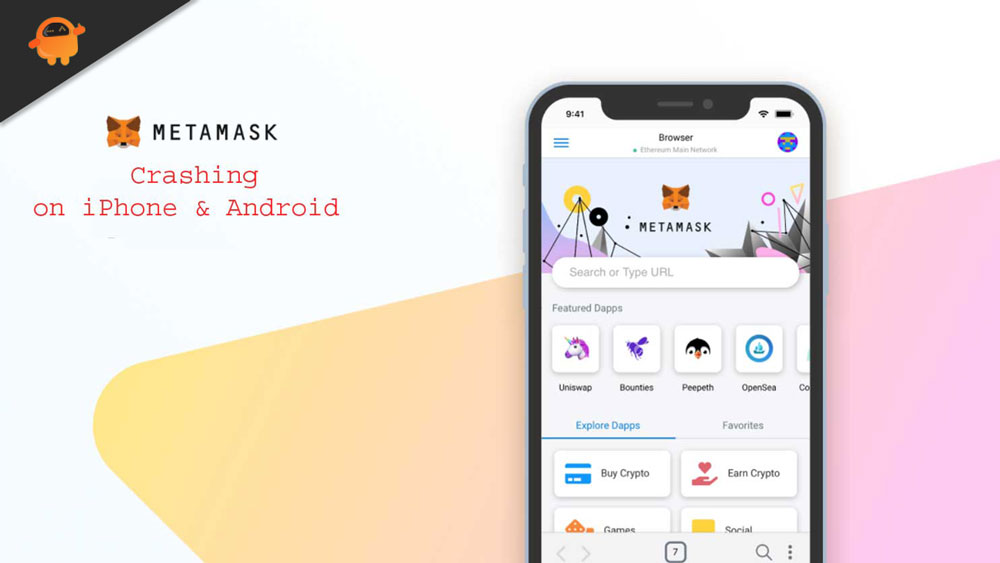 How To Fix MetaMask Crashing on Android or iPhone
Although you won't have the vast number of fixes that can resolve the crashing issue of your MetaMask app, you can still try out these methods as it has the potential and has already helped many users to get out of this situation. So, let's have a look at those fixes:
Fix 1: Reboot Your Device
The first and foremost thing that has the potential to resolve this type of issue is to reboot your device. You may find that your device contains damaged temporary bug files due to which it is not properly functioning.
Therefore, now, if you want to fix the MetaMask crashing issue, then you can simply try rebooting your device and check if the issue gets resolved or not. Many users report that the app crashing issue automatically goes away after rebooting their Android or iPhone. Try this out too and see if that helps.
Fix 2: Check Your Connectivity
Did you check if your mobile or WiFi internet connectivity is working or not? It is rare that an application starts crashing because of an internet issue. But, sometimes, it happens due to poor connectivity. So, you must have to make sure that your mobile data is working properly and if you are using a WiFi network, make sure that your internet is stable.
However, to check if your internet is stable or not, you can hover to Google and search to check internet speed and check your connectivity speed. Meanwhile, in case you find that the WiFi or mobile data doesn't give you proper connection speed, make sure to reboot your router and check the connectivity speed again.
Also, if you are a mobile data user, then shut down your phone and re-insert the SIM card. This will surely fix the internet connection speed, and once your internet starts working, the MetaMask crashing issue automatically gets fixed.
Fix 3: Clear The Cache
The chances are high that your MetaMask app may have some stored cache files, and you haven't cleared them for a long time, then you have to make sure to clear the cache files will be the right option to fix the issue. Therefore, let's check out the steps that will help you clear the cache data of the MetaMask app on your iPhone or Android smartphone:
For iPhone:
Initially, open the

Settings

app and hover to the

general

tab.

After that, select the

iPhone Storage

option.

Now, select the MetaMask app from the installed app list.

After that, tap on it and tap on the offload app.
For Android:
Firstly, tap on the

MetaMask

app and select the

App info

option.

After that, select the

Clear Data > Clear Cache > Ok

.
Fix 4: Make Sure The Servers Are Live
Are you sure that the MetaMask servers are live? Well, possible chances are there the MetaMask servers are not working, due to which the app starts crashing. Therefore, you must make sure to check the SaasHub to verify whether other users are there who reported the same or not.
Also, it would be suggested to follow the MetaMask officials on their official Twitter handle as MetaMask is very active on Twitter and regularly updates its users about the upcoming events and features, including the several issues going on with their services.
Fix 5: Log-in/out
In most of the cases, users have reported that by just simple login and logging out, the MetaMask crashing issue gets resolved. Hence, you should also try this out and see if it helps. To do so, simply tap on your profile and then hit the Logout button. After that, use your credentials to re-login to your MetaMask account and check if the app is still crashing or not.
Fix 6: Reinstall The App
If the above-mentioned methods don't help you resolve this error, we suggest you try reinstalling the MetaMask app on your iPhone or Android device.
This is because chances are there that due to some technical glitches while installation, your application file might get damaged, due to which it is continuously crashing. Therefore, reinstalling will be the last option that helps you fix this issue.
Fix 7: Try Using Any Other Device
In case you have already tried all the fixes listed above, then instead of using the same device, we advise you to try trading on MetaMask using a different device. You can also use your laptop or MacBook in order to use the MetaMask application. So, try it and see if you are able to access your MetaMask account without any trouble or not.
Fix 8: Contact To Support Team
If you have tried to run the MetaMask application on a different device but still get the same issue, we highly advise you to reach out to the MetaMask help desk and raise your complaint ticket. Depending on the situation, you may receive a response from the official within 24 hours. They generally reply within one hour, but they may take up to 24 hours in some cases.
So that's all I have to say about fixing the MetaMask crashing issue on iPhone or Android smartphones. We hope that the troubleshooting methods discussed earlier in this guide have helped you. Even so, if you have any questions or comments regarding the topic, feel free to let us know in the comment box.