In this month of 2021, we have come up with some of the best Minecraft bedrock seeds like usual. For this month, we have decided to go on with the seeds specifically from the Minecraft Bedrock version. So, if you are planning to try something new on the latest Bedrock version, you are in the right place.
Each seed of Minecraft brings a whole new world for the players to explore. They bring up new biomes with different challenges and adventures. And the Minecraft Bedrock seeds bring even more interesting things to start a journey with. If you are looking to start a new journey in the Minecraft world, you would probably love this list of the latest Minecraft Bedrock seeds for December 2021.
We have included the latest bedrock seeds, each featuring a different type of world with the best updates. So, even if you are bored exploring similar Minecraft seeds, you will definitely find a different biome with more interesting challenges coming up your way. Hence, take a look at our top best Minecraft Bedrock seeds for all platforms, including Xbox, Mobile, and Windows 10.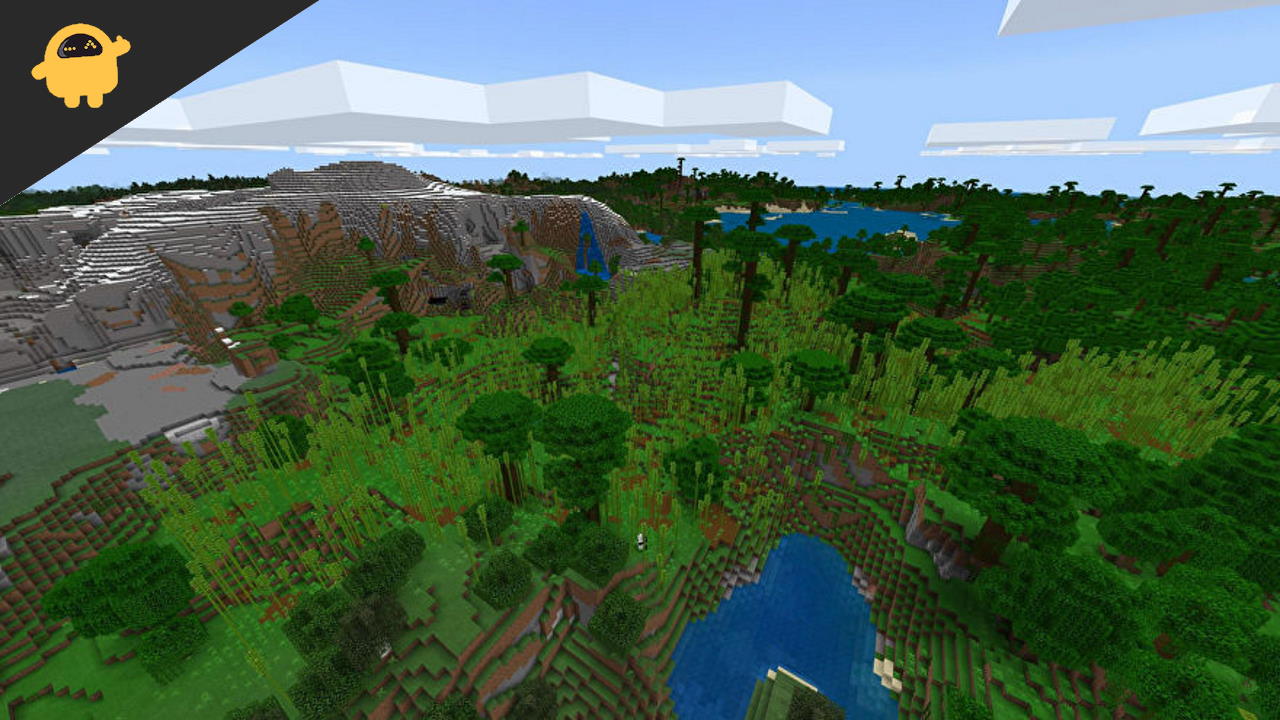 Minecraft Bedrock – Top Seeds For December 2021
The Minecraft Bedrock edition provides a better and smoother gaming experience compared to the previously introduced Pocket edition. Here is a list of the best Bedrock seeds for the month of December 2021.
Stronghold Ravine Village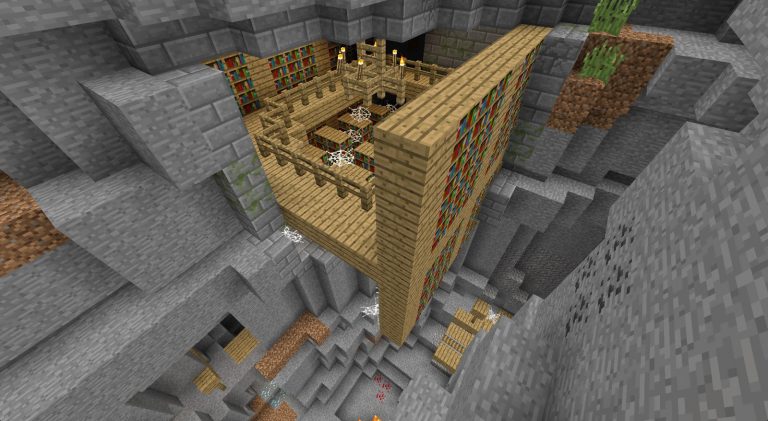 The Stronghold Ravine Seed is one of the best Minecraft seeds to try on. It has a ravine with an exposed stronghold, which is extremely rare to find. Besides, it has around 5 – 6 villages and 3 – 4 towns. The seed comes with good exposure, with hundreds of interesting things to look around.
Seed: 1009427633
Vast Survival Island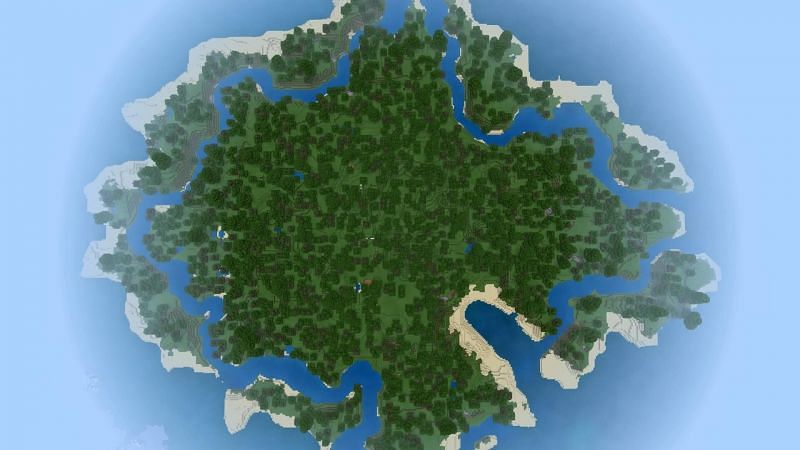 This Minecraft bedrock seed features a huge island full of trees, rocks, and other wonders. It has a vast island located in the middle of a sea and several small islands surrounding the main island. Players can take all the time they need to expose and discover what new wonders the mainland has been hiding.
Seed: -2108063506
Mountain Range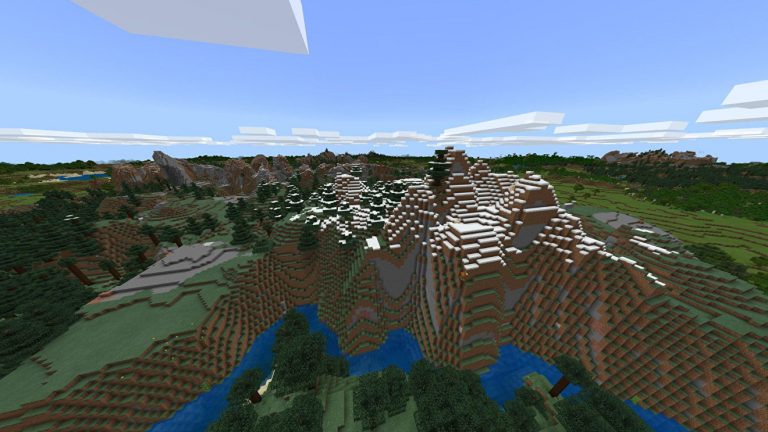 Mountain ranges, as in this seed, picture a very decent and breathtaking view of nature. It is surrounded by grasslands and green forests everywhere, as far as the eyes can see. The mountain ranges look so real, as if the player is looking at real-life mountains. Moreover, a lot more mobs have been added to this seed, such as the goats, bees, and a lot more.
Seed: 46623432
Shattered Savannah Village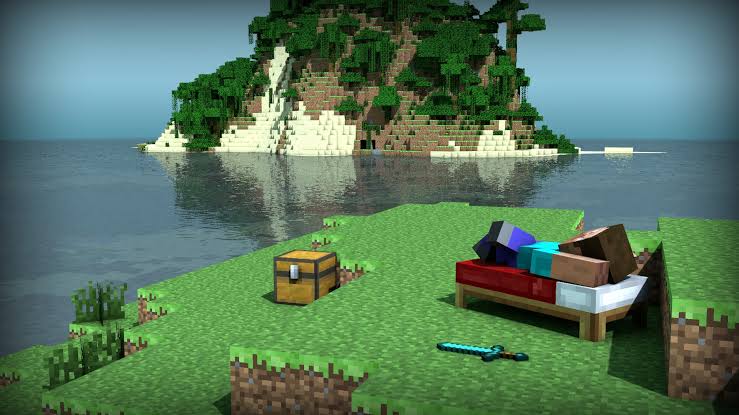 The Shattered Savannah seed is another great one worth a try. It has tons of naturally occurring structures with pretty terrains and amazing loots. More interestingly, this seed has most of the rare biomes.
Seed: -603663592
Bastion Spawn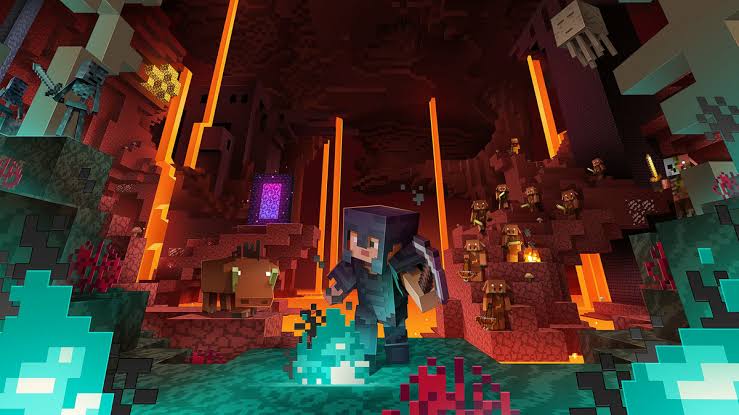 This seed lets you expose the underworld nether. The nether is full of strange structures called bastion remnants, mostly made out of black stones. There are a lot of loots and several other things to look at.
Seed: 978538240
Desert Zombie Village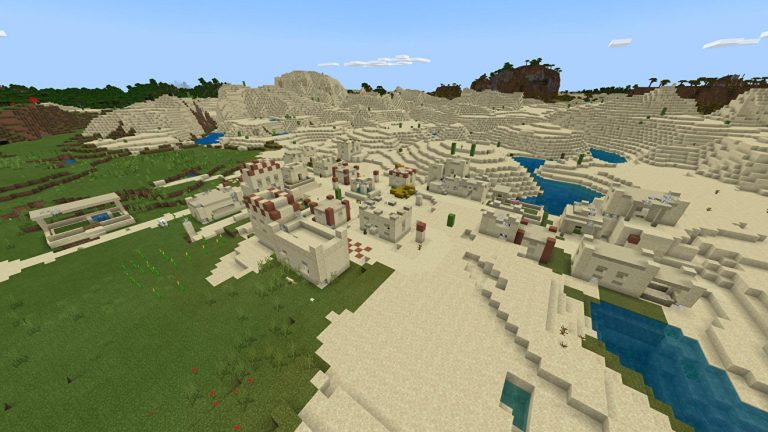 If you need a bit of a change from the regular villages with green grasslands, the Desert Zombie Village might be worth a try. This bedrock seed has plenty of zombies, spiderwebs, and certain things which are rare to be found in normal green villages. You have a lot to explore, and tons of treasures are waiting for you on your way.
Seed: -2125155448
Desert Oasis
Unlike the Desert Zombie seed, here you will witness beautiful jungle biomes in the middle of a Desert. The forest is filled with trees and grasslands all over. And just under the Oasis, there is a lot of interesting stuff to look for. You can also come across a spider and zombie spawner too. Besides, the massive desert also has a lot hidden in it. There are multiple desert temples and a whole lot of places to explore.
Seed: 979801021
Seaside Savanna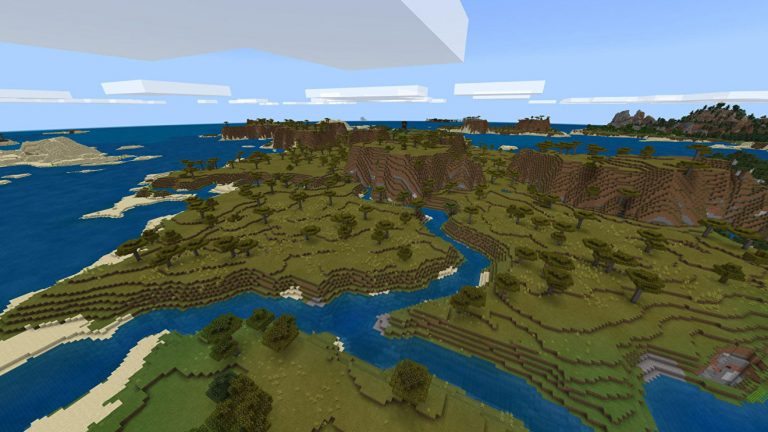 This bedrock seed stretches a long way, picturing a wonderful landscape. The Savanna biome is covered with trees and grasslands, giving it a very decent look. The hill lines and the rivers add a more beautiful view, splitting the landscape accurately. The players can either chose to stay on the lands, explore and get settles, or set sail to discover what glories the other side has been holding for them.
Seed: 1541555765
Tall Ravine Outpost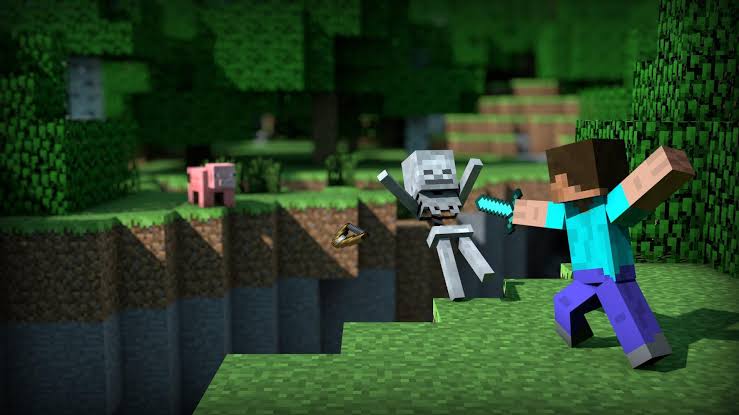 This seed is pretty much like a normal village with a ravine. However, it has the tallest pillager outpost standing vertically on the ravine.
Seed: 807847626
Village With 5 Blacksmiths
If you wish to fill your inventory, then the village with 5 blacksmiths is probably the best Minecraft seed you can have. As the name itself suggests, this seed has a total of 5 blacksmiths and amazing loot to provide high-quality chest contains to the blacksmiths. You can find tons of diamonds, iron, weapons, and other armors.
Seed: 1813572489
Large Starting Island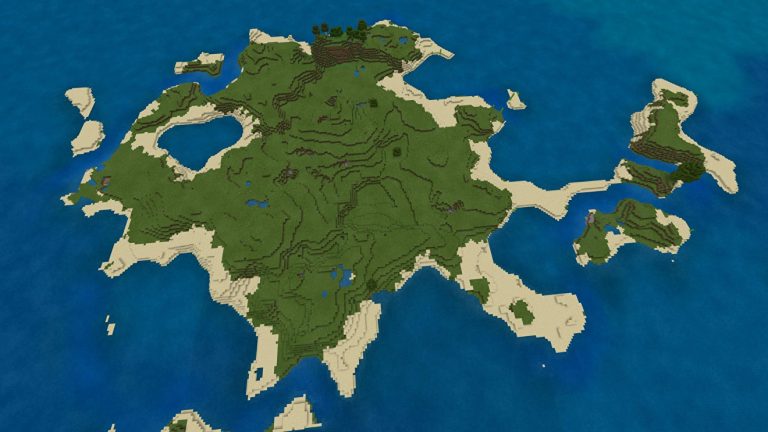 In this Minecraft bedrock seed, players spawn on a massive island in the middle of a sea. The mainland is mostly covered with greenery, in addition to some amount of deserted lands. What's more important is, you can find almost every essential thing you need to turn this place the way you wish. However, you will have to sail a bit to gather some wood to build your empire.
Seed: -298567655
Many Biomes and Nice View
Not just one or two, but you can explore multiple biomes in this seed. It has a spruce forest with an open lake next to its side that adds a beautiful view of the seed. The overall landscape looks pleasant to the eyes, and you will have an enjoyable time exploring and building throughout the gameplay. It also has handsome rewards and treasures. However, with different biomes comes different challenges, and the player must always be ready for it.
Seed: 356520714
Double Exposed Spawners
The Minecraft seed features a ravine with two exposed mob spawners. It allows converting these mob spawners into exp farms as well.
Seed: 1803471699
Picturesque Mesa
The picturesque mesa biome is a massive one that stretches a very long way. The players spawn in the border between the mesa and the grasslands. This seed has plenty of trees and grasslands and so you can easily build your setup in the Minecraft world. Besides, there are a lot more things to discover as you start exploring this seed more and more.
Seed: -2076244187
Mushroom Islands and Ocean Ruins
If you are looking for a mob-free island in the Minecraft world, the Mushroom island is probably the best seed you can try. Mushroom islands and Ocean ruins is a peaceful seed with a magnificent landscape. The mushroom island is basically a survival seed where players spawn and have a lot to explore throughout. The seed has beautiful coral reefs, nether portals, icebergs, and ocean ruins, making it look very pleasing to the eyes. Players can also find some great loot in this seed and be free from any mob/ monster attacks.
Seed: 817635968
Every Biome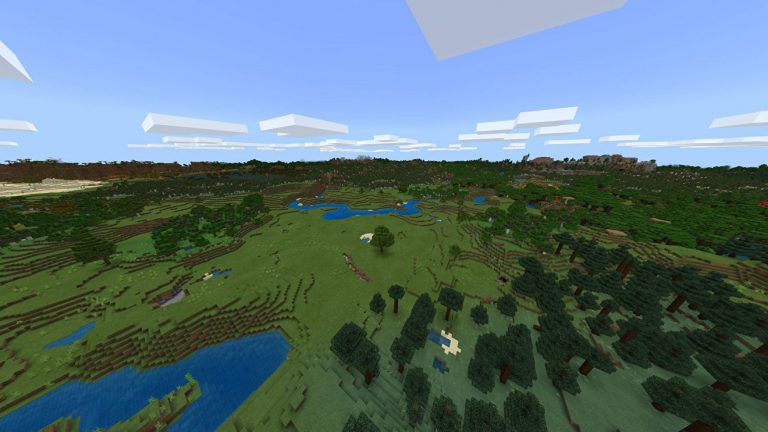 Ever imagined what would it be like witnessing all kinds of Minecraft biomes within a single seed? Well, just as the name suggests, Every biome seed brings a glance of all kinds of biomes in a single seed. Ever since the player spawns, they have uncountable places to explore and treasures to discover. In a nutshell, if you like facing challenges in the Minecraft world, try exploring this seed and build a setup in each biome.
Seed: -433664663
Conclusion
I hope this article will help you pick a new journey for this month. Since we have mentioned the coordinates along with other notable details, this shall help you easily find these seeds and start your journey. These Minecraft Bedrock seeds possibly come with the best landscapes and a lot more interesting stuff that will definitely catch your interest.
Besides, this list includes both challenging as well as survival seeds too. You can choose any one of these Bedrock seeds and start your new adventurous journey. Let us know if we missed out on anything by chance. Let us know which seed caught your attention and share your experiences too.