Minecraft isn't just a game; it's a phenomenon. It has garnered a cult following of millions across the globe. And if the fever of Minecraft has gripped you too, the best way to be a part of the Minecraft mania is to join the best free servers and share the Minecraft universe with others.
But quite often, Minecraft beginners are hesitant to directly go for paid servers, and that's why we bring you the list of best free Minecraft servers that will help you start the Minecraft journey without putting an extra burden on your pocket.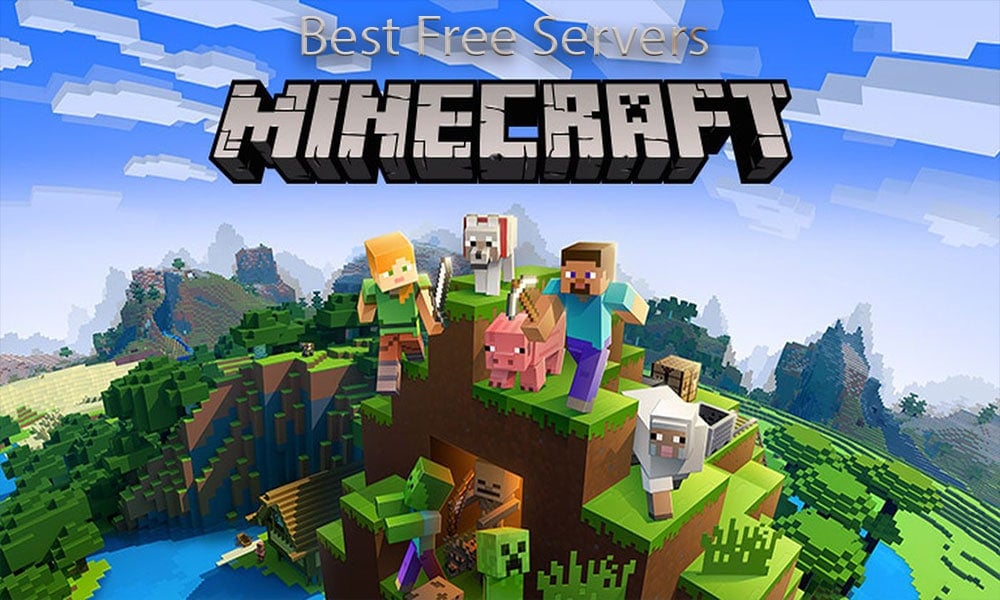 List Of Some Best Free Servers To Play Minecraft
Server Pro
Number one in the list of best free servers for Minecraft is Server Pro. If you are just starting in the world of Minecraft and want to hone your skills and know the way around the game, the feature-loaded server pro provides all the tools and environment needed to do so.
It has all the resources to get you started with Minecraft, with a simple to use control panel. The key feature of server pro is that it's newbie-friendly, therefore a perfect choice for starter Minecraft enthusiasts.
Here is what you will get with server pro host
In terms of resources, you will get 5 GB SSD storage, 512 MB of RAM, and a 2 core processor. More than enough to get things going.
You can team up with up to 12 players to make things interesting and also incorporate 12 plugins to apply additional features in the game.
Aternos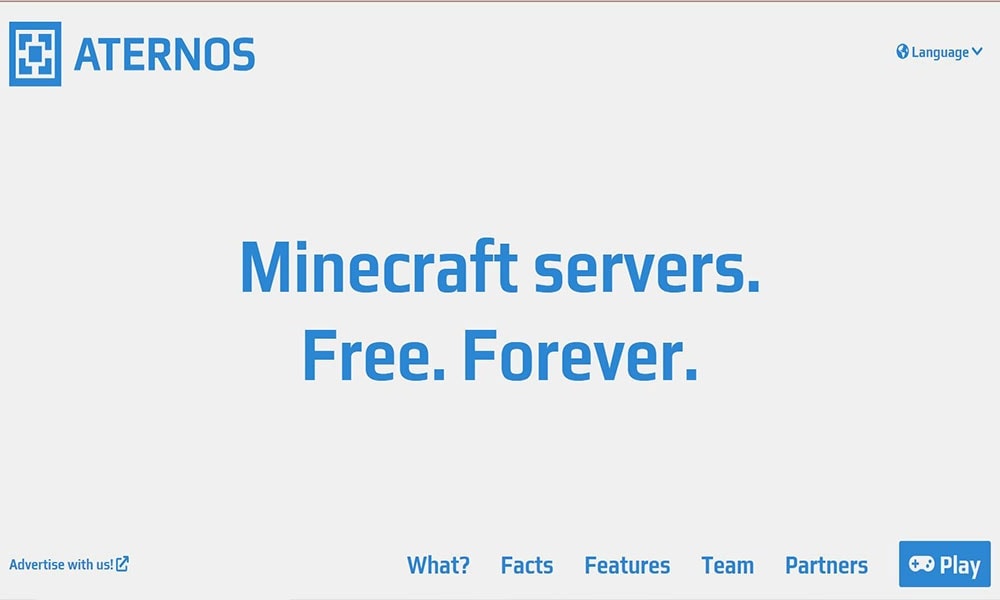 Another best server for Minecraft. The very idea behind the inception of Aternos, an extremely popular portal for Minecraft lovers, was to make available free servers for Minecraft. You won't be charged a dime to obtain your very own server for playing Minecraft. It reflects in the company's motto, too, which states, "Minecraft servers – Free – Forever."
Aternos is suited for both newbies who are just beginning their Minecraft journey and the experienced player who wants to explore the game further. The best part of Aternos is that it allows customization and adjustment according to the need of the administrator. On top of that, there are stringent security protocols in place to prevent any unauthorized access to your server.
Here is what you will get with Aternos
While Aternos does hide the exact numbers about the storage and RAM, you certainly get a 2 core processor for the smooth running of the game.
As an additional feature, Aternos includes DDOS Protection, Automatic Backups, Modpacks & Plugins, Custom.
You can team up with up to a maximum of 12 players to steam up the game experience.
To keep the whole setup up and running flawlessly, Aternos is backed by an excellent support team, which is very quick at resolving any issues if they crop up.
ServeroMat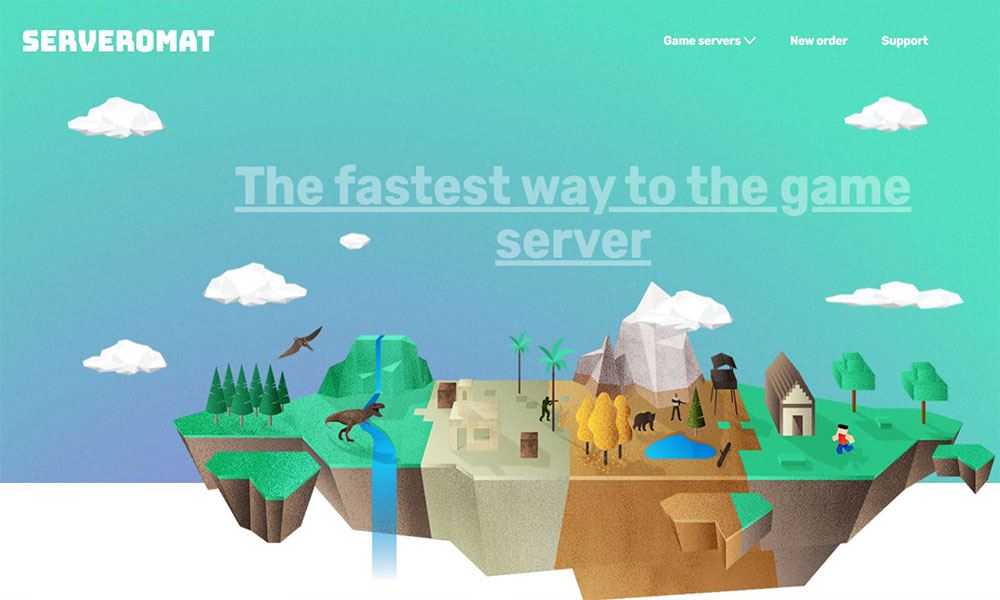 Another excellent choice for a free Minecraft server is the ServeroMat. Its servers are also quite popular among the players of GTA and Left 4. You can easily create a pretty decent server to dabble in the Minecraft universe. The best part is, you don't have to shed a single buck to get a Minecraft server.
Here is what you will get with ServeroMat
Although the company does not disclose the resources for its free server, based on the performance, we can correctly deduct that you get around 1 GB of RAM and 5 GB of SSD storage.
A 2 core processor that does the needful to keep the game glitch-free and smooth.
A maximum of 12 players to share the Minecraft universe and up to 10 plugins.
Minehut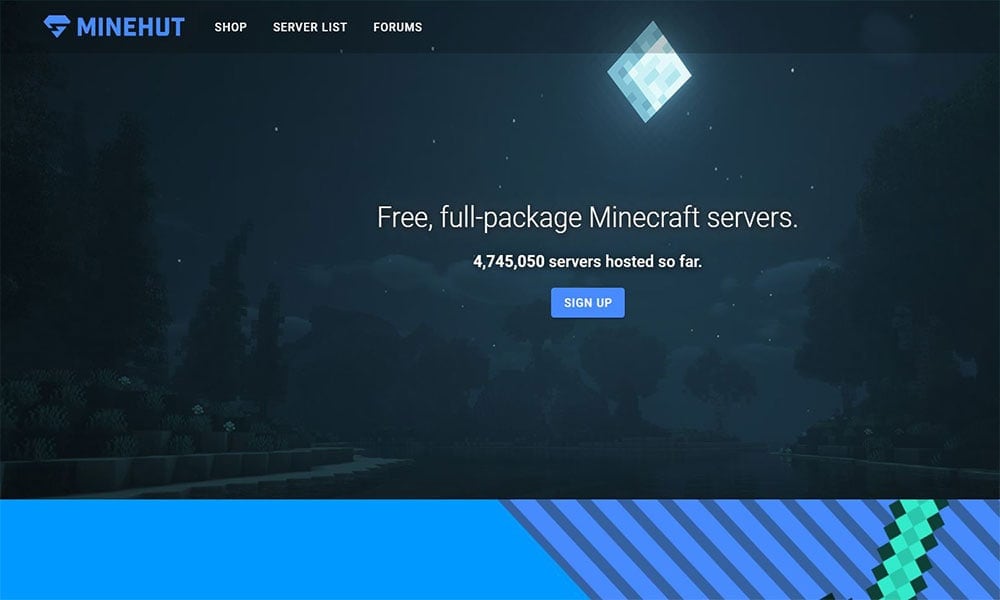 Minehut is known for its speed and service – no wonder why a popular choice for a free Minecraft server. With Minehut, you get instant server setup and activation with no startup queue. If you are in search of a free Minecraft server that is fast, feature-laden, and provides instant activation, Minehut deserves a try.
Here is what you will get with Minehut
These numbers are not official, but you will get the standard 1GB RAM and 5 GB storage space.
Two completely free servers to enjoy Minecraft to its full extent.
Team strength of 500 players, who can join the game without any issue. So a large base of players to team up with.
How to set up a Minecraft server?
So you have chosen a server from our list of free servers to play Minecraft. The next step is to set up the server and get started with the game. Here are the steps you must follow to have your Minecraft server up and running;
The first step is to download and install java on your PC. You will get better performance and the latest integration with java installed.
Next, open the Minecraft RAR file. Give your permission for the server properties and user agreement.
If there is a firewall, permit to allow access to the Minecraft server.
Lastly, connect to the Minecraft server of your choosing.
Final Words: Free Minecraft Server List
We hope that one of the free servers listed here will serve your needs and help you experience the extremely immersive and highly engaging world of Minecraft. Although the free servers have their limitations when unlocking all Minecraft features fully, you will still get enough resources to easily tread the Minecraft universe.
When you have gained a certain level of expertise and wish to level up with more experienced players, you can constantly shift for the paid servers with better functionalities and more features.
Well, that's all we have got here for you with the list of best servers for Minecraft. We hope you like playing on these servers. For more updates, subscribe to our YouTube Channel. Don't miss to check out our Gaming Guides, Windows Guides, Social Media Guides, iPhone, and Android Guides to know more.