Pokémon Scarlet and Violet are the 2022's first open-world role-playing video games under the Pokémon series which is developed by Game Freak and published by Nintendo and The Pokémon Company for the Nintendo Switch. Though Pokémon Scarlet and Violet have received plenty of positive reviews on Nintendo Switch, some players are encountering multiple issues like Pokemon Scarlet & Violet Connection Issues for VGC and TCG matches.
Apart from the corrupted save issue, and startup crashing issues, the new connection failed error is bothering a lot of players which becomes frustrating. The Pokemon VGC battles for the 2023 San Diego regionals took place on Scarlet & Violet. But it seems that there are several bugs or errors troubling Pokemon Scarlet & Violet players during the first round of matches since January 7, 2023. Well, players are getting connection issues that require a full reset.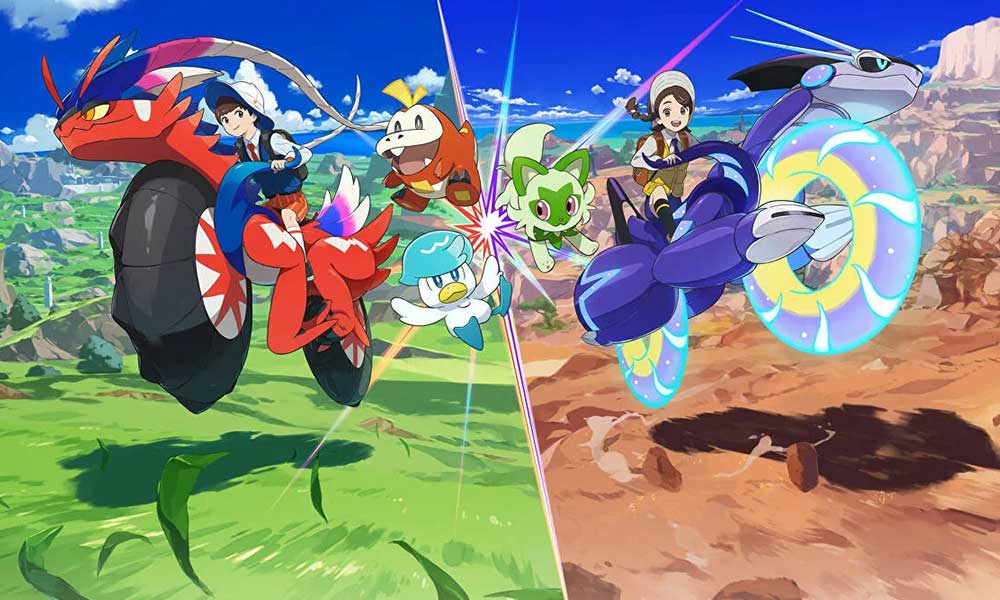 Pokemon Scarlet & Violet Connection Issues, Is There A Fix?
Unfortunately, there is no official announcement made yet from Nintendo or Game Freak regarding the connectivity errors. It seems that plenty of affected players are pretty much disappointed with this release due to the performance and other gameplay issues from day one. Additionally, there are several glitches present that affected the gameplay sessions, character movements, visual performance, and so on. Still, we're expecting valid fixes soon.
A tweet by @DaWoblefet did mention that Pokemon Scarlet & Violet players can see a video of the interrupted match from the stream which says "Communication with the other trainer was interrupted". It immediately disconnected frame 1 on the first Scarlet/Violet Regional Stream. So, the players are requesting Nintendo and developers to kindly bring back the live competition once again. You can check out the mentioned tweet below.
FRAME 1 DISCONNECTS ON THE FIRST SCARLET/VIOLET REGIONAL STREAM

Please bring back Live Competition #PlayPokemon pic.twitter.com/sOYd5vPF5f

— Leonard Craft III (@DaWoblefet) January 7, 2023
While some other affected players are saying that devs should go through every single city in the game to ensure there is no issue with it before making it stream. Visual bugs and other potential issues like connection errors can easily freeze the game during the stream. So, developers will have to fix all of the common issues asap.
THIS IS A VERY GOOD THING, now all we need is for someone to run through every single city and put the game at its breaking point right before they're put on stream so that it forces all the visual bugs and potentially even risks a hard freeze. They'll have to fix it.

— ThunderCurrie (@Thundercurrie) January 8, 2023
Luckily, there are a couple of possible workarounds mentioned below that might come in handy to you. So, without wasting any more time, let's jump into it.
1. Check Your Network Connection
First of all, you should check your internet connection properly to ensure there is no issue with the upload or download speed as well as stability. If you have at least 3MB/s download & 1MB/s upload speed then your Nintendo Switch will run games quite smoothly. If not, contact your service provider to upgrade the data plan.
2. Use the Internet Connection Test on Nintendo
It's also recommended to manually test the internet connection on your Nintendo Switch console by following the steps below. By doing this, you'll be sure enough whether the internet connection is working fine on your console or not.
From the HOME Menu, select the System Settings icon.
Scroll down and select Internet.
Choose Test Connection and the test will begin immediately.
Wait for it to complete and here you'll get all details like connection name, SSID, internet connection result, global IP address, NAT type, download & upload speed, etc.
3. Update Pokemon Scarlet & Violet
You should also check for the Pokemon Scarlet & Violet game update on your Nintendo Switch by following the steps below. An outdated game patch version can cause several issues or temporary glitches while launching as well as connecting to the servers.
Go to the Home Menu of your Nintendo Switch.
Select the Pokemon Scarlet & Violet game > Press the right-side Plus button on the controller.
Now, select Software Update from the drop-down menu.
Choose Using the Internet as a Source and wait for the update process to be completed.
Once done, ensure to reboot the Nintendo Switch to apply changes.
4. Check for System Software Updates
The chances are high that somehow the system software version on your Nintendo Switch becomes pretty much outdated or corrupted. It can eventually trouble you a lot and trigger game launching or connectivity issues. So, you should check for the system software update by following the steps below.
Keep your Nintendo Switch console charged sufficiently.
Go to the HOME Menu > Select System Settings.
Scroll down and select System.
Now, hit System Update > The system update process will start.
Wait for the process and the system will check if there is a new system update available or not.
If a new update is available, the system will start downloading and installing it automatically.
Once done, reboot the console to apply changes.
5. Try Deleting Cheats
If you've added any cheats to the Pokemon Scarlet & Violet games then try deleting cheats individually. After deleting a cheat, you should try running the game to check if the connectivity issue has been fixed or not.
6. Try Removing External Cards
You can also try removing external cards from your Nintendo Switch. Just press and hold the Power button for around 10-12 seconds to forcefully power off the console. Once done, make sure to remove any game cards or microSD cards. Finally, power on the console & launch the game to check for the issue.
However, if none of the methods worked for you then you'll have to wait for a couple of days or weeks until developers come up with a potential fix.
That's it, guys. We assume this guide was helpful to you. For further queries, you can comment below.