Screen times inform you of how much time you (and in the case of smartphones and interconnected tech gadgets, that of your kids or anyone in your family) have spent on various applications, websites and much more. Screen Time was announced by Apple alongside the release of iOS 12, and offers a way to secure your iPhone Screen Time with a passcode.
With Screen Time, you can make an informed decision on how efficiently (or not) you use your smartphone. Instagram has something similar, they call it "Your Activity".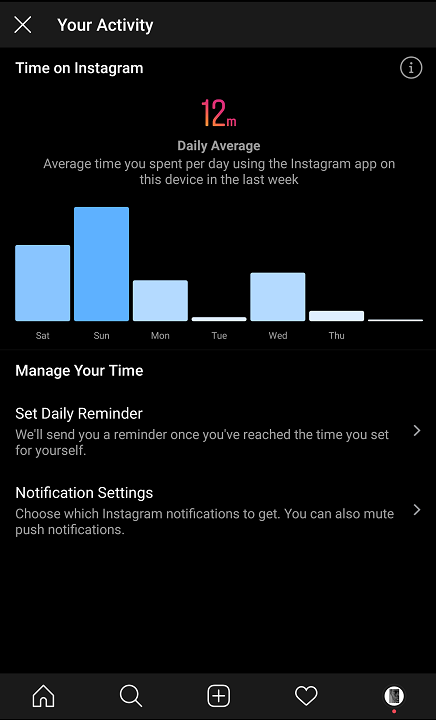 I checked mine recently and I average about 12minutes daily on Instagram; it's 2020, we're on a lock-down, who doesn't spend half of their day on Instagram, scrolling endlessly through the explore page? I'll tell you who, me.
But I'm not that much different from you, albeit just on a different platform; I might not be spending half my day on Instagram. but Twitter? My goodness! But, I digress. Back to Screen Time.
Unlike Instagram's "You Activity" page which of course is limited to one application, Apple's Screen Time is a lot more sophisticated, intuitive and robust. One of Screen Time's features doesn't just tell you how much time has been spent on an app on one device; it does the same thing across devices sharing the same iCloud account.
It gets better. Assume you set a time limit on how long you want to use Instagram for on your iPhone, Screen Time also calculates that whole hour across devices with the same iCloud account. 10 minutes on Instagram on your iPad adds up to the hour, as long as the device shares the same iCloud account. And when that hour is up, the app icon is greyed out, which makes it inaccessible. That's pretty cool. If you do try to open the app regardless, you will be prompted to insert your passcode (more on this below).
There's more. With Screen Time alongside Apple's Family Sharing, you can keep an eye on how your child uses their smartphone. It provides you with the ability to control Screen Time remotely, prevent iTunes and App Store purchases, set content and privacy restrictions, prevent web content, restrict Game Center, and so on.
Let's take a more comprehensive look at these functions offered by Screen Time on the iPhone.
Screen Time Features & Functions
App Limits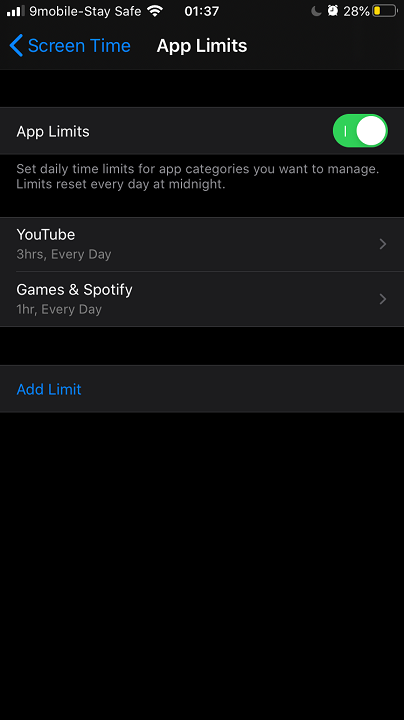 With screen time, you can set daily app limits for App categories with App Limits. An example will be being able to keep social media apps and games away during work/productive periods of your day.
Communication Limits
Screen Time empowers you with the ability to control who you children can communicate with. You can simply set communications limits for contacts. Unfortunately, this particular feature is only limited to stock Apple communications apps like FaceTime, iMessage, Phone, iCloud Contacts, etc.
Content & Privacy Restrictions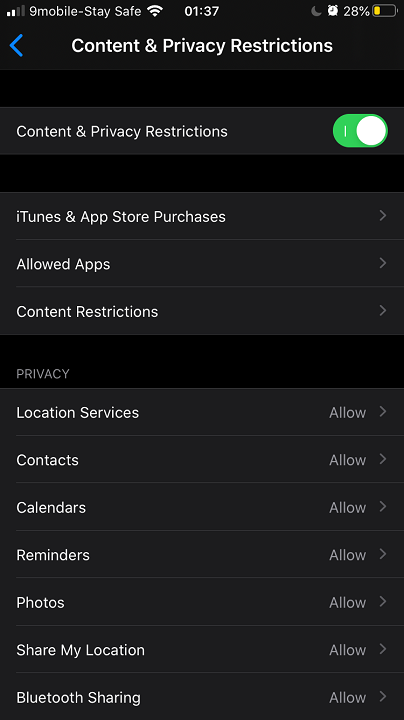 You get to decide what content you see. You can easily block inappropriate content, downloads, purchases. You can also set privacy settings.
Downtime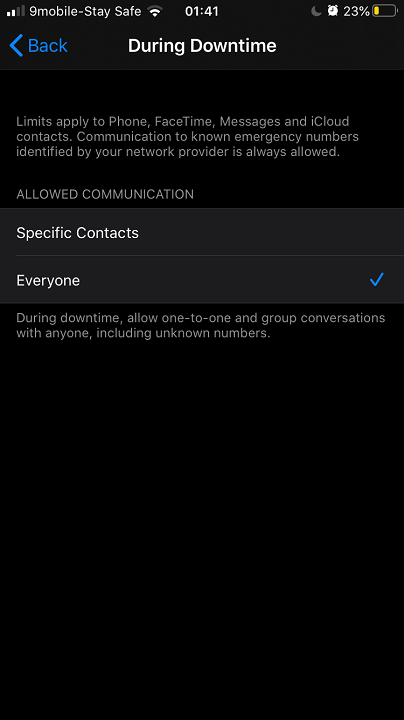 Downtime is my personal favourite ScreenTime feature. You can think of it as a break for your screen. When you have downtime set up, only phone calls and apps that you choose will be made available during that period. This is that cool feature I mentioned earlier.
Set up a Screen Time Passcode on your iPhone
After having all of the above functions configured and enabled, you will want to set up a Screen Time Passcode to prevent anyone read: your child) from modifying these settings.
So how do you secure your Screen Time settings with a passcode? The steps are outlined below. Do remember that all of these data is shared across Apple devices using the same Apple ID by default. You can, of course, turn this option off.
Steps
First thing is to open the Settings app on your iPhone & select Screen Time.


Next thing is to select "Set up Screen Time Passcode".

Add your 4 digit passcode and confirm it.



Verify your Apple ID login details.
Set Up Screen Time Passcode With Apple's Family Sharing
I already stated the advantages of having Screen Time Set up on your child's smartphone with Family Sharing. Here's how to secure those configurations with a passcode.
From your iPhone, navigate to Settings > Screen Time.
Click on the "Setup Screen Time for Family" option and you will be asked to insert your child's Apple ID.

All done. The same passcode used for your personal Screen Time will be the same used on Family sharing.
How to Deactivate Screen Time
Let's say you've gotten over your proclivities to using your phone when you should be productive, or you are handing your current device down to someone else, you might want to consider deactivating your Screen Time Passcode. Here's how to do it:
Open the Settings app > Screen Time.
Select "change Screen Time Passcode".

You will be prompted with two options, "change screen time Passcode" or "Turn Off Screen Time Passcode". Select the latter.



Insert your current Screen Time Passcode for authentication. And the passcode will be removed.
This step can also be followed if you want to change your Screen Time Passcode. You'd just need to select the first option in step 3 above.
When and Where to Use Screen Time Passcode?
A few questions you might have might be, "where can you use screen time passcode?" and "when should I use screen time passcode on my iPhone and/or Apple devices?".
First things first, it is advised that your Screen Time Passcode is not the same as your iPhone's passcode – the security flaws of this are obvious. Secondly, your screen time passcode is completely different from your iPhone passcode; hence, you cannot use it to unlock your device.
Here are a handful of use cases for your Screen Time Passcode:
When your child (or you) tries to modify or disable Content & Privacy restrictions.

Whenever you attempt to modify your Downtime settings or disable the option entirely.
Basically, whenever you want to make changes to the options you have enabled on Screen Time. you will be prompted with the option to insert your passcode.
While the Screen Time passcode is not an alternative to the native password function or Face ID for securing your iPhone, it's a pretty good option for protecting your screen time settings on your Apple smartphone.