Microsoft Edge is a powerful multipurpose browser which ships with Windows 10 operating system. With recent updates, users now have full privacy control on Microsoft Edge Browser. Now you can set up who can view your data, your browsing pattern, and much more. So it's a great time to tune in security and privacy settings to secure your Microsoft Edge Browser. Opting in for privacy and security is easy, and it comes with three different modes. We will discuss more of that in the below sections. First, let us tell you about how you can secure your Microsoft Edge browser in Privacy settings to enjoy a more secure browsing experience.
Privacy is a huge factor when it comes to online security, and Microsoft takes it very seriously. The new Microsoft Edge browser comes with the latest privacy settings, which you can enable to get a much smooth and safe browsing experience. If you often do online transactions and online shopping of some kind, then you should be very aware of the online frauds. The new privacy settings in the Microsoft Edge browser will protect your privacy and will help you keep yourself safe.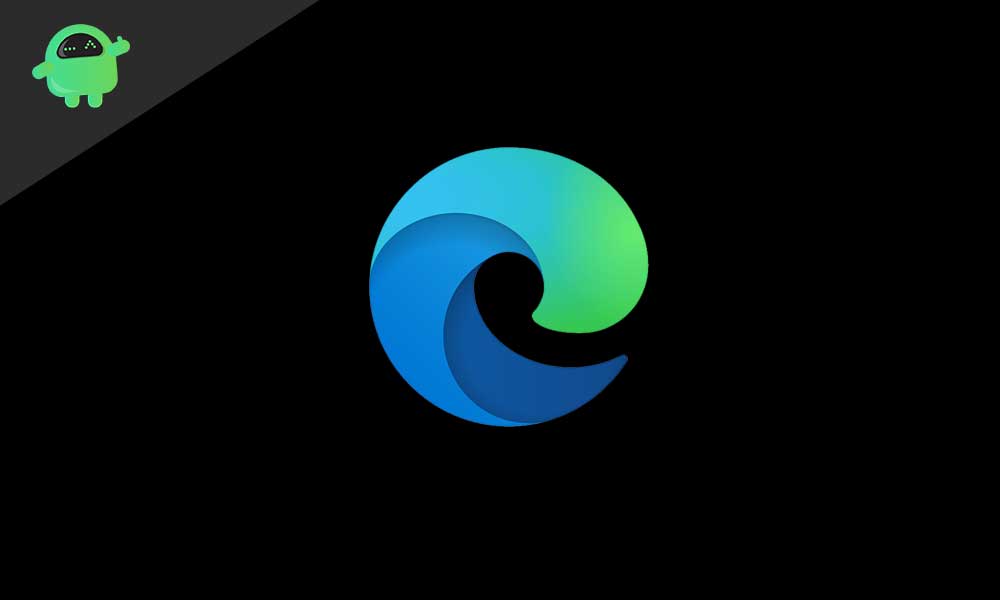 What Are Microsoft Edge Privacy Settings
The new Microsoft privacy tools allow the user to block first-party cookies (cookies basically are used to keep you logged in or remember the items that you added in your cart) and third-party tracking, which keeps track of your browsing history and pattern.
As we are continuously on the internet and most of our work is online, privacy plays a vital role in keeping our personal information safe from cybercriminals or data theft. These pieces of information may include your personal details and also your transaction details, as well as your banking and credit card details, which are the ultimate target for cybercriminals. It is very important for us to keep our data and personal information safe.
How to Secure Your Microsoft Edge Browser in Privacy Settings
Microsoft's new and improved Edge comes with better privacy than previous versions now. The latest update is based on the chromium source code. Below are the instructions on how to change the specific settings with step
Change the level of protection (Turning on and off trackers)
Click on the three dots on the top right corner of the browser.
Now select settings and then navigate to the Privacy and Services option.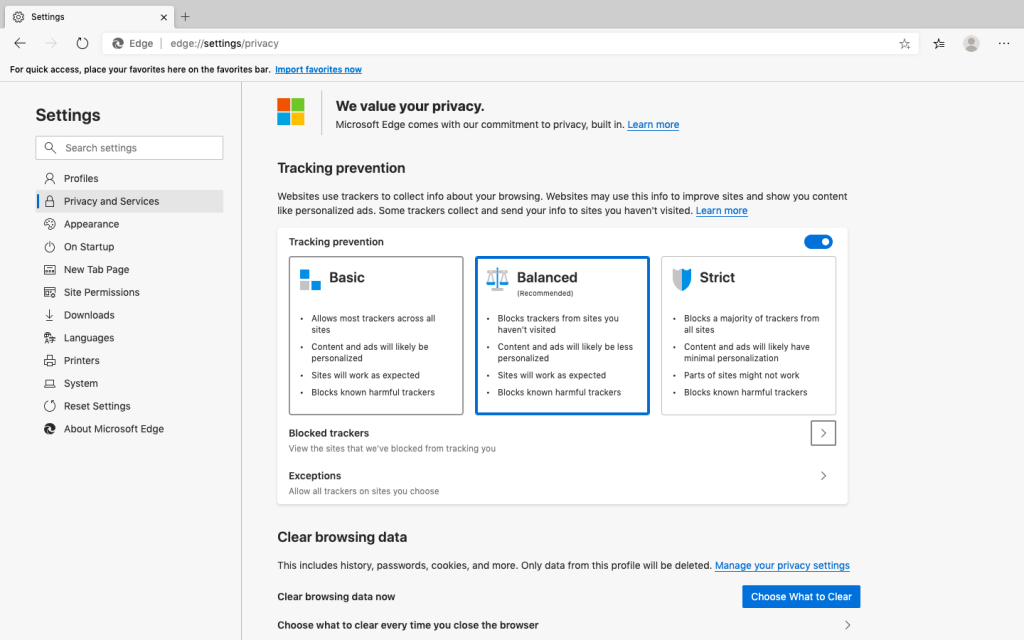 Tracking prevention should be on; you can then select the level accordingly.
There are three levels of tracking prevention:
Basic – This mode mostly allows trackers across all sites. This will not block all trackers but most.
Balanced – This mode will block the trackers from the websites that you haven't visited.
Strict – This mode will block the majority of trackers from all sites. (Few sites may not work properly as those depend on the revenue generated from trackers and ads)
These are the privacy settings mode on the Microsoft Edge browser. Choose according to your needs and workflow.
Adjust your trackers in the settings
Trackers are used by some websites to identify and collect information about users. It is done to keep track of the user and provide personalized and targeted content in front of the users.
It is very important to block these to avoid any kind of information collection and maintain online privacy. Thankfully Microsoft Edge browser does come with active privacy control in the settings option. Here you can adjust tracker settings. Here is how to do so:
On the same "Privacy and services" page, there is an option of "Blocked Trackers" just below the prevention modes. All the blocked trackers will be listed here.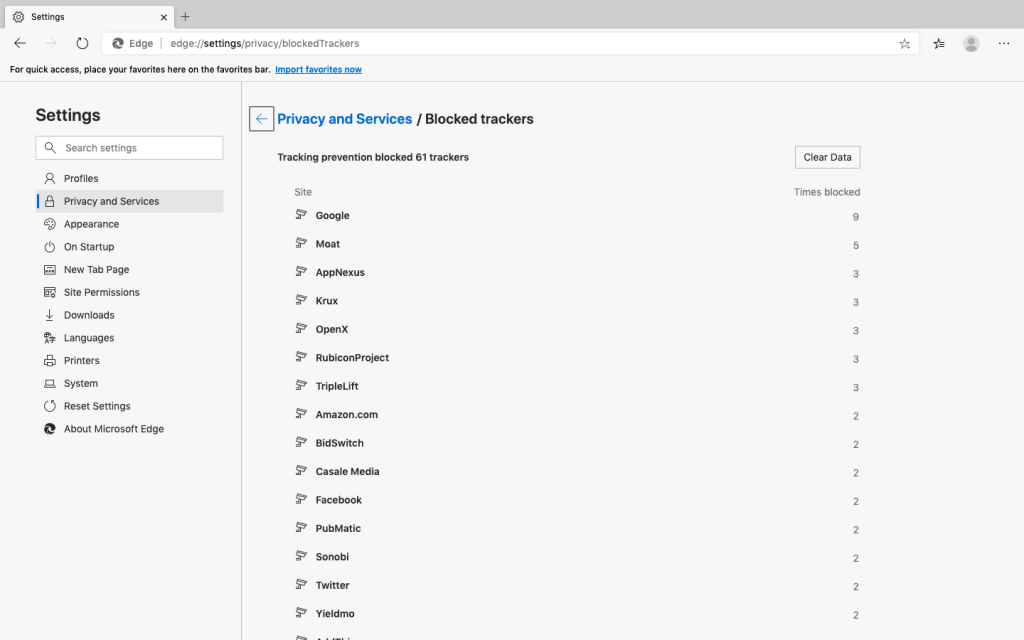 Below that, you will find "Exceptions," from here, you can choose if you want the tracking prevention to be "off" for any specific site.
Cookies, in general, are the information that your browser stores when you visit a website, it stores your data. These can include your passwords, User ID, etc. It is very important to clean up cookies as some websites may keep track of your information and show you ads based on your browser history. Also, there are chances that your personal information might leak if you visit any malicious or phishing site.
So when you use a browser, it is very important to keep clearing cookies from time to time and also change your credentials over time.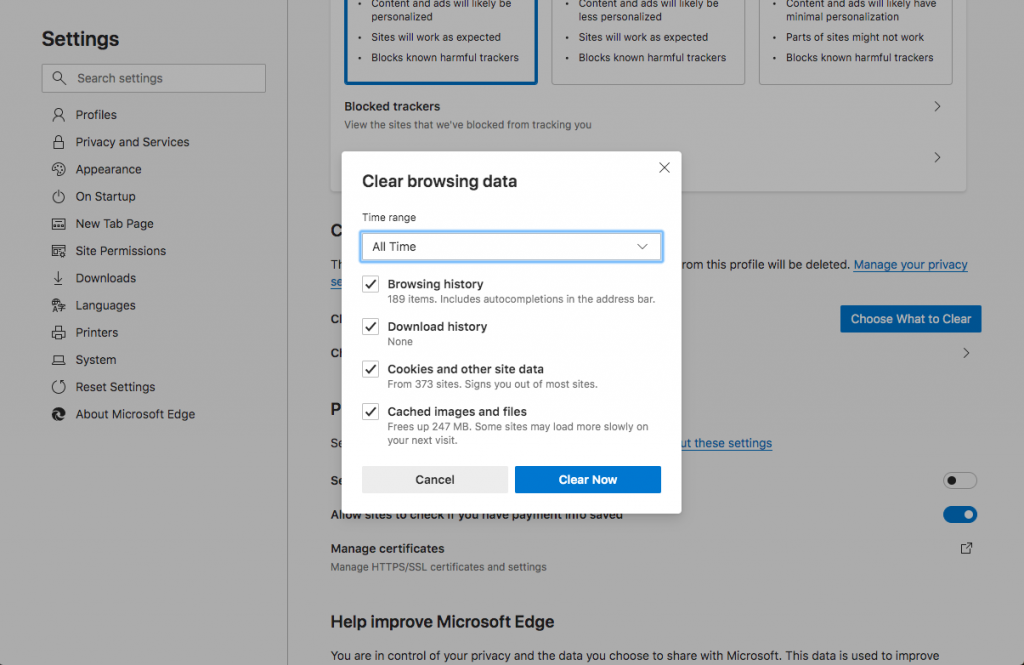 You can now select what to clear specifically
Under "Privacy and Services," go-to "Clear Browsing Data" just below the protection level selection.
Now choose what you want to clean.
You can choose from a range of options, which include Cookies, Browsing History, Download History, Passwords, Cache, etc.
Extensions and Ad Blocking
The new Edge also allows users to add extensions as it is now based on the Chromium platform, so they can now add extensions from chrome or the Microsoft store. Ads might compromise your privacy settings on the Edge browser. So it is a good idea to install an adblocker extension in Microsoft Edge. Although, Adblocking is not natively present. You have to manually add an extension for it to be activated.
Conclusion
privacy is something users should take seriously, and that is why the Edge browser gives you complete control over your intern privacy settings. Its goo to see such simple and robust privacy settings in the Microsoft Edge browser. Also, ads and other malicious codes keep track of your internet data. So make sure to clean cache and website cookies from time to time. In case you feel difficulty in any of the steps above, make a comment below. We will resolve it immediately!