For long-time fans of the Pokémon franchise, Niantic's Pokémon Go was one of the most delightful things ever to happen. Ever since its release in 2016, the game has given Pokémon lovers a chance to come as close as possible to experiencing the joy of actually catching and battling with Pokémon in the real world. Players do feel like real trainers, to put it precisely. That said, there are still a number of Pokémon from the Nintendo series that are unavailable. But thankfully, Niantic is doing a wonderful job in bringing most of them into Pokémon Go at regular intervals.
In the aforementioned list is Spinda, a rare rabbit-like Pokémon from Gen 3 that was unavailable in Pokémon Go until the summer of 2018. This happens to be one of the most curiously interesting Pokémon in the entire series. Upon the first look, it doesn't seem very special at all. It's Normal-type, and its stats are hardly high enough to be of much value in PvP battles. It does not evolve into anything exciting or powerful, either. However, what's unique is the pattern of spirals on its body. Every Spinda you encounter will have a different pattern on its body. And there are over – wait for it – four billion possibilities one could possibly encounter in the vintage series! Now isn't that something? Are you excited to go catching already? Let's head on to our guide to catching Spinda in Pokémon Go!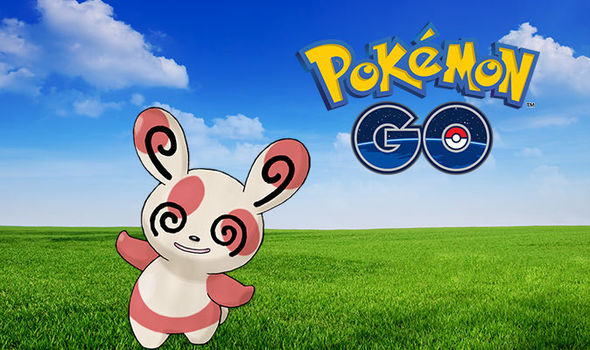 How to Get Spinda?
In Pokémon Go, you can find up to nine different forms of Spinda with unique patterns. Apart from its unique body patterns, Spinda has something else to boast of as well. It was the very first Pokémon to become available solely through the Field Research feature in Pokémon Go. Over time, this has become a popular and exciting method of obtaining rare Pokémon in the game. All you need to do is obtain the required Field Research, and complete it. This will earn you an encounter with Spinda, whom you can catch.
Now comes the slightly tricky part. The Field Research which will reward you with a Spinda encounter in the game changes every month. For this month of May, the quest is "Throw Five Great Curveballs in a Row." If you manage to get the one with a Mystery Pokémon reward, complete it to obtain a Spinda form 7.
Some Hints about Curveballs
If you're a regular player of Pokémon Go, you'll definitely be familiar with throwing Curveballs by now. Apart from being more effective, they have the added bonus of earning you extra XP. In short, you need to spin the ball and throw it slightly towards the side, in order to send it zooming towards the Pokémon you're attempting to catch. To make a Great Throw, wait until the circle overlying the Pokémon is less than half of the larger hit circle's size. It does require some patience and practice.
If the Pokémon is moving too much for you to aim properly, try calming it using a Nanab berry. Throwing your Pokeball right after its attack animation increases your chances of making a Great Throw. It's also worth mentioning that larger Pokémon, such as Snorlax and Legendaries, have wider hit circles and make aiming easier. So you have a better chance of making a Great Throw when catching them.
After you complete the task, you will encounter Spinda. Like other Field Research rewards, it won't fly so you can catch it without being stressed much. You might try using a Pinap berry as well, to double the amount of Spinda candy you receive.
Finding the Spinda Field Research in Pokémon Go
This might take a little while, and a good amount of patience, because you have to obtain Field Researches from Pokestops. And each Pokestop offers only one Field Research task a day, which changes the next day. So you'll have to keep looking until you finally obtain the Field Research task you require. Of course, you can delete unnecessary Field Researches in your inventory in order to make room for desirable ones.
A good way is to ask your actively playing neighbor friends about the tasks being offered by Pokestops in the vicinity. That will definitely help you find out about tasks in advance and save some valuable time in your quest. Although the Spinda encounter task has become rather hard to find lately, let us not forget that you have an entire month to do so. So with perseverance and dedication, there's no reason not to believe that you will succeed.
A brief introduction About the forms of Spinda in Pokémon Go
Like we already wrote above, there are nearly four billion forms of the Spinda to be found in the vintage Pokémon game series. Each of them features a new set of patterns on their bodies, making them unique. In Pokémon Go, however, there are nine forms of Spinda available to obtain as of now. You will have the opportunity to catch a different form every month. The good news is that these forms are being cycled back and forth since June 2019. So if you missed out on any of them, you needn't worry. You will definitely get the chance to catch them again.
Apart from this, since June 2019, there is also a chance to catch a shiny Spinda. Listed here is every form of Spinda available in Pokémon Go.
| | |
| --- | --- |
| Forms | Availability |
| 1. | October 2018, November and December 2019 |
| 2. | March to April 2019 |
| 3. | September 2018, September 2019 |
| 4. | May to June 2019 |
| 5. | January to February 2019 |
| 6. | December 2018, March 2020 |
| 7. | November 2018, January, February and May 2020 |
| 8. | August 2018, July 2019, April 2020 |
| 9. | Valentine's Day event 2019 |
In case you miss out on any of them, you can simply wait for it to be cycled back into play, or trade one with a friend. There still is room in the Pokedex for about 20 Spinda, so the possibility of more forms being released in the future is definitely there. We'll have to wait and watch.
Wrap-UP
This guide was to help the players of Pokémon Go in getting Spinda from the Spinda Quest. After following our guide, they will able to get him. We hope this guide helped you. If you have any queries or feedback, feel free to comment down below with your Name and E-mail ID. Likewise, check out our iPhone Tips and Tricks, PC tips and tricks, and Android Tips and Tricks for more such tips and tricks. We urge you to participate in the $100 giveaway by subscribing to our YouTube Channel.