Life simulation games often provide you with an opportunity to live a life out of an original world into a virtual world and carry out daily tasks. Well, there is no shortage of life simulation games for that matter across any platform, but there is a continuous demand for life simulation games, which is the reason why we see life simulation games coming up every now and then. Not a recent game, but Stardew Valley was launched back in 2016 has been one of the most popular life-simulation games that have been there for around some time, and users are still stuck to it playing.
Also Read: Best Stardew Valley Alternatives
For those who do not know, Stardew Valley gives the users an open world where you live your life on an island and continue with the daily tasks to collect points and gems to use them for in-game advantage. You have to complete never-ending everyday tasks or seasonal tasks that will go on and on for seasons and years. The Stardew Valley game was developed by Eric Barone and Sickhead Games and supported almost all the gaming platforms like Nintendo Switch, PlayStation 4, Android, Linux, iOS, macOS, Windows, Xbox One.
Notably, the game was introduced on Microsoft Windows, when it was first launched in 2016, however, later on, thanks to the developer ports, it was ported over to all the other platforms. The Stardew Valley has garnered very high reviews and praises from the gaming fraternity, and it has been rated 10/10 by Steam for that matter. However, one big question in the minds of the Stardew Valley players once is that whether the game supports cross-platform gaming or not?
To answer the above question, the Stardew Valley game does not cross-platform play on multiplayer. This has been time and time confirmed officially by the developers. If you have missed out, here is an official post that states that "All PC players can play together, whether they're on Linux/Mac/Windows or GOG/Steam. Console cross-play won't be supported."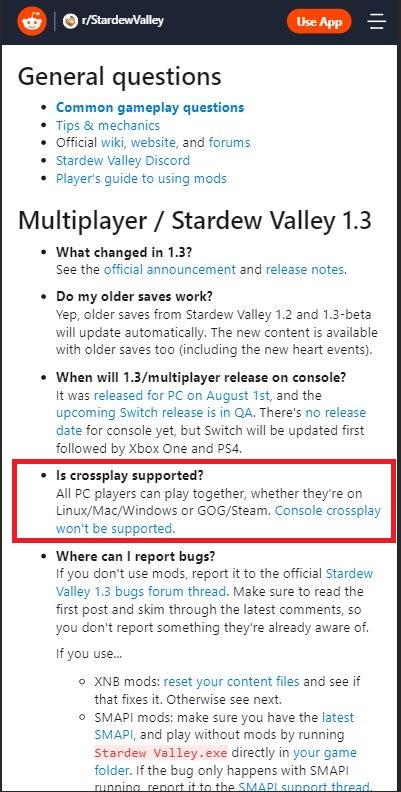 Moreover, since the game is out for about 4 years now, it is not likely that the developers are in any mood to bring the cross-platform support for the Stardew Valley game. However, what we hope is that developers should think about this feature as this game is played by thousands on different platforms, and since multiplayer is already there, cross-platform will also open a new arena for the players of the Stardew Valley game.