Telegram rolled out a new feature called Voice chat. This feature allows us to turn any existing Group into a voice chat and let users talk and chat along with the standard text chat function. If you always wanted to start and join live voice chat on Telegram with your bunch of friends, then it's the perfect feature to try on.
Although it may seem like a group voice call, this is quite different. This is more like a push-to-talk service that requires the user to hold the Speak button to talk. So there is less chance of cluttered voice from all the participants.
As this is a new feature, some might not know how to use it. Don't worry, we have got you covered. Because in this article, we are going to explain how you can start and join a live voice chat on Telegram.
How to start and join live voice chat in Telegram?
Note: This new feature only comes with the latest version of Telegram. So if you haven't updated your app, go ahead and update it from the Playstore or the App Store.
Follow these steps to start a voice chat.
Open the Telegram app and open the group on which you wish to create a Voice chat.
(Note: you should be an Admin in order to start a new Voice chat. In case you're not, ask the admins or create your own channel).
Tap on the group name at the top of the chat.

Now click on three dots on the right side of the screen.

Finally, tap on create a Voice chat and confirm creating it.

That's it. You've created a voice chat in the group, and you can add participants by tapping on invite participants.
Join a Voice chat:
If you're a member and there is an ongoing voice chat, you can join it easily.
Open the group in which there is an ongoing voice chat.
At the top, you should see the voice chat with the participant's details.

Tap on join next to it.

That's it, and you've successfully joined the voice chats.
Permissions
Using voice chat on your device will ask you for permissions like voice (using a microphone). So you have to allow them first in order to use this feature without any issue. In case you have dismissed it, you can give the permissions from the settings.
To do so, Long press on the Telegram app and tap on app info. Now scroll down to permissions and tap on it. Find Microphone and set it to allow.
Chat Overlay
If you're an Android user, then you can use this voice chat feature with the chat overlay. This allows participating in the chat even when you're not in the app.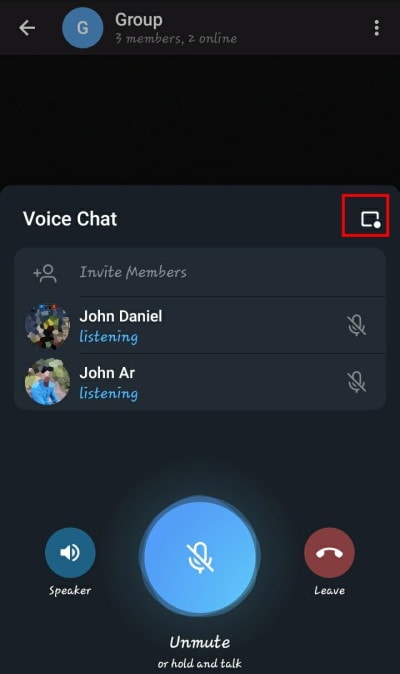 While in the voice chat. tap on the overlay icon and tap on allow. This will allow the overlay of the app (Displaying over other apps) so that you can use this feature with an overlay bubble.
Conclusion
So as you can see, starting a live voice chat is very easy to do in the Telegram app. So is joining one. The only downside is that you cannot create a new Voice chat if you're not an admin. However, you could simply create your own group and add your friends. Then create a voice chat and start talking.