Out of all the OEMs that offer a customized version of Android OS, it's the OxygenOS that has managed to carve out a decent fanbase, and likely so. It has maintained a rich balance of providing tons of customization features, but without incorporating the bloatware aspect. Well, these customizations aren't just limited to improving or changing the UI. Devices from OnePlus are always known to have a pretty decent track record when it comes to custom development as well. These include support for tons of custom ROMs, various mods and frameworks, etc.
But for all these things to work out, you need an unlocked bootloader. Once you have done it, there's no stopping you from diving deep into the Android development ecosystem. However, everything is not so safe while carrying out these tasks, and chances of devices getting end up in bootloop or a bricked state are always there. In that case, this guide will come in handy. Today, we will show you how to unbrick OnePlus 8 as well as the Pro variant and restore it to OxygenOS ROM. But before going ahead with the instructions, let's check out what the OnePlus 8 Pro, the recent addition to the OnePlus family, has to offer.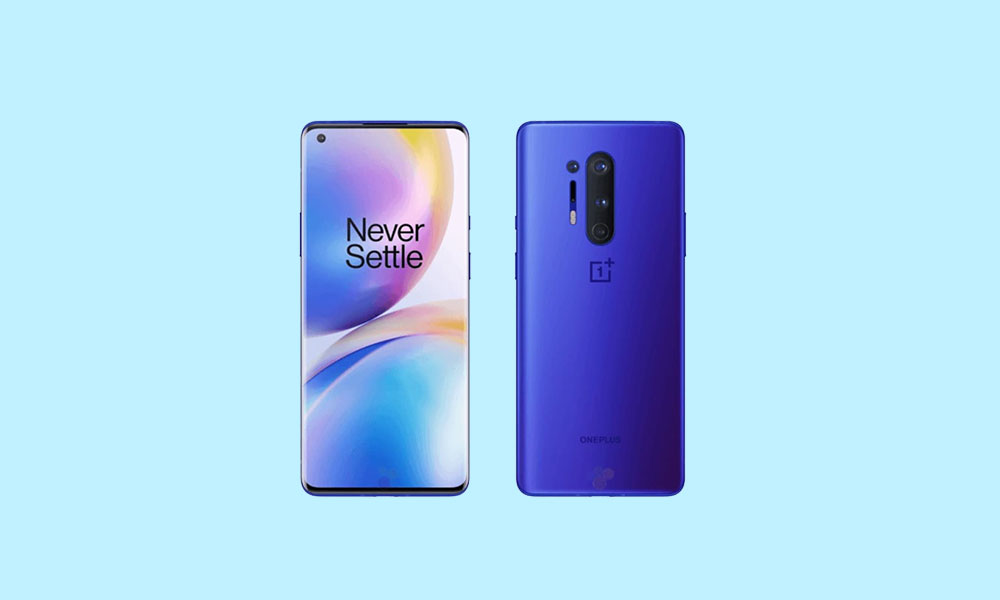 OnePlus 8 Pro: What's New
OnePlus devices always hold this unique selling preposition of powering in feature-rich devices at an affordable price. And this time it is no different. With the launch of OnePlus 8 and 8 Pro, you get two beasts of a device. Talking about the latter, there is a 6.78 inches Fluid AMOLED screen with 1440 x 3168 pixels resolution. Furthermore, its 120Hz refresh rate is equally impressive. The device has an octa-core Qualcomm SM8250 Snapdragon 865 chipset under the hood. On the gaming front, you get Adreno 650, which is currently the best in its class. Likewise, OnePlus 8 Pro comes in two different variants: 128GB 8GB RAM and the 256GB 12GB RAM combination.
Coming to the camera, you get a quad-camera setup with 48 MP, f/1.8 (wide-angle lens), 8 MP, f/2.4, (telephoto lens), 48 MP, f/2.2, (ultrawide lens) and a 5 MP, f/2.4, (depth sensor). They are capable of recording videos up to 2160p@30/60fps. On the front side, you get a 16 MP, f/2.5, (wide lens) that records videos at 1080p@30fps. All these features are supported by a 4510mAh battery that will be sufficient to meet your everyday needs. The device also supports 30W fast charging and along with that, OnePlus has, for the first time, introduced wireless charging technology as well (also at 30W).
Unbrick OnePlus 8 and OnePlus 8 Pro and Restore it to OxygenOS ROM
With so much of custom development going around the OnePlus 8 and it is Pro variant, it's anything but obvious that many of the tech geeks are going to make full use of it. For example, there are custom ROMs and some custom kernels to overclock or underclock CPU, enable dt2w, and other features. Furthermore, if you root your device via Magisk, then you could try out many modules that it has to offer. But in doing all these activities, there's a risk factor involved.
Some of the most common include getting your device in a bricked or bootloop state. The reason for the same could be many. For example, if you miss a step or two while flashing a file or flash an incompatible file, then your device will definitely at risk. But worry not. If ever that happens, then you could take the help of the below steps to unbrick OnePlus 8 and OnePlus 8 Pro and restore it to OxygenOS ROM. Let's check it out.
Prerequisites
Before we go ahead with the steps, please make sure to meet the below requirements.
Since your device is bricked, you won't be able to take the normal Android backup. However, if you have installed the TWRP recovery and could access the same, then please make a Nandroid backup beforehand.
Charge your device to at least 60% to avoid any sudden shutdown during the process.
Download the USB Drivers for the OnePlus 8 and OnePlus 8 Pro.
If you are doing cross flashing (for example, going from European to Indian firmware), then make a backup of the /persist partition, otherwise, you might face issues with the fingerprint. The said backup could be done via TWRP. To do so, boot your device to TWRP Recovery and tap on Backup. Then select the /persist partition and right swipe to create its backup.

Also, make sure that you have the latest Qualcomm Drivers installed. You could connect your bricked OnePlus 8 Pro to PC in EDL mode (see the below steps on how to do so). Then head over to Device Manager and see whether the device is being shown as QDLOADER 9008 or QHUSB_BULK. if it is the former, then it is all good. Otherwise, if it shows as QHUSB_BULK, then you will have to update the Qualcomm drivers. So download the latest Qualcomm Drivers and proceed ahead.
So this is all that was required for this guide. Now download the tools for your region-specific OnePlus device from the below section. After that, follow the below steps to unbrick OnePlus 8 and 8 Pro and restore it to OxygenOS ROM.
Downloads for OnePlus 8
Download the MSMDownload Tools corresponding to your region from below. Thanks to Some_Random_Username for these tools.
IN21BA tools (European firmware):
Android 10: OOS 10.5.1 | OOS 10.5.2 | OOS 10.5.4 | OOS 10.5.6
IN21AA tools (international firmware):
Android 10: OOS 10.5.3| OOS 10.5.4| OOS 10.5.7
IN21DA tools (Indian firmware):
Android 10: OOS 10.5.3| OOS 10.5.4
Downloads for OnePlus 8 Pro
Download the MSM Download Tool corresponding to your firmware region, from below. Again, credits go to Some_Random_Username for these tools.
OnePlus 8 Pro: IN11BA tools (European firmware) | IN11AA tools (International firmware) | IN11DA tools (Indian firmware)
Instructions to Unbrick OnePlus 8 and OnePlus 8 Pro
Launch the MsmDownloadTool V4.0 on your PC.
Now on the login screen, click on Other from the drop-down menu and click on Next.
From the next window that pops up, click on target and select O2, if you are using the International tool. On the other hand, if you are going ahead with the Indian tool, select India. Or select the EU while using European tools.
Now power your device off and boot your device to Qualcomm Emergency Download Mode or EDL Mode. To do so, press Volume Up and Volume Down keys together for a few seconds.

Once it is booted to EDL mode, connect your device to PC via USB Cable. It is recommended to use the official USB cable that came out of the box.
Next up, click on Enum to be sure your that your device is detected, and once that's done, press Start. Wait for around 5 minutes. The stock firmware will now be flashed and your device will be back to normal working condition.
Conclusion
With this, we conclude the guide on how to unbrick OnePlus 8 and 8 Pro and restore it to OxygenOS ROM. Do make sure to follow every step exactly as mentioned. In some cases, you might get the Sahara Failed Communication Error. If that happens, unplug your device and boot it to fastboot mode. Now turn off your device and wait for around 15 seconds, after that boot your device back to the Qualcomm EDL mode. Apart from that, you could also try using a USB 2.0 port instead of a 3.0.