While ZTE might not have a stronghold in India, but overseas it is a name to reckon with. Its Nubia series are among the most sought after devices. Owing to their exceptional build quality and the fact that they never compromise on the software front as well, are some of the reasons why it has managed to catch in a few eyeballs. Along the same lines, the device offers tons of features and customizations. You could also head over to Play Store or sideload many different types of tweaking apps. But the functionality of these is limited up to an extent. There is a certain line drawn beyond which you cannot customize your ZTE smartphone unless it has an unlocked bootloader.
For example, the tech geeks usually like to tweak in their device's operating system, replace their stock recovery via a custom recovery like TWRP, or gain administrative privileges via root. Or they even flash various mods and Custom ROMs. But for all of these tweaks to be effectively carried out, your ZTE smartphone should have an unlocked bootloader. Until and unless that is the case, none of the above customizations could be made possible. Therefore in this guide, we will list out the instructions set to unlock the bootloader on your ZTE smartphone. But before that, let us check out what exactly is a bootloader, what are its associated risks and benefits. Without further ado, let's begin.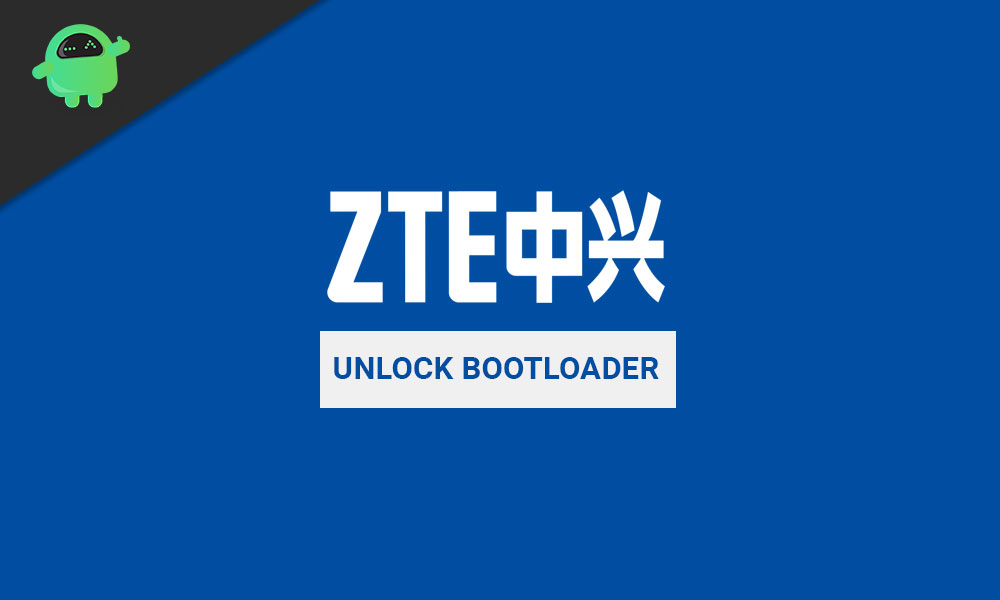 What is an Unlocked Bootloader
A bootloader is a software program that tells the Android OS what all programs does the latter have to start at the boot time. Likewise, it also helps to boot your device to recovery. By default, all the OEMs ships their devices with a locked bootloader, with just a single idea in mind. They believe that the users should only use the operating system and settings that they have provided.
While it makes sense from the security aspect, yet here's the catch. Not everyone prefers the OS that their device manufacturers ship in. Apart from that, there are some device-restrictions as well that the developers put in place. So to escape from these limitations, users find an escape route, and an unlocked bootloader offers just that. With that said, here are all the perks and risks associated with an unlocked bootloader. After that, we will show you how to unlock the bootloader on any ZTE device.
Comprehensive Guide about:
Advantages of an Unlocked Bootloader
There are numerous benefits that an unlocked bootloader brings in with itself. To begin with, you could install the TWRP custom Recovery, which in itself offers numerous advantages like flashing different types of files, creating a Nandroid backup, etc. Then you could also give a shot at all the famous Custom ROMs and give your device a fresh new outlook with new features too.
Then if you root your device via Magisk, you could gain administrative rights over your device. Likewise, flashing Magisk Modules, Xposed Frameworks, and Substratum Themes also becomes a possibility. These are the major benefits of an unlocked bootloader. But there's more to it than what meets the eye.
Risk Associated with an Unlocked Bootloader
Once you have an unlocked device, it is now more prone to security attacks. Likewise, your device's warranty may also be null and void and a complete device wipe will also take place. Some apps like Google Pay and Pokemon Go might not work at all. And others like Netflix might not function correctly. In the latter, the device's L1 certification will be degraded to L3 and hence you wouldn't be able to watch Netflix videos in HD.
Apart from that, the entire process is itself risky and might brick your device or lead it to a boot loop, if steps aren't performed correctly. With that, you are now aware of the advantages and disadvantages of an unlocked device. If you wish to process ahead, then follow the below steps to unlock the bootloader on any ZTE smartphone. Follow along.
Warning
Before we begin with this procedure, I would strongly recommend you to create a backup of your device storage and all your files stored on your device. Moreover, it is advised to follow the steps mentioned in this post very carefully to avoid permanent damage or to brick your device. If anything goes wrong the author or GetDroidTips is not responsible for it.
Supported ZTE Devices
ZTE Blade V2020
ZTE Avid 579
ZTE Blade A3 Prime
ZTE Axon 11 SE
ZTE A1
ZTE Axon 11 5G
ZTE Blade A3 2020
ZTE Axon 10s Pro 5G
ZTE Blade A5 2020
ZTE Blade A7 2020
ZTE Blade A7 Prime
ZTE Blade 10 Prime
ZTE Blade 20 Smart
ZTE Blade A7s
ZTE Blade A5
ZTE Blade L130
ZTE Axon 10 Pro
ZTE Blade A7
ZTE Blade L8
ZTE Blade A3 2019
ZTE Z557
ZTE Blade V10 Vita
ZTE Blade V10
ZTE Axon 10 Pro 5G
ZTE Visible R2
ZTE Blade A622
ZTE Blade Max 2s
ZTE Blade Max View
ZTE Blade X2 Max
ZTE Blade A7 Vita
ZTE Blade A4
ZTE Axon 9 Pro
ZTE V9
ZTE A530
ZTE Small Fresh 5s
ZTE Blade V8Q
ZTE ZFive G LTE
ZTE Blade A6 Max
ZTE Blade V9 Vita
ZTE Tempo Go
ZTE Blade A606
Unlock Bootloader on any ZTE Smartphone
To begin with, there are a few requirements that your device should qualify. Make sure to go through each of the below-mentioned points.
Prerequisites
First off, create a complete backup of your ZTE device. This is because all the data will be wiped off your device when you execute these steps.
Also, enable USB Debugging and OEM Unlocking on your device. The first one is needed to execute ADB Commands which will be used to boot your device to fastboot mode. The second option allows for the unlocking process. To enable both of them, head over to Settings > About Phone > Tap on Build Number 7 times > Go back to Settings > System > Advanced > Developer Options > Enable OEM Unlocking > Scroll down a bit and enable USB Debugging.

Download and install the ZTE USB Drivers on your PC.
Similarly, download the Android SDK Platform Tools on your PC. This is needed so that your PC recognizes your device in ADB and Fastboot mode.
Finally, keep your device sufficiently charged so that it doesn't turn off mid-way.
These are all the requirements. You may now proceed with the steps to unlock the bootloader on your ZTE device.
Instructions Steps
Connect your device to PC via USB.
head over to the platform-tools folder and type in CMD in the address bar and hit Enter. This will launch the Command Prompt.
Now execute the below command to boot your device to fastboot/bootloader mode:

adb reboot bootloader

Next up, type in the below command to unlock the bootloader. This will also wipe your data, make sure you have created a backup beforehand.

fastboot oem unlock

The process should only take a few seconds. Once that is done, you might get a confirmation message on your device as well. Use the Volume keys to select Unlock the Bootloader option and then hit the Power key to confirm your decision.

A message similar to this might be displayed

That is it. Your device will now reboot to the system. If it stays at the fastboot mode, then use the below command to boot your device to the system:

fastboot reboot
With this, we conclude the guide on how to unlock the bootloader on any ZTE smartphone. Do keep in kind that you will have to set up your device from scratch as a data wipe has taken place. Furthermore, you might get a bootloader unlocked warning message every time you boot up your device. This is completely normal and nothing to worry about. On that note, if you do have any queries regarding the aforementioned steps, drop in your queries in the comments below. Rounding off, here are some iPhone Tips and Tricks, PC tips and tricks, and Android Tips and Trick that you should check out as well.