Most of us can talk to our device via fingers – touch screen if I may. However, there are certain cases when the touchscreen doesn't work, or the whole device doesn't work for that matter. In such a case, you should know at least basic ADB commands to get your things done. These include waking up your device setting up a fast reboot, factory reset, etc. Anyway there's nothing wrong with learning new skills, right? So without a further do, let us start with a few basic ADB commands for android smartphones.
Before we start, we want to declare that this won't be any full detailed discussion on ABD commands. These are all the important ones that you should know in case you lost control over your device. That includes being in a frozen state, or your data is damaged, you cant access your device, and whatnot. These ADB commands will help you to revive your device from a dead state or will help you to copy stuff here and there. These are easy-to-use tools that will be helpful for you in the future.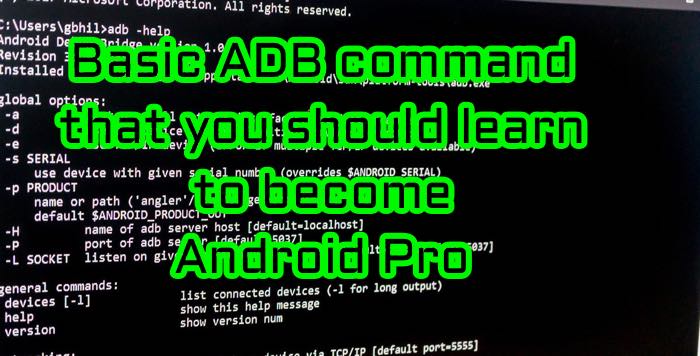 Why We Need ADB and Fastboot Commands
Android Debug Bridge (ADB) and Fastboot are essential command-line tools for Android developers, enthusiasts, and power users. These tools provide a way to communicate with and manage Android devices directly from a computer, offering several advantages:
Debugging: ADB allows developers to debug their apps in real-time, helping identify and fix issues more efficiently. It provides direct access to the device's file system, logs, and other information needed for debugging.
Customization: ADB and Fastboot commands enable users to customize their devices by installing custom ROMs, recoveries, and other modifications. These tools offer greater control over the device, allowing for a more personalized user experience.
Rooting: ADB and Fastboot commands are often used in the rooting process to grant users administrative access to their devices. Rooting enables the installation of specialized apps, removal of pre-installed bloatware, and tweaking of system settings.
Firmware updates: Fastboot is commonly used to flash firmware updates or to unbrick a device that may not boot correctly. This tool can help users restore their device to a functional state or upgrade to a newer version of the operating system.
Backup and restore: ADB can be used to create backups of an Android device's data, including apps, settings, and files. This is useful for users who want to ensure their data is safe before performing any modifications or updates.
Troubleshooting: ADB and Fastboot commands can assist in diagnosing and resolving various device issues, such as boot loops, crashes, or connectivity problems. They provide a direct line of communication with the device, making it easier to identify and fix problems.
Basic ADB command that you should learn to become Android Pro
Every Android developer or Android enthusiast should know some basic ADB commands. Because why not? You can achieve a lot more using these basic ADB commands. Using basic ADB commands is just like using keyboard shortcuts. They make things easier to operate. So let us start with a few Basic ADB commands.
How to Install and Setup ADB and Fastboot Tool?
We have a detailed guide on how to install ADB and Fastboot tool on Windows and we also have a separate guide on how we can install ADB Fastboot on Mac or Linux.
Setting up ADB and Fastboot is very easy. As ADB and Fastboot both are a part of the Android SDK package, only you to download the kit (which is over 500 MB) and then set up path variables, or the below-written methods can be used to install ADB and fastboot driver on Windows and macOS. But first, you need to remember that you have to put your device into USB debugging mode, but before that, you need to enable the developer option. If you just ignore this step, the possibility is your PC won't recognize your device.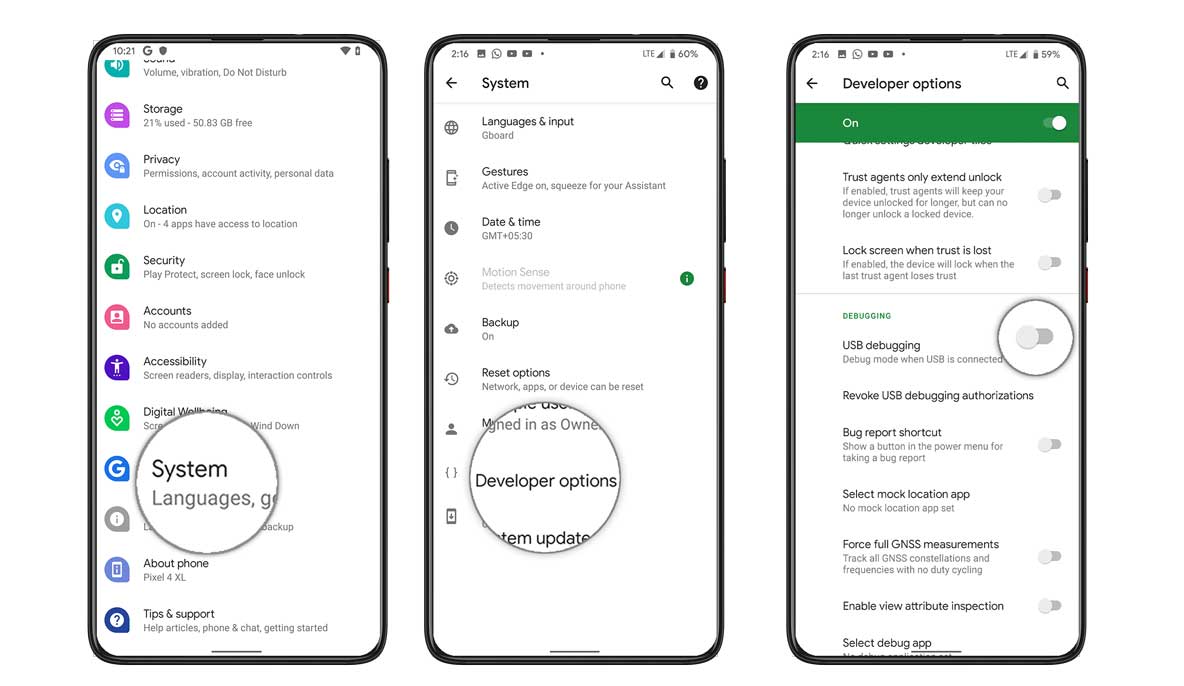 Note:
Before starting, make sure that you don't try these commands until and unless they are absolutely necessary.
Warning!
We editors at GetdroidTips do not bear any responsibility for any damage which is caused by the g use of these basic ADB commands
1. The ADB devices command
The "adb devices" is a very popular ADB command which we use to list all the devices in command prompt which are ready to take commands in for action. Nevertheless to say that it is one of the most important commands as without using adb devices you won't be able to operate on your smartphone at all.
adb devices
Note
You need to make sure that Android USB debugging mode is turned on in your Android device. The command "adb devices" won't work if USB debugging is disabled.
If you're an android pro, then you must know this command as it will tell you whether your PC and Android device are connected via android debug bridge or not.
2. The adb push command
This command is useful when you need to move files to your android device programmatically. For this to work, you need to know a few parameters like the name of the file and the full path of the file. After that, you can push files to your device.
Upload a specified file from your computer to an emulator/device.
adb push <local> <remote>
adb push test.apk /sdcard
Copies <android-sdk-path>/platform-tools/test.apk to /sdcard directory.
adb push d:\test.apk /sdcard
In the above example, you will see how you can push a song file into the music folder on your smartphone.
3. The adb pull command
This command is used to pull stuff out of your device. In this scenario, you can pull out files and folders from your device to your computer. All you need to know is the file or folder name in order to move files. These push and pull commands are extremely useful when you want to take a backup of your device.
Download a specified file from an emulator/device to your computer.
adb pull <remote> [local]
adb pull /sdcard/demo.mp4
download /sdcard/demo.mp4 to <android-sdk-path>/platform-tools directory.
adb pull /sdcard/demo.mp4 e:\
download /sdcard/demo.mp4 to drive E.
4. The adb reboot command
adb reboot
This is an extremely useful command for custom ROM makers and Android developers in general. There are times when developers need to reboot the android devices. So its easier to type the command rather than physically pressing the button. Also, this can also be automated using a script while installing a custom kernel or a custom ROM. In short- it is very useful command even for day to day Android users.
5. The adb reboot-bootloader and adb reboot recovery commands
The previous command we just discussed can be used to reboot a device. However, there are other basic ADB commands which you can use to reboot your device in a certain mode.
adb reboot recovery
Herewith the "adb reboot recovery" command, you can reboot your device into bootloader mode. Doing it is easy, just type adb reboot-bootloader and hit the enter key.
adb reboot bootloader
This command will boot your device into bootloader where you can unlock your bootloader, reboot into fastboot and recovery mode, and do some other tasks.
6. The fastboot devices command
When you are in bootloader mode, none of your so-called ADB commands will work. This is because the android is not booted up and the USB debugging bridge is not activated to communicate with. So in such scenarios, we use the "fastboot" command to communicate with the device.
Fastboot is one of the best and lifesaving adb commands available to Android users. You can pass files, communicate, revive deal smartphones, and much more. But make sure that you have adequate fastboot drivers for your android device because adb drivers won't work here.
adb reboot fastboot
You can use the above command to boot your device directly to fastboot mode.
fastboot device
This command will check if the device is connected to a PC.
7. The fastboot unlock command
If you want to unlock the bootloader for your android device, then this command will help you get through it. However unlocking bootloader is not supported on every device, but if it does. You can do it via the fastboot command. This is the beauty of the android open system as Google and smartphone manufacturers don't care what the users do with their devices. They are open to doing any kind of experiment.
Here is few bootloader unlock command:
fastboot flashing unlock
fastboot oem unlock
To check whether your device bootloader unlocked or not
fastboot oem device-info
8. The adb shell command
This is one of the confusing ones, but it is a very useful command folks. You can use this to send commands to your device to run its own scripts and commands. How cool is that? Also, you can actually see what your device command shell is doing on your screen.
In the image above, you can see inside the device shell. Just type "adb shell" and enter. You will enter into device shell mode.
Note
This is not a DOS-based command shell. It's the same as what people use in Linux or Mac computers, so use it wisely.
9. The adb install command
We already talked about adb push and pull commands. But did you know that you can actually install apps on your device with a simple command? Wow, sounds great, right? You just need the path where you have saves the .apk file of the app. After that you need to enter the command like this:
adb install TheAppName.apk 
If you're planning to update an existing app, then you need to write it like this
adb install -r TheAppName.apk
10. The adb sideload command
Do you want to update your device with an unofficial OTS (over the air) update? We gotcha fam! You can download an unofficial/official OTA update and install it via the adb sideload command. All you need to do is boot into recovery and use up/down keys to navigate to "Apply update from ADB". After that, type in this command and you're good to go:
adb sideload Full-Path-to-the-file.zip
Command
Functions
ADB Commands
adb devices
Shows attached devices
adb shell
To jump from windows command prompt to android device shell:
adb reboot bootloader
To boot into bootloader mode
adb reboot recovery
To boot into recovery
adb get-serial no
Get Serial Number of your connected device
adb install
To install apps over adb
adb install -r
To update the existing apps with new version
adb uninstall package_name.here
To uninstall any apps or packages from the connected device
adb uninstall -package_name.here
Keep the data and cache directories after uninstalling apps
adb push <local> <remote>
Upload a specified file from your computer to device
adb pull
Download a specified file from your device to your computer.
adb backup
Take backup from your device to PC
adb restore
Restore the backup to your phone
adb sideload
To sideload apps or flashable zip file to your device
adb logcat
Take the real-time log from your phone
adb start-server
start adb servers processes
adb kill-server
stop adb server processes
adb reboot fastboot
reboot your device into fastboot mode
adb usb
shows all devices connected to your computer via a USB cable.
adb devices //show devices attached
It will display the list of all devices attached to your PC.
adb connect ip_address_of_device
connect the IP address of your Android device to your computer.
Fastboot commands
fastboot devices
Shows connected devices on your PC/Laptop
fastboot reboot
To reboot your device
fastboot reboot recovery
To boot your device into recovery mode
fastboot oem device-info
To check the bootloader unlock status:
fastboot oem unlock
If the above command returns fall, run the following to unlock the bootloader
fastboot flashing unlock
Few OEM may use this command to unlock the bootloader
fastboot flashing unlock_critical
Allow flashing of bootloader related partitions too:
fastboot oem device-info
check bootloader lock/ unlock status
fastboot flash recovery [recovery.img]
To flash recovery on your device
fastboot boot [boot.img]
To test the recovery without permanently flashing
fastboot format:ext4 userdata
To format data partition
fastboot flash boot [boot img name]
flash flashable boot.img from fastboot mode
fastboot getvar cid
To display the CID of your device
Flashing ROM via Fastboot ROM zip package

fastboot -w
fastboot update </path/to/your/Rom.zip>

To wipe your device and then to flash.zip
Well, guys, these are all the basic ADB commands which you need to know if you're an Android fan. I'm sure you learned a lot of new things today. Let us know which command you liked the most in the comment section below.