Each year, Google releases a new version of Android with new features and improvements. This year, in 2022, we witnessed Android 13, which is now running on several Android smartphones. Next year, Google should be releasing Android 14. So, what features will Android 14 bring to the table? What are the supported devices? Let's find out in this article.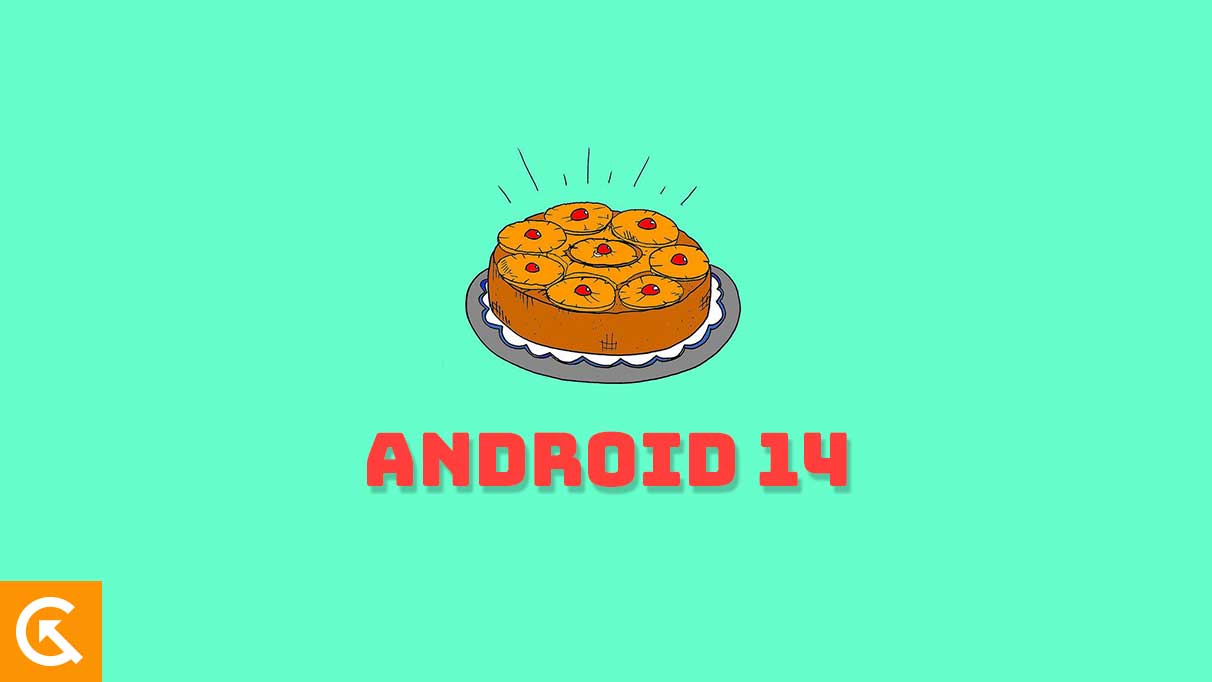 Android 14 Release Date
With the stable release of Android 13, Google has already started working on Android 14. According to an early leak brought to light by XDA Developers, the Android 14 has been codenamed "Upside Down Cake." For those unaware, Google tends to name each version of Android by a dessert name. The name was previously public until Android 10 when it became just an internal codename. Regardless, it's good to see Google keeping up with the trend.
As for the release date, there is no official information regarding that. However, we can speculate the release date based on past events. Android 14 might be released at Google I/O 2023, which will be held in May 2023. Regardless, the Developer Preview will be live in February 2023. This is so as to let developers adapt their apps to the new Android OS.
Furthermore, we can expect the Developer Preview 2 next month, i.e., in March 2023. The public beta should then start rolling out in April 2023 and continue until July 2023. We can expect to see four beta releases during this period. And finally, the stable build will be released in August 2023.
| | |
| --- | --- |
| Android 14 Build | Release Date |
| Developer Preview 1 | February 2023 |
| Developer Preview 2 | March 2023 |
| Public Beta 1 | April 2023 |
| Public Beta 2/3 | May/June 2023 |
| Public Beta 4 | July 2023 |
| Stable Build | August 2023 |
Android 14 Features and Update Tracker
But what about the features? What's coming to Android 14, at least so far? Well, it is too early to say what's coming to Android 14. However, we have some insights on what's coming to the next generation of Android. Here is what we would see in Android 14:
1. Android 14 Will Remove Support for Android Beam
Android Beam, a feature first introduced in the Android 4.0 Ice Cream Sandwich, will no longer be supported in Android 14. It allows users to easily share content such as photos, videos, and other files between two Android devices by tapping them together.
The Android Beam feature was a great way for users to quickly and easily transfer files between two Android devices. However, it seems that Android Beam was not used enough to justify its continued support in the latest Android versions. This is why Google has decided to remove the feature from Android 14 and beyond. All the traces of the Android Beam code have been removed from the NFC framework, making it evident that the feature will indeed be removed starting Android 14.
2. Mandatory Support for AV1 Decoding
The AV1 video codec has been gaining much traction recently, as it promises up to 30% better compression than the current industry-standard codec, VP9. As such, Google is planning to make AV1 decoding mandatory in Android 14, the upcoming version of their popular mobile operating system.
This move is significant as it marks the first time that Google has made AV1 support a requirement. This will undoubtedly lead to a surge in adoption of the new codec, as more and more devices will be able to take advantage of its improved performance.
The move also has implications for streaming services and content creators, who will be able to take advantage of the improved compression to offer higher-quality visual experiences at lower bitrates. This could lead to a reduction in data consumption, as well as improved streaming performance, as AV1 is much more efficient than other codecs.
3. Satellite Connectivity
With the introduction of the SOS Via Satellite feature in the iPhone 14 series, Google also seems to take a step towards it. Google is reportedly working on this feature and planning to bring it with Android 14. This will be a game changer as Android will now natively support satellite connectivity, allowing users to communicate during emergencies.
4. Mandatory Support for the Identity Credential HAL
Google is also planning to bring mandatory support for the Identity Credential HAL (Hardware Abstraction Layer) with Android 14. This feature provides an important security layer for Android devices by enabling secure authentication for online services and applications.
Another Android 14 launch requirement is support for the Identity Credential HAL. Identity Credential is the framework API enabling the secure storage of mobile driver's licenses in Android. pic.twitter.com/LPARSLCnNN

— Mishaal Rahman (@MishaalRahman) November 9, 2022
The Identity Credential HAL is a hardware-based authentication layer designed to protect user data's security. It is a secure and reliable solution for the authentication and authorization of online services and applications. This layer allows users to securely log into services and applications without having to remember multiple passwords.
The Identity Credential HAL is designed to be secure and reliable. It is an important step forward for Android security and provides users with a secure and reliable authentication process. With this feature, users can be confident that their data is safe and secure when accessing online services and applications.
5. Better Support for Foldable Devices
Finally, the Android 14 update should also include improved support for foldable devices. This will make it easier for users to use their foldable devices with the latest version of Android. This makes more sense since we recently saw leaked renders of the upcoming Google Pixel Fold smartphone.
6.

New Sharing Menu
In the new Android 14 update, the way you share files with other people and apps will be improved. The sharing menu will look consistent across all Android devices, making it easier for you to share files and keep the menu up-to-date with the latest apps. Google is said to be planning to release this sharing menu via Play Services.
7. Predictive Back Gesture
Another exciting addition is said to be the predictive back gesture. This feature will allow users to quickly exit out of apps and preview the previous home screen, providing a seamless experience when navigating between different apps and screens. The development of this feature began with Android 13 and will be fully implemented in Android 14.
8. Updatable Root Certificates
Google may also be introducing updatable root certificates in Android 14. These digital certificates verify the identity of websites and apps and are used to establish trust between the user's device and the website or app they're accessing.
By making them updatable in real-time, it will make it easier for users to keep their devices secure. Currently, updating certificates requires an OTA update, but with this new feature, it will allow for real-time updates, which is crucial in emergency situations. This feature will give Google more control over device security and ensure that users are protected at all times, preventing older phones from losing internet access.
Android 14 Supported Devices
Android 14 will be compatible with a range of devices, including Pixel, Samsung, Nothing, OPPO, OnePlus, and other popular models. However, not all devices from these OEMs will be supported. For those interested in testing out the latest Android OS, Android 14 will be available as a developer preview in February 2023.
The Developer Preview or even the public beta will only be available for Pixel devices. If you have a Pixel 4 or newer, you will enjoy the early preview, and beta builds of Android 14. However, if you have a smartphone from Samsung, OPPO, Xiaomi, or others, you will have to wait a bit to get the update. These OEMs usually bring the update 2-3 months after the official release.
Google Pixel Android 14 Supported Devices:
Pixel 4
Pixel 4XL
Pixel 4a
Pixel 4a 5G
Pixel 5
Pixel 5XL
Pixel 5a
Pixel 6
Pixel 6a
Pixel 6 Pro
Pixel 7
Pixel 7 Pro
Pixel 7a (Upcoming)
Note: The above list is based on Google's update policy where it promises 3 years of major Android updates to all its Pixel smartphones.
Final Words
So, if you're an Android enthusiast, then make sure to keep an eye on this post to stay up to date with the latest news and rumors regarding the upcoming update. With an expected release date of late 2021, it is sure to bring plenty of exciting new features and improvements to the platform.