If you have been wondering how to make the most out of Google Chrome on your PC, then we have you well covered. Read on to discover some of the best Chrome Extensions for Screen Recording in PC that you must try out in 2020!
Google Chrome is, without a doubt, the most popular and widely used browser in existence today. It comes from the software tech giant Google itself. Ever since its launch, it had been one of the most recommended web browsers available for Windows and Mac. While it found a bit of competition and disregard at the beginning of its journey against the likes of the more popular web browsers such as Internet Explorer or Mozilla Firefox, it soon dethroned all the popular web browsers to secure its own spot at number one. Today, Google Chrome is used by billions of people and is available for many platforms. This includes Windows, macOS, Android, iPhone, and even Windows Phone, for anyone who still uses that.
Also Read: How to Use Screencastify with Google Slides and Google Classroom
Over the years, Google Chrome has enriched into its own ecosystem, wherein it became the very first thing that people downloaded on new devices, be it a laptop or a phone. After people began to depend on it heavily, Google soon realized the potential of extensions. Now the entire concept of having third-party extensions in a browser isn't new since Firefox had already been doing it for a while, however thanks to the popularity and dense usage of Google Chrome, it soon became people's favorite web browser. The Chrome Web Store offers thousands of such extensions, which include utilitarian apps, games, themes, and many more things. Google even went as far as to create an entirely new operating system called ChromeOS, which revolved around the entire browser itself.
However, coming back to the topic of today's article, Google Chrome is home to many great and helpful extensions. However, you would be surprised to know that it also has a decent listing to screen record your PC. Some extensions are best suited to only record the contents inside Google Chrome, such as a website or a video, while some screen recorder extensions also extend to your desktop and allow system widescreen recording. So, if you have been searching for a good screen recorder to fulfill whatever your needs might be, then we have just the guide for you. We have tried and tested a few screen recording apps for Chrome on PC, and here are our top mentions. So, without any further delay, read on to discover the best Chrome Extensions for Screen Recording in PC.
Best Chrome Extensions for Screen Recording in PC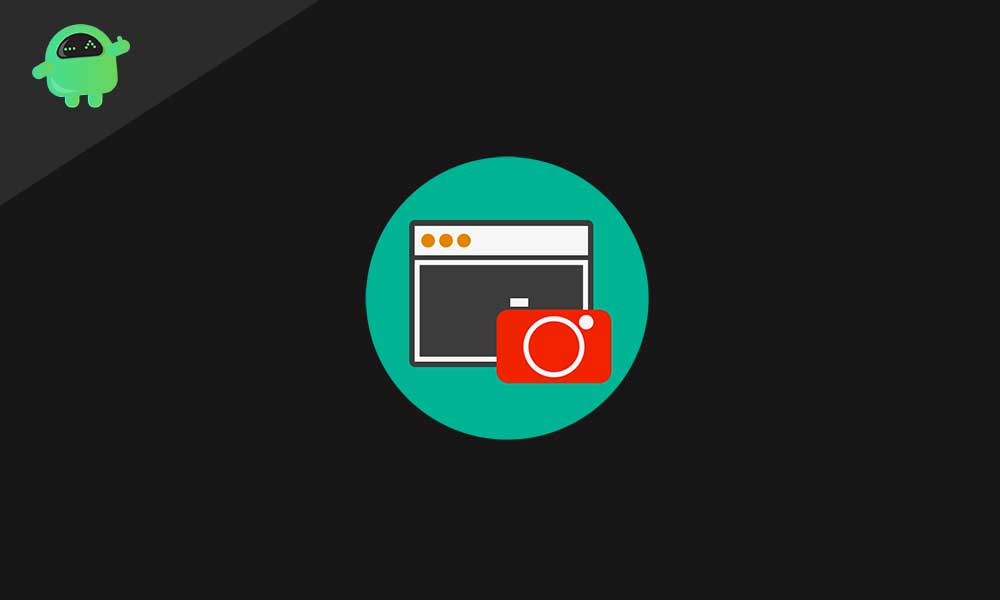 All of the extensions mentioned below have been tried and tested by yours truly, and I recommend only those one's that provide a fulfilling user experience. As far as availability goes, most of the extensions we've mentioned below are free, to begin with, but run on a freemium basis, which means users can opt into buying the premium versions which unlocks a whole lot of other cool features. Overall, if you don't plan on spending any money for Chrome Extensions for Screen Recording in PC, you can still enjoy most of the listings here too! With that being said, let's take a look at our top picks!
#1 – Nimbus
The first extension on our list is Nimbus. It is best suited for those who wanted a lightweight Chrome extension to record their screen with. While it might lack a bit when it comes to enterprise-level features, it still has plenty that you can use. For instance, you can capture the entire screen, or choose to have only a smaller window captured. You can also use your webcam to simultaneously record both your screen and yourself with it. After recording, you get a few editing options as well, such as being able to convert your video into an mp4 format for easy sharing, or even a gif for shorter length videos. You can also use Nimbus to take screenshots and save them locally in a quick way. Just like with screen recording, you can also trim your screenshots to only show a particular part of your browser window.
There are many other premium features that come with the app as well. With the premium subscription, you can crop or trim your videos directly, or convert from WebM to MP4 and GIF. You can also directly publish your screen recording to YouTube or have them automatically saved to Google Drive or Dropbox. However, most of these premium features can also be done manually, which is why we think most people can get away happily with just the free version of this app. To download the Nimbus extension for your Chrome browser on Windows or Mac, follow the link given below :
Download Nimbus for Chrome
#2 – Screencastify
Next up is Screencastify, which is one hell of a screen recording extension available to download for Google Chrome on the web-store. With this extension in hand, not only can you record the browser tabs and their contents, but can also directly record your desktop without the need of any Windows installation itself. This is great news for those who hate having an extra program on their hard drive just to be able to record their screen. While screencastify promises a lot, the only drawback we found was the limited usage with the free version. If you are looking for a temporary screen recording extension, then, by all means, go with this one. The free version is limited to 10 minutes of recording length, and 50 videos only.
However, many of the features and even some basic functionality is limited for the free users, and the extension has a $24 per year renewal fee. Talking about the features, you can start your recording with a single click, and can even select which window to record. You can use your webcam recording as well for instructional videos or demos. There is audio recording supported within the extension too, and you can enable it by just allowing it permission to use your microphone. There are other annotation utilities such as a cursor highlighter to make it easier for people watching the screen recording to follow. Overall, if you have the money to spend on a good screen recording service, we highly recommend this one. To download the Screencastify extension for your Chrome browser on Windows or Mac, follow the link given below :
Download Screencastify for Chrome
#3 – Loom
Up next is yet another great way to screen record your Windows PC using Google Chrome. Loom is a Chrome extension that allows you to seamlessly capture everything there is on your display with just the click of a single button. Loom has a feature set that is very similar to that of the others on this list, such as Screencastify. However, this extension has a lot more liberty when it comes to the number of features and options that you get with the free version itself. Just like Screencastify, Loom also allows you to choose between the source which you want to record. This can be either any tab on your Chrome browser or even your desktop, for that matter.
However, where Loom truly shines is the fact that it has no limit to how many videos you can record and how many times you can do so. While you can't choose between many recording presets and resolutions with the free plan, it still allows HD screen recording and audio output with the free version itself. If you have a webcam hooked up to your computer or laptop, you can even use Loom to simultaneously record yourself as well as the contents on your screen. There is indeed a paid subscription of Loom, and with $10 a month, you gain access to unlimited online storage, mouse animations, annotations, and other great editing features. To download the Loom extension for your Chrome browser on Windows or Mac, follow the link given below :
Download Loom for Chrome
#4 – Hippo Video
If you have been looking for a screen recording service to fulfill your enterprise or business needs, then look no further than Hippo Video! While you can still use this Google Chrome extension to screen record normally, it is best suited for those who are looking to make the ends of commercial or business purposes meet. It does come with a free version. However, we wouldn't recommend it since it does not offer half as much as the other free screen recorders for Chrome do on this list. However, the paid version is really cheap and will offer you some top-level marketing features.
When it comes to the features, Hippo Video is packed to the brim. For starters, you can choose any resolution from 360p straight to 1080p. This is great for those who want flexibility in file size and quality. You can also use the advanced annotation and editing features of this screen recording extension for Chrome to make polished videos and tutorials. There are a few plans for Hippo Video, and we are sure you will find the one that suits you the best. The free version only allows you to stream up to 3 videos a month and comes with a watermark. To download the Hippo Video extension for your Chrome browser on Windows or Mac, follow the link given below :
Download Hippo Video for Chrome
#5 – Awesome Screenshot
Next our list, we have Awesome Screenshot. Don't let its name fool you though, apart from being a quick screenshot tool; this Google Chrome extension can also record videos. It happens to be the highest-rated screen capture utility available on the Chrome Web Store, and for a good reason. It really does not offer anything fancy when it comes to features. In fact, it has a very bare-bones user interface as well. So, how could the least customizable extension be one of the most downloaded (2 million+) ones? Well, the answer is simple – simplicity and ease of use.
While this extension is still geared towards screenshots, for people who want a tool to take quick screen recordings of their Chrome tabs and the contents within them, Awesome Screenshot lives up to its name. The free plan allows you to record up to 30 seconds of high-quality screen capture, and it comes with features such as annotations and the ability to blur a specific part of your screen recording, which is extremely useful for sensitive information such as passwords. The premium version is a $20 per year subscription fee, which is the cheapest on this list as well. Overall, you can't go wrong with this extension. To download the Awesome Screenshot extension for your Chrome browser on Windows or Mac, follow the link given below :
Download Awesome Screenshot for Chrome
#6 – Drift Screen Recorder
Up next on this list we have yet another great way for you to record your screen directly via Google Chrome. Drift Screen Recorder is a Google Chrome extension which works just as advertised, and grants you the power to capture whatever it is that is happened on your screen in real time. Easily the best part about this screen record is the highly intuitive and fun to use user interface. Everything seems well thought out and all the options sit naturally where they belong. You will probably not find a Google Chrome extension for screen recording that is as polished as this one is.
Coming to its functionality, you can expect all the generic screen recording and screenshot tools that you get out of a utility service such as this. Moreover, you can also choose what kind of recording it is that you want. This includes a normal screen recording session, one that also uses your webcam to show your face, or even record just the audio. There are various editing tools that come in handy while using this screen recorder by Drift as well. Combining all the options and features that you get for free with Drift Screen Recorder, you can create your presentations, montages, or informative support videos that you have always wanted to. Another great feature of Drift Screen Recorder is that you can export your shorter videos as GIFs, which are way easier to share and embed in a web page. To download the Drift Screen Recorder for your Chrome browser on Windows or Mac, follow the link given below :
Download Drift Screen Recorder for Chrome
#7 – Vidyard Screen and Webcam Recorder
Ending today's list of some of the best Chrome extensions for screen recording your computer or laptop in 2020, we have Vidyard. We have definitely saved the best for the last, since the screen recorder that Vidyard provides is completely free. That's right, there are no hidden costs or even any restrictions based on how many screen recordings you can carry out. This is a great option to those who have always hated the freemium programs or extensions that start off free but require you to pay a monthly subscription rate in order to fully enjoy using the product. Vidyard has been acclaimed as one of the most used screen recorder for Google Chrome and has had a behemoth of positive reviews.
This is also all thanks to the feature set that you get with Vidyard Screen and Webcam Recorder. Unlike many other screen recording extensions, Vidyard has also prioritized ease of use not only while recording a video, but also while sharing it. If you run a YouTube channel and heavily depend on your screen recordings, you can directly upload them from the extension. This is all done without the need for you to manually download and reupload the screen recorded video, which only wastes a lot of megabytes. The other sharing features include you being able to check out the people who have viewed your recordings, when you share it via Gmail. There are a dozen other features that we possibly cannot list. The only thing we have to say is if you are in the market for the best screen recording extension for Google Chrome. look no further than Vidyard. To download the Drift Screen Recorder for your Chrome browser on Windows or Mac, follow the link given below :
Download Vidyard Screen and Webcam Recorder for Chrome
That's all, folks! We hope you enjoyed our roundup of some of the Best Chrome Extensions for Screen Recording for PC in 2020 that you can try. Which one among the list is your favorite, and how many of these Chrome Extensions for Screen Recording have you already known or have been using? Know other good Chrome extensions to screen record your PC that you feel people might find interesting? Do let us know in the comments section below; we'd be delighted to hear from you guys!