Well, since its release back in Thursday, Hyper Scape has been the talk of the town among gamers. Especially, battleground players as this game have a refreshing take on this genre. You do not play the game in a forest, or a barren land instead, you are thrown into a future city where you get high tech weapons and you need to make sure to use the best of the abilities of these weapons to do the damage and get more kills.
The game is out for just about a few days and there are users looking for guides and how to's on how they can get better in the game. Fortunately, in this guide, we will give you the 10 best tips that you can make use of in Hyper Scape game, to have an edge over other players and get more kills, and perform your best in the game. After going through this guide, you will actually be playing far better than other players even if you have not yet played the game because this guide lets you understand the dynamics of the game beforehand. So, with that being said, let us take a look at the article itself: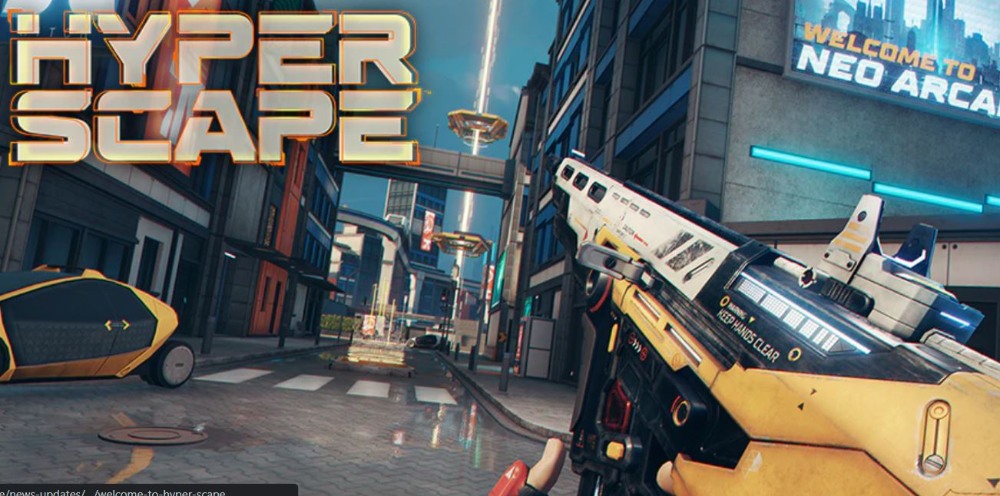 10 Best Tips to Improve Instantly in Hyper Scape
We should not keep you waiting, and here are the 10 best tips we think would help you to play Hyper Scape with more preparedness and to the best of your abilities:
Mobility in Hyper Scape
Most of the battle royal games require the players to shoot and kill your enemies on the ground, but with Hyper Scape, there is some difference. Yes, most of the battles take place in the ground, but you will find plenty of battles along players happening in the air. You will find yourself jumping, doing mid-air somersaults, and much more to kill your enemies. This makes the game more interesting and exciting than other battle royal games available.
Level Ups
Level ups are the main bloodline of the games that keep the gamers hooked to the game as it gives a new perk once you have leveled up. The same is in the case with Hyper Scape where when you collect several standard forms of the guns, you will actually get a perk called fusion to power up your weapon. Fused weapons do more damage, more magazine size, etc. than normal weapons and thus, you get an advantage in the game.
View and Earn
Hyper Scape allows users with several Twitch extensions to view streamers gameplay and earn battle passes which will ultimately allow you to level up and match up with any player which enhances your chances of getting picked up in a group. Not only this but, viewers can also change what's happening in the game as you can give everyone extra healing, everyone has anti-gravity making it harder for the players to jump and go head-on with the opponents. So, this gives the viewers some control over the game.
Hacks or Abilities
Hyper Scape gives the players several options that you can make use to get health, invisibility where the player can play the game without getting notices by enemies for some time. Slam is another ability that gives you the power to slam down with a force that will burst out any enemy standing near you. There are other abilities which you can pick up in the game like teleport, ball where you can get an extra jump and you can stay in the ball as long as you like or till it is exploded.
Weapons in Hyper Scape
There is a total of 9 weapons, which you can make use to the best of their abilities and kill enemies. Well, there is no combo that can be called deadly and it is based on personal preference, but if you were to take my opinion then going ahead with Protocol V and Skybreaker, is the best bet while playing Hyper Scape as this more damage.
Looting
Looting is at the heart of battleground games and the first thing after you land is to pick up the best possible items as per your needs in the game. Hyper Scape is no different and once you enter a building and find out there are no broken windows and items are scattered on the staircase then, you can go ahead and pick up the items available.
Manage Fights
Frankly speaking, the fights in Hyper Scape can go on for a very long time, thanks to the abilities available in the game which allows you to teleport, become invisible, and more. So, the best advice is to go full-on against your enemies only when you feel that you can topple the opponent then and there. On the other hand, it also lets you survive for long as you can also make use of such abilities in the game to survive.
Map in Hyper Scape
As for any other battle royal game, Map is the main aspect of this game as well. Neo-Arcadia is the map that creates a new version of itself every single time you enter the game. It auto-generates for every single game that you play and ends up creating new areas. So, have some room for changes.
Echo Mode
Battle royal games are based on killing or getting killed by opponents. And once you die, you are required to either wait for your teammates to win the game or get killed. There is not much that you can do. But in Hyper Scape, there is still a lot of things that you can do that actually makes you use your death to the advantage. This mode is called Echo mode, which goes on when you die, you can follow up the opponents and ping your teammates to give them a better idea about the enemies. You cannot do any damage but, you can be the invisible eye for your teammates.
Watch the Crown
Hyper Scape, as we have already mentioned is a refreshing new take on the battle royal genre and apart from the futuristic approach, it gives the users a new way to win the game. In Hyper Scape, you have to collect the crown and keep it safe with you for about 45 seconds. to win the game in Hyper Scape.
So, there you have it from my side in this post. I hope you guys liked this post and were able to get some interesting insights into the recently launched Ubisoft game Hyper Scape. Let us know in the comments below if you liked this guide and you were able to learn something new with the help of it. Until the next post…Cheers!