Have you been searching for ways to spice up your same old desktop on your computer or laptop? Well, look no further than this guide. Read on to discover some of the best Windows 10 wallpaper apps and websites in 2020 to breathe new life in your computer or laptop!
Over the years, operating systems such as Android, iOS and Windows have taken a shift of priority from functionality to form, since that is what everyone is interested these days. All of these aforementioned platforms have brought about some unique ways to personalize your devices to make them truly your own. Personalization can come in many forms – changing the wallpaper, applying a different theme, choosing a new set of icons and the list goes on. However, when you talk about personalization the very first thing that pops in your mind is the desktop background, or more widely known as the wallpaper.
On every device, be it a mobile phone, laptop, or desktop computer, the user gets a pretty decent list of default wallpapers to choose from. This is however quite subjective since everyone's taste in design is different. This is where the entire world of customization websites and apps springs into action. The fastest, easiest, and yet the most noticeable tweak that one can make to their computer or laptop is changing the wallpaper. Your desktop background is the first thing you see once your computer has booted up, and many people prefer having something attractive as their wallpaper.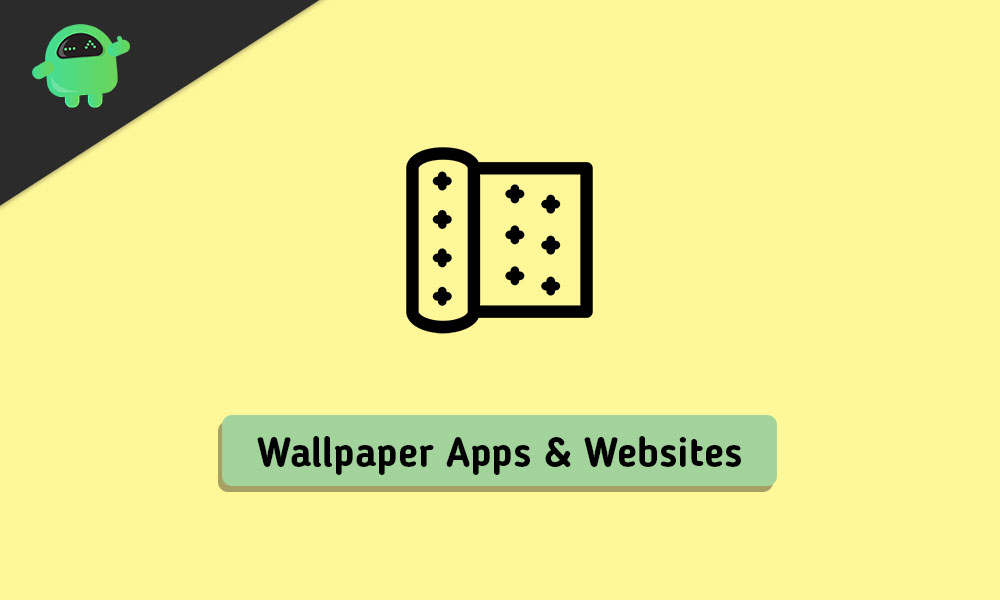 While you can try your luck and see if you like any of the default wallpapers that Windows ships with, there's only so far a dozen wallpapers can get you. This is why many wallpaper apps and websites have boomed over the past decade or so, allowing for people to choose from millions of wallpapers. However, with so many wallpaper apps and websites to choose from, which one should you spend your time searching for good wallpapers? Well, we have taken it upon ourselves to cherry-pick some of the best Windows 10 wallpaper apps and websites available in 2020 that you must try! So, sit back, relax and enjoy our top picks!
Best Windows 10 Wallpaper Apps and Websites in 2020
#1 – Windows Themes
The first place you should look for new wallpapers is what already comes built-in with Windows – the Windows Themes section in the Windows Store app. Here, not only will you find hundreds of wallpapers with huge variations, but most of them also come as theme packs, which you can apply. This will completely change the outlook of your Windows experience and adds to things such as changing your device theme colour to match with your wallpaper. Some themes even have a different sound pack. So, if you wanted the quickest way of breathing new life in your Windows 10 computer or laptop, the Windows Store is the best choice. You can find the Windows Themes section inside of the Windows Store app, or just by simply searching for "Windows Themes" in the start menu.
#2 – Xbox Wallpapers
Up next is a great choice for all the PC gamers out there looking to find a suitable wallpaper to fit their aesthetics. While Xbox Wallpapers is a website supposed to showcase the best background that you can download and apply on your Xbox console, you can still most definitely download them for your computer. It has a decent selection of the newest games out there and has the best quality of wallpapers you could find. There aren't many sorting options you can do, but you can try your luck by searching for your favourite game in the search bar. If you like any wallpaper, just click on it and choose the type of device you own to download it. You can visit Xbox Wallpapers by following the link given below:
Xbox Wallpapers
#3 – Dynamic Theme
The third choice on our list is yet another free app that you can find on the Windows Store. With Dynamic Theme, you can choose to automatically change your wallpaper every day. This app makes use of Bing as its source to pick the best quality of wallpapers available and automatically applies it to your home screen and lock screen on a day to day basis. You can also pick wallpapers from the Windows Spotlight section if you're dissatisfied with the Bing results. Finally, if you own multiple Windows 10 devices such as a desktop for home and a laptop for work, you can also sync your wallpapers to be the same on both devices. You can download Dynamic Theme for Windows 10 on the Windows Store by following the link given below:
Download Dynamic Theme
#4 – Unsplash
Next up, and probably one of the best places to find high quality, aesthetic wallpapers is Unsplash. It is a website that houses millions of different wallpapers, each with their own look and feel. All of the wallpapers on this website are completely free to download and use. The best part about Unsplash is the community. Almost all the wallpapers you see are taken or designed by people using Unsplash, and there's always a wallpaper suited for everyone. So if you have been looking for a portal to find the best wallpaper as per your liking, then we highly recommend you give Unsplash a shot. You can visit Unsplash by following the link given below:
Visit Unsplash
#5 – 9Zen Wallpaper Changer
If you wanted an alternative to Dynamic Theme, then this is it. 9Zen Wallpaper Changer is an app that is available for free on the Microsoft Store that allows you to choose a bunch of wallpapers, and then automatically switches between them at regular time intervals. However, unlike most other wallpaper carousel apps, 9Zen Wallpaper Changer allows you to add wallpapers from multiple different sources, such as Unsplash, Bing, Windows Spotlight and more. You can create up to 2 collections with 30 wallpapers each, and cycle between all of them. While we feel the free version that is ad-supported will suffice the needs of most users, you can pay for the premium which gets rid of all the ads and unlock more collections. You can download 9Zen Wallpaper Changer for Windows 10 on the Windows Store by following the link given below:
Download 9Zen Wallpaper Changer
#6 – Backiee – Wallpaper Studio 10
Previously known as Wallpaper Studio 10, Backiee is a great wallpaper app available for all Windows 10 devices on the Windows Store. This app is best suited for those who like having a large selection of wallpapers to choose from. This is why you might also appreciate the fact that Wallpaper Studio 10 has all of its wallpapers laid out category-wise, to make it extremely simple for people searching for a specific genre of wallpapers to find one they really like. The only downside we could find with the app is the very obvious ads, but that is something you can get rid of by paying for the premium. Overall, if you wanted a wallpaper app that gives you a lot of choices, Wallpaper Studio 10 is the way to go. You can download Wallpaper Studio 10 for Windows 10 on the Windows Store by following the link given below:
Download Wallpaper Studio 10
#7 – Splash!
If you liked browsing through the wallpapers on the Unsplash website that we've mentioned above, then you would be delighted to know that there are many Windows 10 supported clients that you can use as well. Using a client app as opposed to the website gives you an advantage in a few areas. First off, you wouldn't have to rely on downloading your wallpapers and applying them manually. But the obvious advantage is the fact that you can set the app to automatically scroll between wallpapers. This is exactly what you get with Splash!. By default, the app will switch between wallpapers at 1-hour intervals, although you can change this pretty easily. You can also choose to change your lock screen wallpaper at the same time as your home screen changes. You can download Splash! for Windows 10 on the Windows Store by following the link given below:
Download Splash!
#8 – WallpapersWide
This website is personally one of my favourites since I remember visiting it back in the Windows 7 days as well. If you want the most high-quality wallpapers, and a good choice among them too, then WallpapersWide should be your top pick. While the design of their website might seem outdated, the wallpapers are definitely not. You can pick wallpapers from many different categories such as games, landscapes, animals, music and the list goes on. You can also simply search for a specific wallpaper you have in mind, maybe for a game or a movie. When it comes to the downloading part, you get a lot of options. You can find wallpapers all the way from 1080p to 8K on this website, that's just crazy! Overall, if you don't mind downloading and applying a wallpaper manually, this is the best portal to look out for. You can visit WallpapersWide by following the link given below:
Visit WallpapersWide
#9 – Pexels
Yet another great website to look out for good wallpapers is Pexels. However, unlike many other wallpaper websites and apps, Pexels sports more of stock images as opposed to just normal wallpapers. Now, this might not suit everyone's design tastes, since most stock photos are taken with a camera in real life, and have very little digital effects applied to them. Pexels is best suited for people who like product photos, sceneries, portraits and other such categories of wallpapers. The website is similar to Unsplash, and it provides a good list of recommendations if you are a new user browsing for some good wallpapers. Just be sure to pick the correct aspect ratio for your Windows 10 device, since many of the wallpapers uploaded on Pexels are meant for varied screen sizes. You can visit Pexels by following the link given below:
Visit Pexels
#10 – Desktop Live Wallpapers
Ending our list of some of the best Windows 10 wallpaper apps and websites in 2020, we have a unique one. Desktop Live Wallpapers is an app available for free on the Windows Store and brings live wallpapers to your Windows 10 device. Although the app has mixed reviews, if you have a powerful enough laptop or desktop computer, you should have no performance issues while running this app. The app itself has a few live wallpapers of different coloured themes that you can use, however, the best part is that you can basically select any video file as your backdrop. This will definitely consume more RAM and take up more of your processor's power, but if you find a good live wallpaper, maybe it will all be worth it in the end. You can download Desktop Live Wallpapers for Windows 10 on the Windows Store by following the link given below:
Download Desktop Live Wallpapers
That's all folks! We hope you enjoyed our roundup of some of the Best Windows 10 wallpaper apps and websites to try out in 2020! Which one among the list is your favourite, and how many of these Windows 10 wallpaper apps and websites have you already known or have been using? Know other good apps or websites that provide the best wallpapers that you feel people might find interesting? Do let us know in the comments section below, we'd be delighted to hear from you guys!