In this tutorial, we will show you how to complete the Rock Star Challenge in BitLife. This game has never been short on career opportunities and challenges. Talking about the former, you could try your hands on becoming a dentist, chef, farmer, or an athlete. Some lucky ones might even end up becoming the President of the Bitezens. Along the same lines, you could also become an overnight social media sensational star. Just as the game beholds so many career choices, the same goes for its long list of challenges.
A few days ago, we rounded off with the Baby Mama Challenge. Along the same lines, Surprise Millionaire Challenge, Dog House challenge, Tiger King challenge, House Flipper Challenge were some of the noteworthy challenges. And now the aforementioned challenge has made its way. With that said, let's now turn our attention towards the same, i.e. the Rock Star Challenge in BitLife. We will list out all the prerequisites that your character needs to qualify to successfully complete this challenge. So without further ado, let's check them out.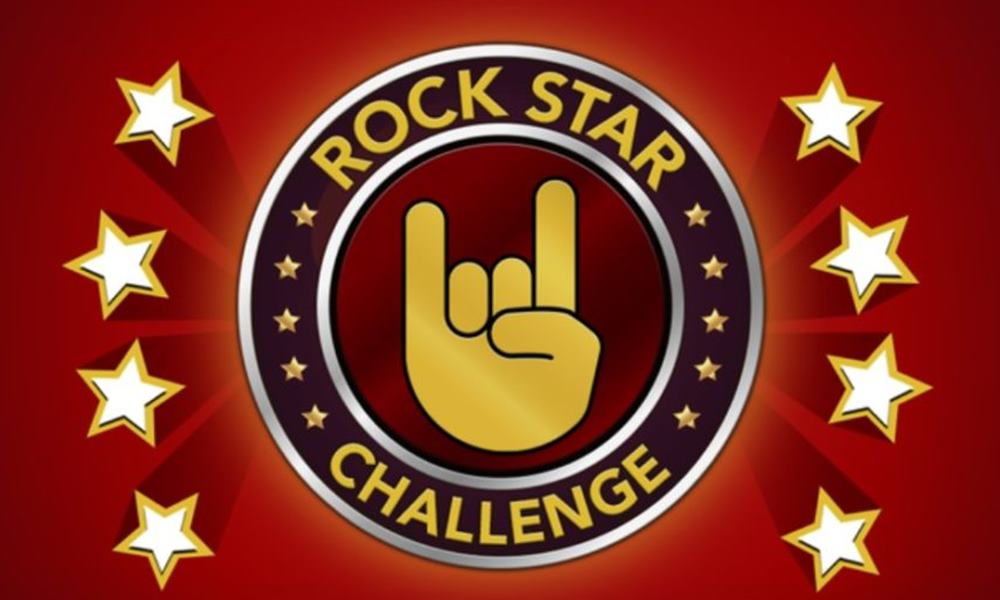 BitLife: How to Complete the Rock Star Challenge
There are a total of four requirements that you need to meet. These include becoming a famous pop star, sleeping with 100 lovers, appearing nude in a magazine, and having a net worth of $100 million. Follow the below instructions to complete these four quests.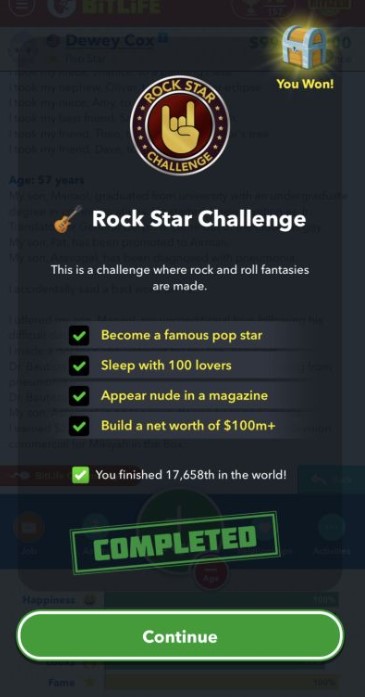 Become a Famous Pop Star
For building up your career as a pop star, you will have to start off as a background vocalist. And for that, there isn't any specific education qualification or high school degree that you need to have. Just make sure to keep your looks and appearance meter on the higher side. This will not only help you achieve the famous tag but will also come in handy later on. Similarly, you should also have many social media accounts and try to gain as many followers as possible.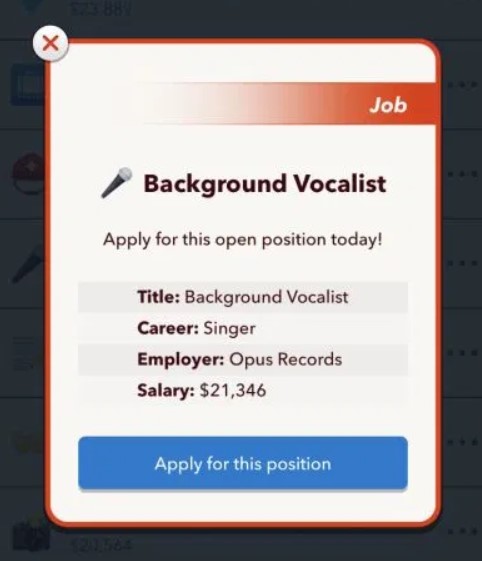 Furthermore, as you will be starting from a background vocalist position, you will have to work pretty hard with full dedication to receive promotions. With the help of these promotions only, you will be able to become a famous pop star. In this regard, as soon as you pass out of school, start your search for the background vocalist job, rather than looking for higher studies or diploma degree. Do all these and you should have no issues in completing the first quest of the BitLife Rock Star Challenge.
Sleep with 100 Lovers
In this quest, there are a couple of points worth mentioning. Since it requires sleeping with over 100 lovers, make sure you start it as soon as you turn 18. This is a time-consuming event and the earlier you begin, the better will it be. But even then, getting hook-ups with over 100 people of the opposite gender is no easy task. In this regard, having a good look will definitely prove to be a big advantage. Likewise, if you have a strong social media presence, you might be able to attract many people towards you.
Just keep in mind to have safe sex, This is because if you end up having children, then you will have to spend quite a lot on their education, health, and other needs. This will be a cause of the issue later on in the fourth quest. Another reason for going with safe sex is that then the chances of having a sexually transmitted disease are drastically reduced. Hence your character will be able to live some extra years and you will get more time to complete the Rock Star challenge in BitLife.
Appear Nude in a Magazine
Next up, you will have to appear nude for a magazine. For this, you will have to associate yourself with large companies and accept offers to do commercials and product promotions. Keep on accepting offers and hopefully, you will end up with an offer to appear nude for a magazine.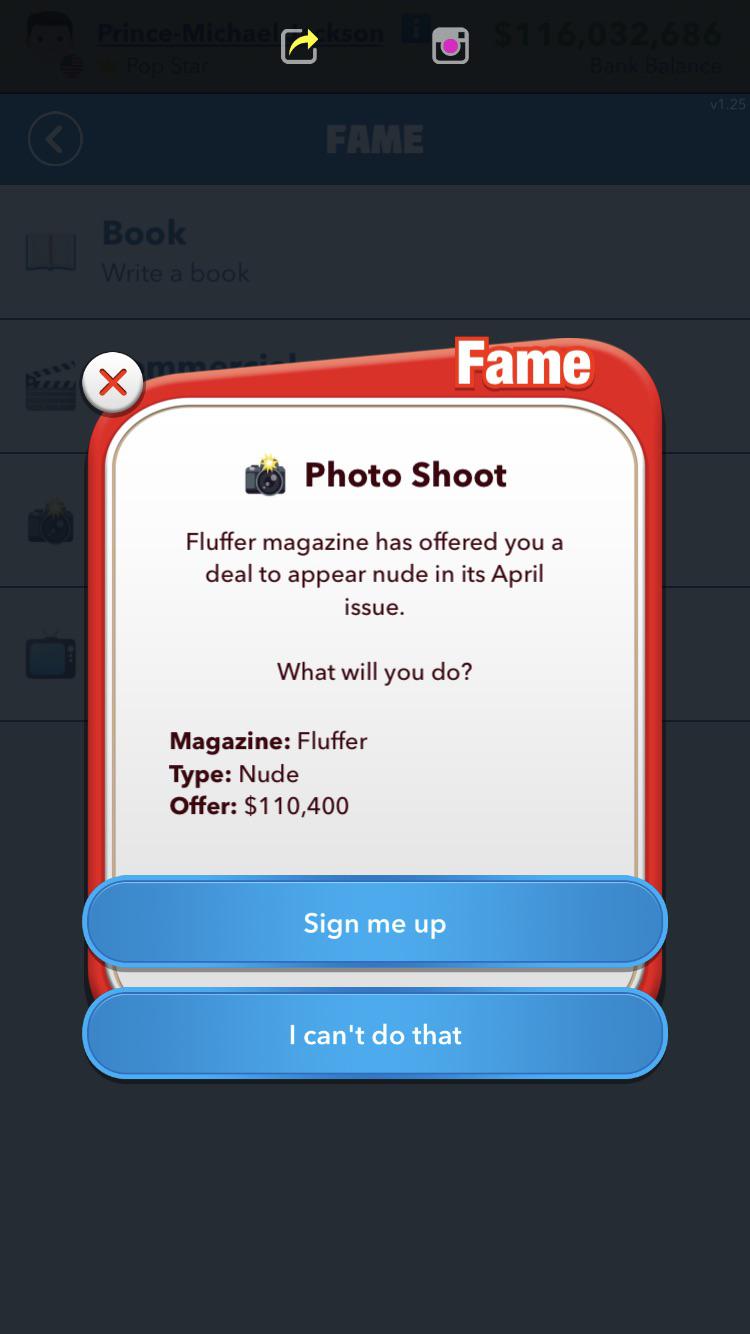 If you unintentionally had a wife or two (or husbands) from any of the 100 flings from the previous quest, then they will interfere with your decision to pose nude for a magazine. This is another reason why you shouldn't attach yourself with any of these 100 night-outs. Although the chance of getting an offer letter from these magazines is quite rare, if you are a famous personality, then you shouldn't have issues with this part of the BitLife Rock Star Challenge.
Have a Net Worth of $100 Million
The fourth and final quest requires you to accumulate at least $100 million. There are a couple of ways of achieving this. To begin with, if you exert extra efforts and end up becoming a lead Vocalist, then you will be handsomely rewarded. Then accepting offers from magazines for photoshoots will also fill up your pockets.
Similarly, you should also star in as many ads as possible. For this again you need to have a strong social media presence and a high smart meter. Likewise, you could also consider publishing some books to earn some quick bucks. These were the things that you should do to increase your income, Now let's focus on the other half- i.e. things that you should stay away from.
To begin with, keep a safe distance from drugs, alcohol, and smoking. This does not only empty your pockets pretty quickly but will also have a negative impact on your health. Furthermore, make sure you don't end up having any kids from the second quests. Because then you will have to spend quite a lot on their maintenance (the same goes for your wives, so avoid both of them as of now).
Try and live a normal life and don't go for luxurious goods. Also, don't purchase any cars as of now. This is because apart from the one-time expenditure, you will also have to pay out for its depreciating value. So just keep all these points in mind and you should be able to accrue 100 million dollars.
So this was all from this guide on how to complete the Rock Star Challenge in BitLife. There are a total of four quests that you need to complete and all of them have a thing or two in common. To begin with, you should maintain a healthy good look, have safe sex and avoid children. Furthermore, being famous will come in handy as well. What might also come in handy is our collection of iPhone Tips and Tricks, PC tips and tricks, and Android Tips and Trick. Do check them out too.