You're browsing some website, and suddenly a message pops up saying that please disable your adblocker. This message usually appears when you're using adblocker on websites that want to show you ads. Since customers don't want to see ads, they look for active ways to bypass Adblock detec­tion on web­sites that are undetectable. There are numerous ways to do it, and we will guide you about them in this post.
I'm sure you have used an Adblocker before. Its a tool or an extension that blocks all the unnecessary ads on your browser when you're using the internet. Honestly, its one of the best inventions ever made as you don't have to deal with annoying ads. But what to do when these don't work as intended? Many websites have made anti-adblockers which actively sops serving you content if they detect an active adblocker extension. Since adblocker cuts down their revenue, they have used this method. However, there are still ways to bypass Adblock detec­tion on web­sites that are undetectable, which we are going to discuss today. But before that, let's learn a few things about adblocker first.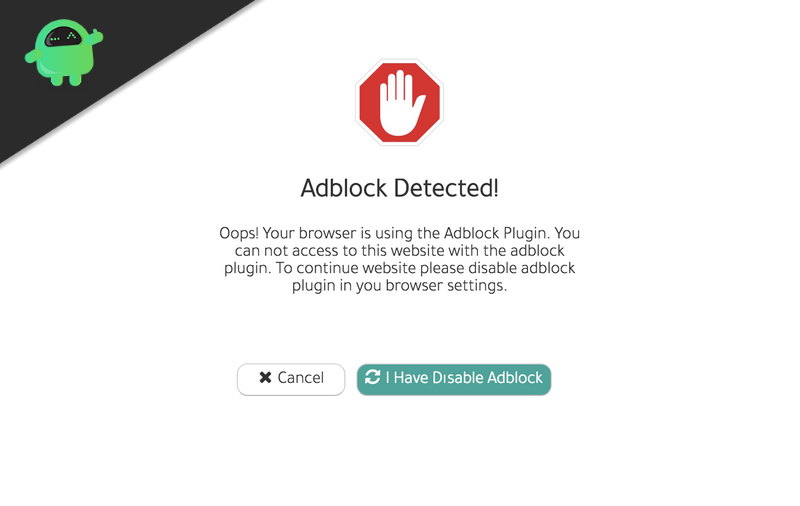 What Is Adblocker And Why We Need It?
An Adblocker is a content filtering and ad blocking program. It is supported in different web browsers like Google Chrome, Microsoft Edge, etc. Ad blockers basically stop displaying annoying page elements such as advertisements, which include pop-up ads, banner ads, etc. Most importantly, you can download and use it for free.
It is obvious to use Adblocker to avoid annoying ads being displayed everywhere on the screen. But there are more reasons why we should use Adblocker. Well, it ensures safe browsing, as most attackers are nowadays trapping people through malicious ads. It helps your page load faster by stopping analytics code, images, and text that comes along these ads. Moreover, no ad server can track your browsing behavior anymore, which adds up to your privacy as well.
Chrome Browser Use Adblock Extension
A browser extension is a software module used for implementing more enhanced features on any web browser. Google Chrome, the most popular browser, has thousands of such extensions available. In order to add new extensions to your Chrome browser, follow the steps below:
Open your Chrome Browser and go to Chrome Webstore.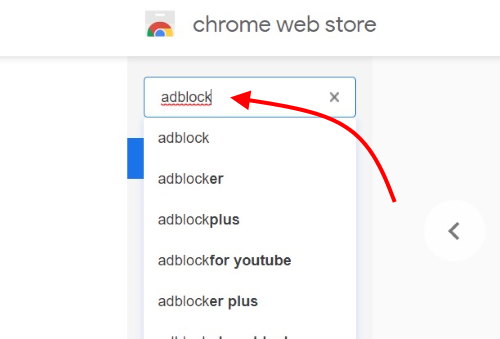 Here search for your favorite extension.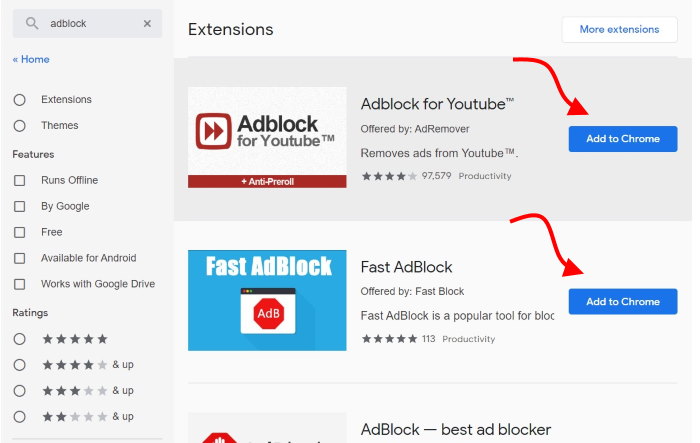 Click on the "Add to Chrome" button to add them to your browser.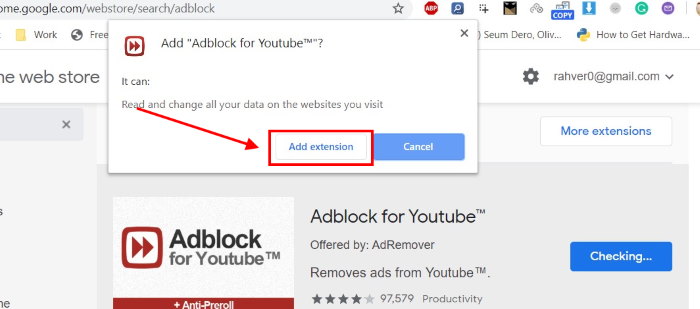 Click on "Add extension" if it prompts a pop-up message. And wait for a few minutes for it to download.

Next, after installing an extension, you can see their logo on the upper right-hand corner itself. Simply click on the logo, and you can now manage the settings of various Chrome extensions.
How to use Adblock extension
Using the extension is a piece of cake because you don't have to use them at all. All the work is done by Adblock itself in an automated manner. All you need to do is configure it for the first time setup. To access setup, click on the extension icon and choose Settings.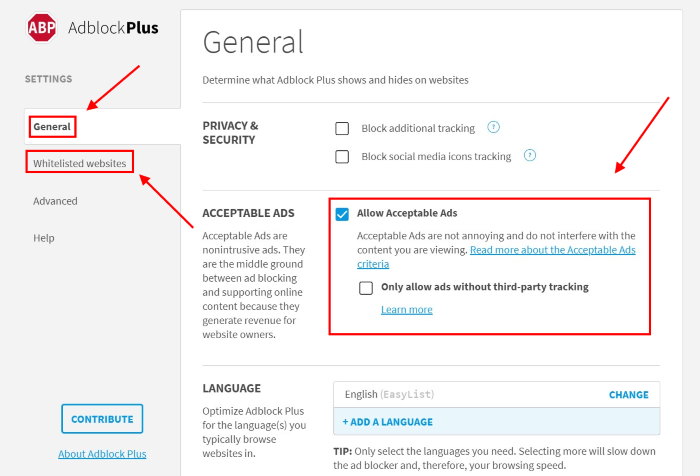 The setup of all AdBlock extensions is different, but the use is the same. All AdBlock extension block ads on websites, so you don't have to deal with annoying ads! You can also whitelist websites that you don't want to hide ads on. And these adblocker extensions support automatic ad blocking as well.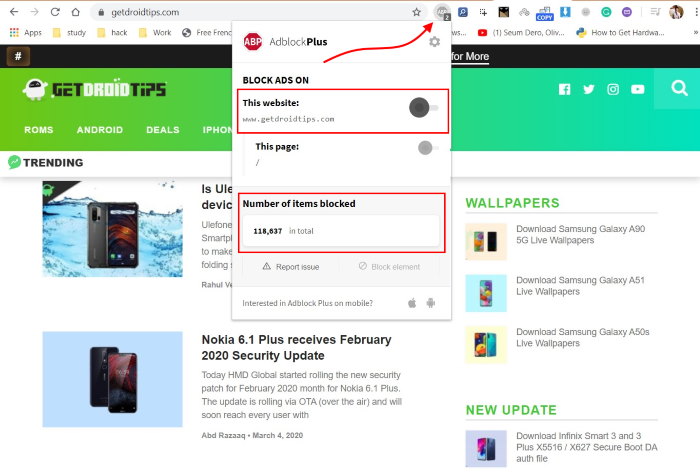 First, go to any website which holds ads. Then click on the adblocker extension. You will see a clear option to block or unblock ads on that particular website.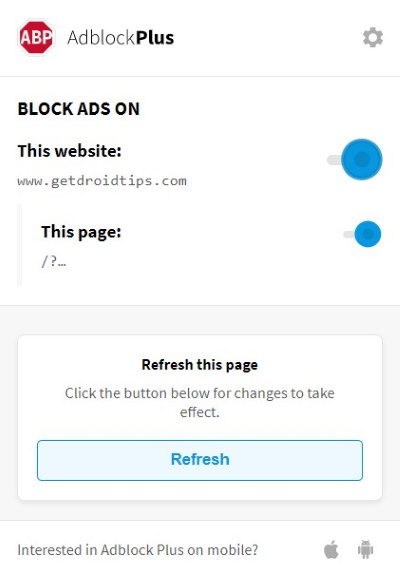 You can block all ads after sliding the toggle.
Info
GetdroidTips gives you valuable information about the latest Android & iPhone trends, devices, and tutorials. And all of this cost is born by our advertisers, which in turn show ads on this website. We will highly appreciate if you whitelist our website from Adblock extensions so that we can continue providing such valuable information to worldwide users like you for free!
How to Bypass Adblock Detec­tion on Web­sites
Since many users use Adblock on their computers, the revenue of websites is decreasing day by day. So many websites have created many anti-Adblock methods and will show you something like this!

And I'm sure you're reading this guide because you want to get rid of these messages whenever you surf the internet. But don't worry, there are numerous ways to bypass Adblock detec­tion on web­sites that are undetectable:
Bypass Adblock Extension
There are numerous extensions available for Google Chrome, where you can disable these annoying messages. One such extension that actually works is Bypass AdBlock Detection offered by Arif.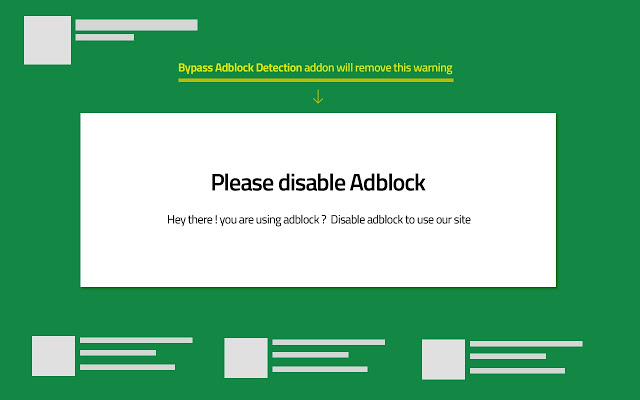 It's a simple AdBlock extension, which will block all such annoying messages on which websites pop here and there!
AdLock Program
If the above extension doest work for you, then don't worry. Because of there is certain computer software specifically designed to hunt ads and bock them from users. They also bypass Adblock detec­tion on web­sites that are undetectable by traditional AdBlock apps and extensions.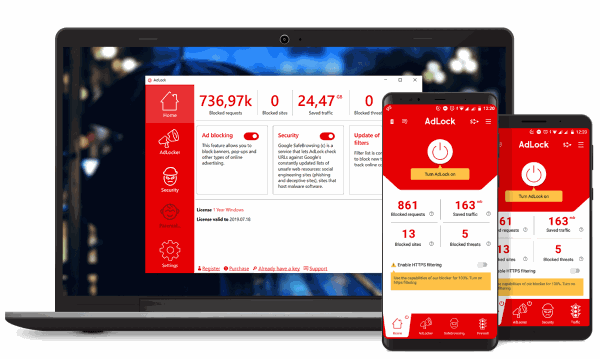 AdLock is one such program that actively looks for various ads and adblocker scripts on websites and software and blocks them permanently. You no more have to see un-necessary ads on your system after installing this software. However, it is not free to use, and you have to pay a small subscription fee!
By Inspect Element
Using the Inspect element, you can completely remove the ad loading script from a website. Is the process is rather complicated or geek-friendly? So if you're not very familiar with computers, you might not want to use this method often. Here is a quick guide to doing this trick!
Open any website which shows the "bypass adblocker script."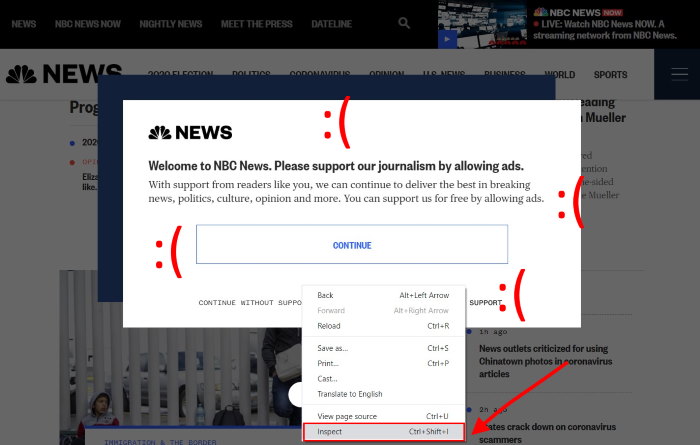 Open inspect element by "Ctrl + Shift + I" or by Right click > Inspect Element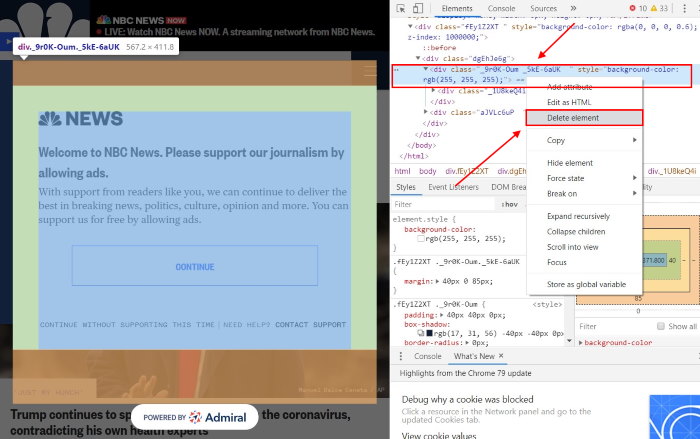 Find the block of text which highlights for adblocker script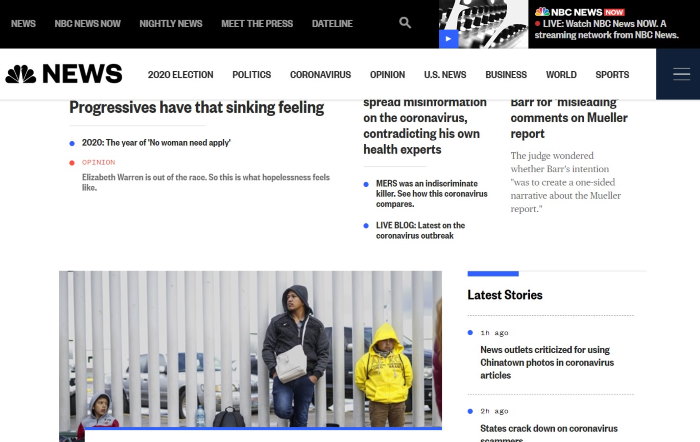 Simply delete it and enjoy the website without any ads :)
Note: If you refresh the webpage, it will again show ads. So this is not a very practical method but gets the work done :)
Top 5 Adblocker Extension to Block undetectable Adblocks
Here we have listed the top 5 Adblocker Extension with minimalistic looks. These Extensions are quite easy to use and much effective as well.
Adblock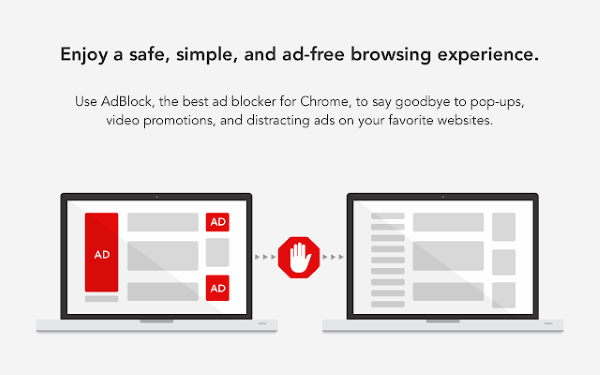 Adblock is one of the best extensions available out there completely free of cost. It blocks all pop-up ads, banner ads, and not only that, but it also blocks video ads on Youtube, Facebook, etc. Above all, Adblock protects your anonymity and privacy from third-party trackers. It helps improve your page load speed, plus a help center support makes it much better. Moreover, it also provides a dark mode and many other color themes.
Adblocker Ultimate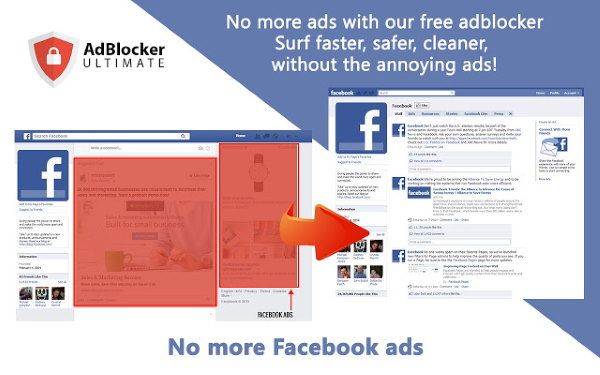 Adblocker Ultimate was built with the intention to remove all ads and keep users focus directly on the content. It blocks all malware and tracking and improves browsing speed. Moreover, it also blocks all Youtube commercial ads and other video ads too. Other types of ads you can block using Adblocker Ultimate are pop-up ads, pop-under ads, overlay ads, interstitial ads, etc. It decreases your bandwidth and memory usage as well.
uBlock Origin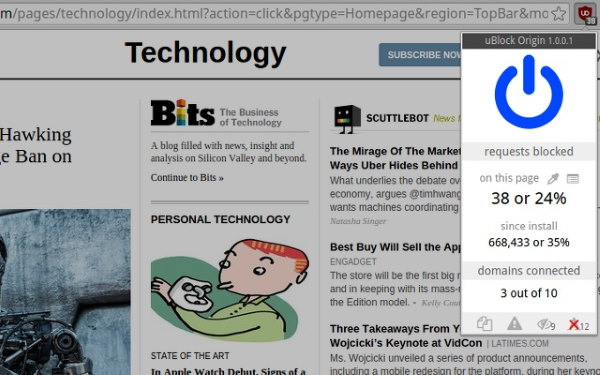 The uBlock Origin is an efficient blocker that is easy on memory and CPU footprint. It provides a power button using which you can permanently enable/disable ads on a particular site. You can apply this to the current website only. In addition, it can also read and create filters from host files. Most interestingly, even after you add more filters, it still maintains a low memory footprint than most other popular Adblockers.
Ghostery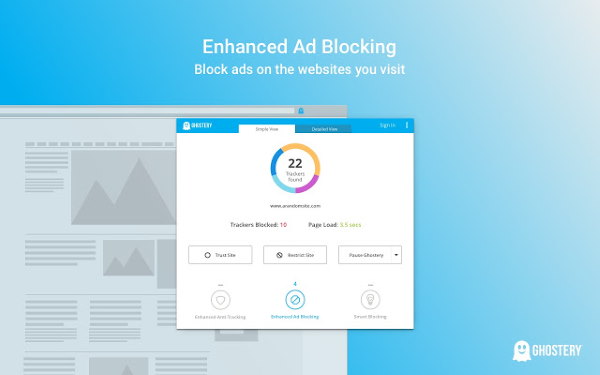 If you are looking for a powerful privacy extension, then Ghostery is the perfect option for you. It helps in blocking ads, trackers, and improves page loading speed. Ghostery also allows you to customize your display; it offers you with multiple displays and insights.
Adblock Plus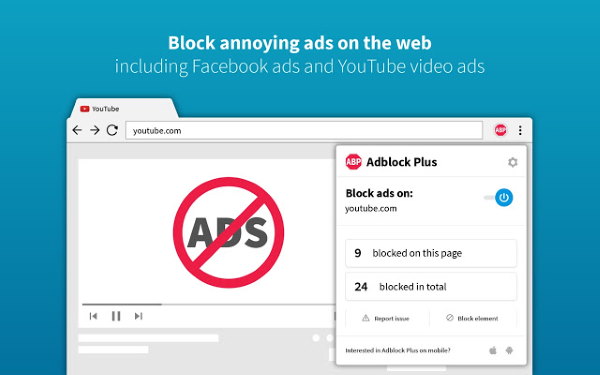 Adblock Plus is a very popular extension, with over 500 million downloads across the world. It provides you with fast and sleek ad-blocking capabilities. Adblock Plus helps block annoying pop-up ads, banners, and video ads. It stops tracking to maintain the user's privacy and fights malvertising ads. Plus, it provides a few customization features like whitelisting your favorite sites. Above all, you get free and constant support and more control over your experience.
Conclusion
Installing and using Chrome extensions are really easy. We hope that it is clear to you about how to add new extensions to your browser by now. Adblocker extensions play a vital role in your browsing. The majority of people don't like to see unnecessary advertisements popping out of everywhere. Also, it is important to maintain our privacy to avoid being tricked by these foolish ads. Therefore, using an Adblocker is a wise decision.
Also, all the methods we talked about above are for Google Chrome Browser. They will also work with Firefox, Opera, Safari, UC Browser, and Microsoft Edge as well.