Warzone 2's DMZ mode is a game mode in Call of Duty that allows players to store certain items indefinitely, giving them the opportunity to find high-tier items. Keys are one such item that players can use to acquire high-tier loot. Keys are particularly useful since they are not subject to death penalties. This makes keys a valuable asset for players that want to increase their chances of success in the game. In this guide, we will take you through where to find the CH7 Editorial Department Key in Warzone 2 DMZ.
In addition to their usefulness in acquiring high-tier loot, DMZ keys can also be used to open enemy bases and buildings for loot. This is a great alternative method for players that are struggling to find loot through other means in Warzone 2. If you're looking to acquire the CH7 Editorial Department Key in Warzone 2 DMZ, this guide will tell you exactly where to find it. By following the instructions provided in this guide, you'll be able to acquire this key and gain access to the valuable loot that it unlocks.
How to find the CH7 Editorial Department Key Location in Warzone 2 DMZ
When playing Call of Duty Warzone 2 DMZ, players will encounter locations that are locked from the start of the match. In order to access these locked rooms and buildings, players must have the corresponding key. There are a total of 56 different keys that can be used to unlock houses, infrastructure, and ammunition stores in Warzone 2. Each key offers the potential for valuable loot, making them a valuable asset for any player.
In Warzone 2 DMZ, acquiring the CH7 Editorial Department Key can be a challenging task that requires players to explore various parts of the map. Like all keys, this is a completely random drop, so getting it depends on your luck. You can obtain the key by randomly acquiring it from killing enemies, completing HVT contracts, or looting containers. However, players must be careful as they navigate through the dangerous terrain filled with AI enemies that lurk around every corner.
Once players have acquired the CH7 Editorial Department Key, they can unlock several places on the map that are otherwise inaccessible. These areas often contain valuable loot that can give players an advantage in the game. However, finding the right location can be tricky, and players must navigate through various obstacles to reach it.
Location to use the CH7 Editorial Department Key
To find the CH7 Editorial Department room, players must first locate the Channel 7 building at Al Mazrah City POI, which is a large building that can be found at grid coordinates F2. You can check out the map below for a more accurate reference.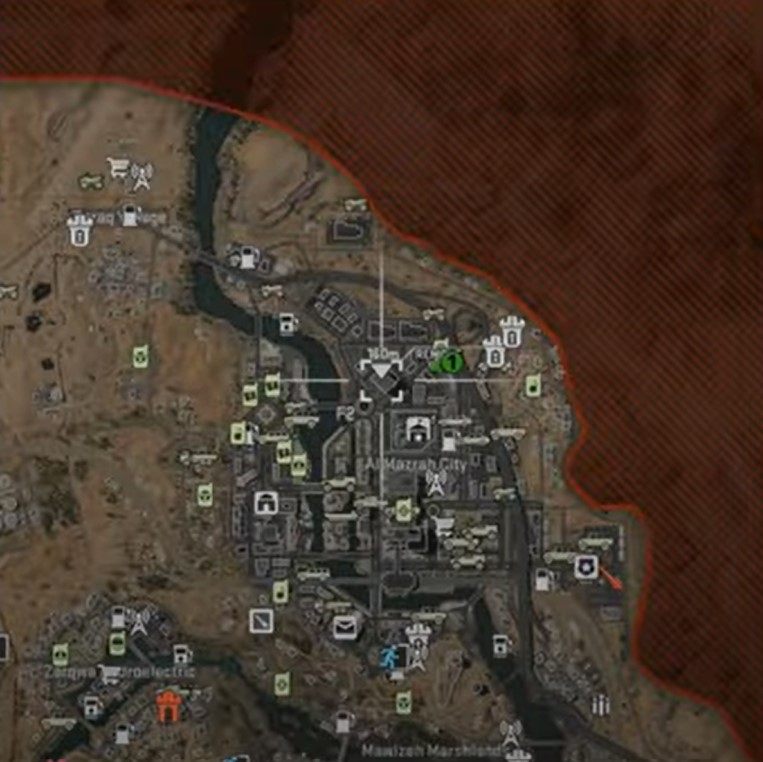 Once players have entered the building, they must take a sharp right from the entrance to find the elevator. Using the elevator, players must travel to the topmost floor of the Channel 7 building, which is Floor 11. Once you have made it to the top floor, go straight from the elevator and you will find the CH7 Editorial Department room.
The CH7 Editorial Department room has four entrances, but ideally, you should be unlocking only one of the doors. This is because every key in DMZ has three uses. By opening only one door, players can use the key in different matches, thereby maximizing its potential.
However, players who have keys for both the CH7 Editorial Department room and the CH7 Secure Records Room can visit this building to collect all the loot. The CH7 Secure Records Room is another room in the building. It contains several loot caches with different weapons and equipment.
Once players enter the CH7 Editorial Department room, they will encounter several AI combatants in the area surrounding the building. It is crucial to eliminate all of them to ensure the safety of the team. To do this, players can use UAVs and other equipment to locate any AI forces and enemy operators hiding in the area.
In addition to the loot caches, players can also find some cash in the room. You can use this cash at buy stations to purchase different items that can help you in missions.
Conclusion
We hope that this guide helped you find the CH7 Editorial Department Key in Warzone 2 DMZ. Thee CH7 Editorial Department room is an essential area in Warzone 2 DMZ that every player should explore. By following the tips and strategies outlined in this guide, players can maximize their chances of success. Keep an eye out for other keys that can help players unlock other hidden areas in the game, and check our other guides for more updates on Warzone 2 DMZ.