Microsoft word is widely used for many purposes like prepare documents, write scripts, etc. However, many users use Microsoft Word regularly. Also, many users report that the security notice pop-up irritates them while they work on Microsoft Word. The Microsoft Word security notice pop-up provides a warning about the content or links that use in our content that we can share and use by other websites. So let's know how we can enable or disable the Microsoft Word security notice pop-up in few steps.
Privacy is now one of the important parts that everyone needs to secure from the use by others. Microsoft is also working to make their application safe for users so that any user can work freely. Whenever you paste content from any website or other resources to Microsoft word, it pops up the warning that other websites and resources may use the data may access by others to make sure that you only use the data from other trustworthy places.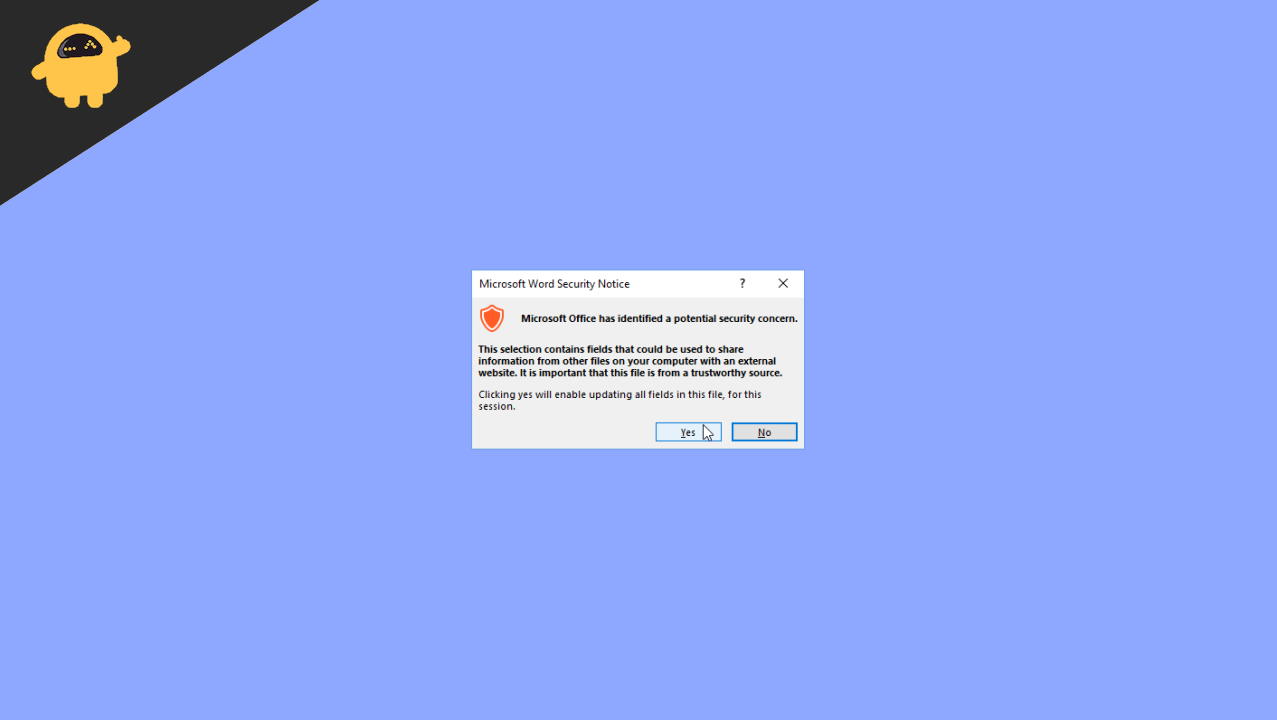 How to Enable or Disable Microsoft Word Security Notice Pop-up
We are using Microsoft Word while working at home or office. We get a security pop-up whenever we paste content for other sources, but it pops up regularly, breaking our concentration and continuity of work. Here we know several ways to enable or disable the security pop-up in Microsoft Word. But, before every method, it's important to use any hyperlink and content from trustworthy resources.
Update Latest Version of Microsoft Office
Security Pop up in Microsoft Word is showings because of reporting the bug in that particular content by other users. Sometimes MS office updates the security by the update. So you will get rid of the security notice by the update. Here are the steps to update Microsoft Office.
Open the Microsoft Word application in your system.
Click on create a New Document.

Navigate and click to the Ribbon and select your account.
After that, click on the Office update and select the Update Now from the drop-down menu.

Now the updates are automatic download and install. Wait till it is complete.
Restart Microsoft Word and check whether the security notice pop-up is disabled or not.
Rollback the Microsoft Office to the Older Version
If the issue is still not resolved, then the following method can disable the security notice pop up in Microsoft Word. It also works if you don't want to update the MS Office in your system.
Save and quit all the Microsoft Office applications.
Check whether any application is still running in the background from the task manager in your system.
Now press the Windows key and search for Command Prompt by typing CMD.
Next, Right-click on the Command prompt application from the Start Menu and select Run as Administrator.

After that, paste the below command on the command prompt.
"C:\Program Files\Common Files\microsoft shared\ClickToRun\OfficeC2RClient.exe" /update user forceappshutdown=true updatetoversion=16.0.14026.20308
Wait till it is completed, then start the Microsoft Word Application and check the Security notice pop-up is disabled or not.
Now open New Document on Microsoft Word, then select your account.
Next, click on the Ribbon tab and click on the File tab.

Then select the Disable Updates from the drop-down list.
Software products can create such issues from time to time, and it is just because of how computer software runs. If you are still facing the problem after following the above two methods, then my recommendation to you will be to uninstalling MS office and installing it again. Upon re-installation, make sure to enter your product key and register the program for an easy experience.
Conclusion
If the Security notice Pop Up while you are not working in any Microsoft Office application, then may your file are corrupt, or there may be some issue in your Windows OS. A fresh install of the application or Operating system may resolve the issue. We hope the above methods are working for you. If you have any problem applying any methods, do let us know in the comment box. for more information Regarding Microsoft Application, visit our website regularly.