Well, transferring photos from your iPhone to your PC is very useful and most users do this thing quite often. But sometimes it may not go as expected and you may find some issues with the photo importing failure. So, whenever you get failed to import all of your selected iPhone images through Microsoft Photos, it seems that the Photos app installation is most probably corrupted. Here we've shared a couple of possible workarounds that should fix the iPhone Photo Import Failure 'Something went wrong' error.
This particular issue is also related to the incompatible HEIC format images which may not be completely imported directly to the Windows system. So, there is some issue with importing iPhone pictures through Microsoft Photos that you need to be fixed. According to the affected iPhone and Windows PC users, they're getting an error message that says "Something went wrong. Your files might not have been imported." In the end, you'll get the Try again and Close button to choose from.
Sometimes, it may also possible that your iPhone and Windows connectivity via the USB cable may get loose or touched a bit which can literally cause data transferring error. So, make sure that you're using the original USB data cable for transferring and syncing the data between your iPhone and PC/Laptop. If in case, your iPhone's lightning port is wobbly then get it repaired first. If somehow the USB port of your desktop/laptop is loose enough, try using another port. Additionally, you should check whether your computer and iPhone storage is running out of free space or not.
Fix: iPhone Photo Import Failure 'Something went wrong'
Meanwhile, you will need to also check whether your iPhone is having enough battery charge or not. Similarly, make sure that the iPhone isn't set to battery-saving mode. Now, without wasting further time, let's get into it.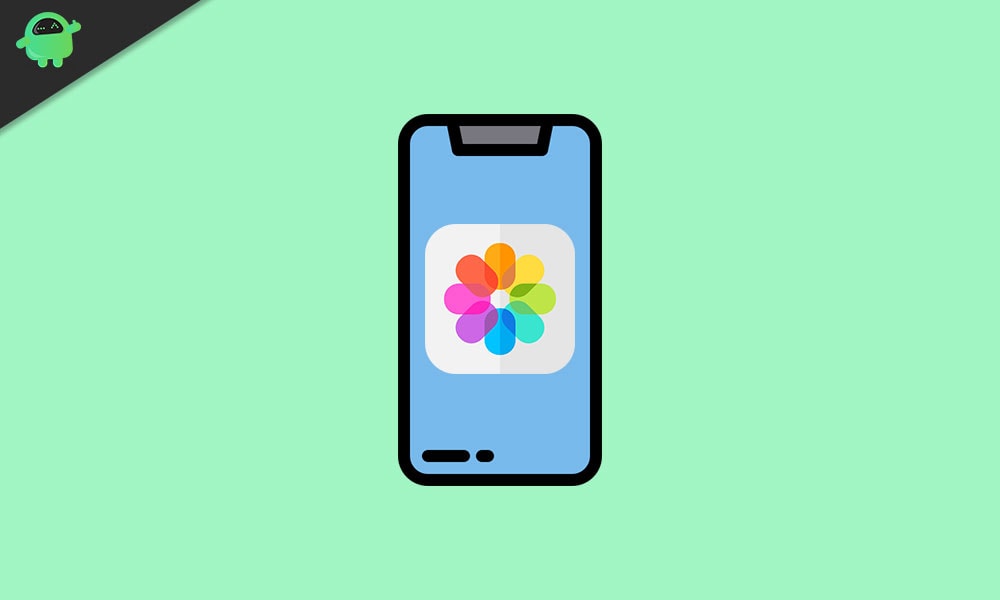 1. Update iPhone Firmware
Needless to say that if your iPhone is running the outdated software version, you'll need to update to the latest version. It not only fixes bugs or includes new features but also improves stability and your iPhone will be able to import/export data very easily. However, your Windows OS build also needs to be updated. To update your iPhone:
Go to Settings > Tap on General.
Tap on Software Update > It'll automatically search for an available update.
If available, tap on Download and Install.
However, if not available, it'll show the latest iOS version apart from that Your software is up to date.
2. Update Windows OS Build
It's always recommended to update your Windows OS build to get all the new features and system improvements. An outdated system version can cause issues with device compatibility and data transfer.
Click on the Start menu > Go to Settings.
Select Update & Security > Under the Windows Update section, click on Check for Updates.
If the latest version is available, it'll automatically do the job.
However, you can manually click on the Download and Install button to update your Windows.
Once done, restart your computer and check if the problem has been fixed or not.
Also Read: How to Fix Photo Import Not Working on Windows 10
3. Keep iPhone Unlocked
In most scenarios, it seems that Apple devices may face issues or interruptions while importing or exporting data across platforms in the locked or sleep mode. Similarly, the data transfer may get affected if your iPhone is locked (screen lock). All you need to unlock the iPhone screen and then try transferring data between PC/Laptop. According to the auto-lock settings, you can tap once on the screen to keep it unlocked. This easy trick also comes in handy for most of the affected users.
Read More: How to Access and Control Your iPhone From Windows PC
4. Disable Firewall & Antivirus Software
It's a no brainer that the Windows Defender Firewall or antivirus software always tries to scan and block suspicious files to harm your device. Even if your files are necessary to you or don't come under any malware, the real-time protection scanning will detect them as harmful and starts removing or quarantine them. So, make sure to disable the Windows Defender Firewall and any third-party antivirus software on your PC to check for the issue.
5. Change Permission for Pictures Folder
If in case, the Pictures folder permission isn't set up properly on your Windows, you may find trouble while transferring images from your PC to iPhone or vice-versa. To do this:
Press the Win + E keys to open up the File Explorer.
Now, right-click on the Picture folder > Click on Properties.
Go to the Security tab > Click on the Edit button from the Group or user names option.
Select your username from the profile > Under Permission for (your username), make sure that all the checkboxes are marked in the 'Allow' section.
Click on Apply and then OK to save changes.
If you've already enabled the Full Control option then disable it > Enable it again.
6. Transfer Images in Small Batches
No need to transfer iPhone images in full flow once at a time to Windows via the Microsoft Photos app. You should select a couple of images and transfer them in batches. This will only ensure the complete import/export of images but also will help you to understand which specific images aren't transferring according to the file name and size. So, it'll be easy for you to mark them and check whatever issue is there.
7. Check the USB Cable
A physically damaged or faulty USB cable or even a local/duplicate USB cable can cause issues with the data transfer which can be fixed by simply using an original and properly working USB cable. If you don't have it, get it according to your iPhone from the Apple authorized retailer.
8. Use Import pictures and videos
It's recommended to use the Import pictures and videos option on your PC for a better data transfer experience. You'll need to connect your iPhone to the computer > Once the device is detected, right-click on your iPhone > select Import photos and videos > Select Review, Organize and group item to import > Then select the images that you want to import > Finally, click on Import. By using this trick, you won't receive the iPhone Photo Import Failure 'Something went wrong' error notice.
9. Disable Hardware Acceleration of Microsoft Photos
You may find it difficult to transfer images if in case, the Microsoft Photos app is using hardware acceleration. There can be an incompatibility between your iPhone and Windows. To disable the hardware acceleration, you have to follow the steps below:
Open the Microsoft Photos app on your Windows.
Click on the menu button (three dots icon) from the upper-right corner.
Go to Settings > Under the Video section, turn off the Use hardware-accelerated video encoding when available toggle.
Now, you can try importing images.
However, if this method doesn't work for you, make sure to turn on the Airplane Mode on your iPhone and then check for the issue again.
10. Enable Apple Mobile Device Service
If somehow the Apple Mobile Device Service isn't running properly or disabled then you'll encounter operation errors. Therefore, you should change the startup type to automatic and try checking for the issue. To do that:
Press Win + R keys to open up the Run dialog box.
Now, type services.msc and hit Enter to open Services.
Look for Apple Mobile Device Service from the list.
Double-click on it and select Automatic from the Startup Type option.
Next, click on Stop > Click on Apply and then OK to save changes.
Again turn the service and try importing the iPhone images.
11. Turn On Home Sharing in iTunes
If none of these above methods worked for you, make sure to try enabling the home-sharing option in iTunes software on your computer. This basically allows data sharing options and permissions across devices. To do this:
Open the iTunes app on your PC/Laptop.
Sign in to your Apple account > Click on File.
Go to Home Sharing > Select Turn On Home Sharing.
Now, you can check whether you're getting the iPhone Photo Import Failure 'Something went wrong' error or not.
Still, the problem persists? Well, take a look at the next method.
12. Repair or Reset Microsoft Photos App
Sometimes it's required to repair or reset the conflicting app to its default mode. This basically clears system glitch or cache completely to work like a charm. To do this:
Press Win + I keys to open up the Windows Settings menu.
Click on Apps > Under the Apps & features category, scroll all the way down.
Now, click on Microsoft Photos from the list of apps.
Click on Advanced options > A new page will open.
Here scroll down a bit and click on Repair under the Reset option.
Once done, open the Xbox Game Bar again to check for the issue.
If the problem persists, try following the same steps and click on Reset under the Reset option.
Once all done, try importing iPhone images to the PC via the Microsoft Photos app to check if the problem is fixed or not.
13. Adjust iPhone Photos Settings
As we've mentioned at the beginning of this article that HEIC format images can also cause issues with the Microsoft Photos app which may seem incompatible as of now. Therefore, the iPhone mostly tries to convert the importing images from HEIC format to JPG/JPEG format. But due to the number of selected images or some other reasons, some of the images don't complete importing whatsoever. That's why keeping your iPhone images in their original state will always come in handy. Although HEIC format takes lesser storage space and highly optimized for iPhone, you have to adjust the iPhone Photos settings.
Go to the iPhone Settings menu > Scroll down a bit and tap on Photos.
Scroll down a bit again and select Keep Originals for the Transfer to Mac or PC option.
Now, clear the recent menu whatever is running in the background.
Disconnect the USB cable from your iPhone and restart it.
Then connect the USB cable again > Allow it to trust your PC.
Finally, try importing images via the Microsoft Photos app to check for the issue.
14. Uninstall Conflicting Programs
The Microsoft Photos app may get failed to import/export images if any program starts conflicting with the system resources. Disabling or completely uninstalling those conflicting programs will fix the issue. As Windows Firewall or antivirus software isn't suitable to uninstall, you should try uninstalling other apps like Microsoft Teams. To delete such apps, go to the Control Panel from the Start menu > Head over to Uninstall a program > Right-click on Microsoft Teams app > Click on Uninstall to remove it completely.
15. Exit OneDrive Cloud Sync
Make sure to properly close the Microsoft OneDrive cloud sync service on your computer to fix several issues. As the OneDrive comes by default with Windows 10, it may cause data transferring or data not saving, etc issues in some cases. As the Microsoft Photos service is depending on the internet, the OneDrive service can affect it badly or its processes.
So, turn off the cloud sync option and exit the Microsoft OneDrive app. Go to the Task Manager and check for the Processes whether OneDrive is running in the background or not. If yes, close the task and reboot your PC. However, if this trick doesn't work for you, try another one.
16. Sign Out of Microsoft Photos
Click on the Start menu > Search for Microsoft Photos app.
It'll appear as the Photos app. Just click on it.
Now, click on the menu option (three dots icon) > Click on your Profile (Username).
Under the Account section, you have to Sign out of Microsoft Photos.
Next, you should also Sign out of OneDrive.
Once all done, check if the image importing issue has been fixed or not.
That's it, guys. We hope this guide was helpful to you. For additional queries, feel free to ask in the comment below.