Project Zomboid is an Open World survival horror video game developed by British and Canadian autonomous developer The Indie Stone. It was released on 8th November 2013, on Steam for 19.99$. It is available for both Windows and Mac. Recently, there has been an issue in Project Zomboid where users encounter a glitch while trying to access the multiplayer mode. This issue is caused because of various reasons, which are stated below. In this article, let us discuss the multiplayer error on Project Zomboid and a working fix.
The latest stable release is Build 41, released in December 2021, which includes animation and action overhauls, the newest audio and music, the city of Louisville, KY, and reworked multiplayer by General Arcade. But in spite of the stable release, there are multiple instances where games have to face issues. Down below are some troubleshooting methods that will help you to fix the multiplayer not working problem.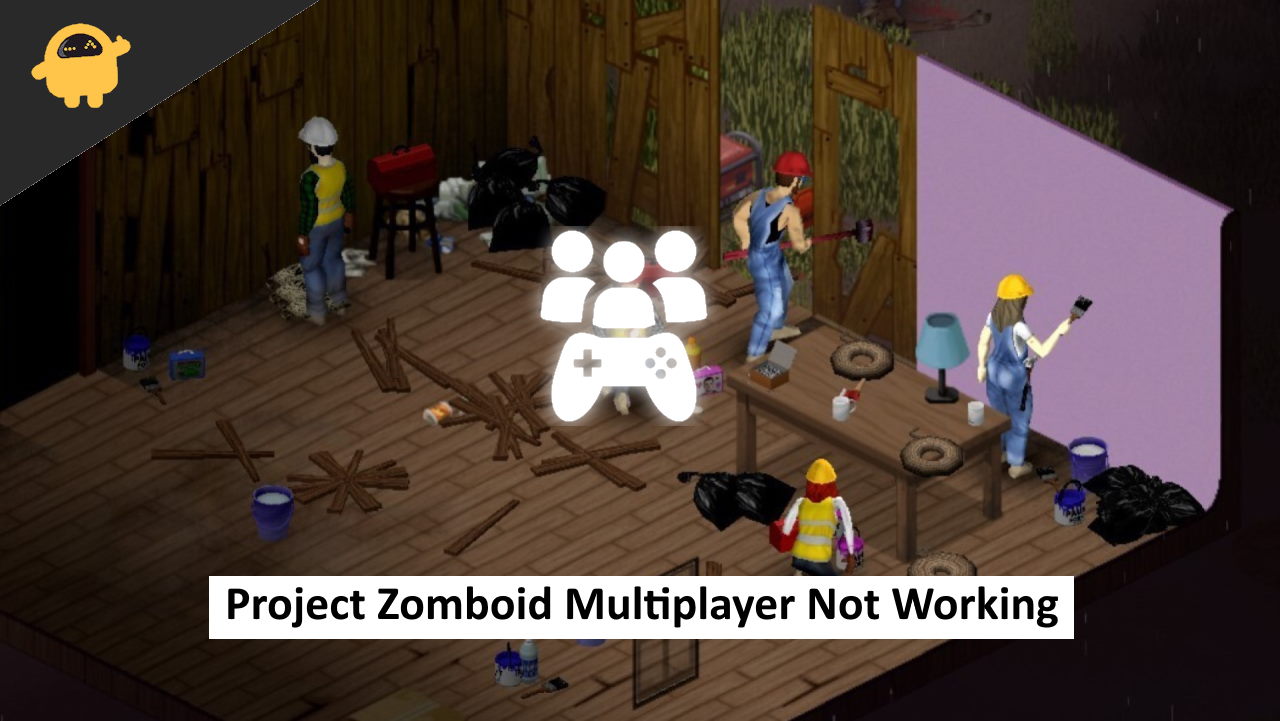 Fix: Project Zomboid Multiplayer Not Working
The multiplayer error occurs when you try to create a server or invite your friends to your server, and they can't join the server; even if they try to accept your invite, they get stuck in an infinite black screen loop. To fix these types of issues, follow the below steps.
Method 1: Check game requirements
Before you move on to the troubleshooting tips, it's important to crosscheck whether your computer system fully checks out the game requirements. If you have a low spec PC, then obviously the game will not run properly. Below are the minimum requirements for the game to run on both Windows and Mac computers.
The Basic Requirements to play project Zomboid on Windows are:
OS: Windows 10, 64 Bit

64bit OS required

Processor: Intel 2.77GHz Quad-core

Memory: 8Gb Ram

Hard Disk Space: 5gig

Video Card: Dedicated graphics card with 2 GB of RAM minimum, OpenGL 2.1 and GLSL 1.2 support (generally 2012 or newer)

Sound: FMOD compatible sound card
The Basic Requirements to play Project Zomboid on Mac are:
OS: OS X 10.7.3, or later.

Processor: Intel 2.77GHz Quad-core

64bit OS required

Memory: 8Gb Ram

Hard Disk Space: 5gig

Video Card: Dedicated graphics card with 2 GB of RAM minimum, OpenGL 2.1 and GLSL 1.2 support (generally 2012 or newer)

Sound: FMOD compatible sound card
Method 2: Check for Server Memory
When you Host a Server, the memory you allot should be enough for the game to function correctly, and the memory you allocate to the server is directly proportional to the game's performance. You have to allocate at least 4GB of memory to the server for better performance. You have to do this while setting up a server. If you don't know how to host a server, then follow the guide below:
Steps to host a server in Project Zomboid:
First, Open the game and keep it open for a while
Next, you need to open the main menu and click on Host.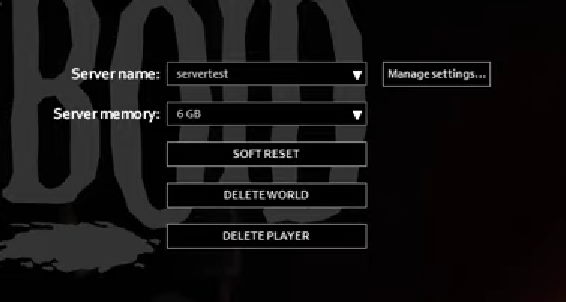 Now, click on Manage Settings->Create New Settings->Tune your Server and then Save.
Click on Back and then Start the game.
Note: Always allocate an extra 200 MB for every player you plan to invite to your server. For example, if you plan on adding three players and you already have 4 GB of allocated memory, you will need to give 4.6 GB of RAM (4 GB + 3×200 MB = 4.6GB)
This indicates that hosting a server can be pretty rugged on your system. Because of this, we advise you to go ahead with a co-op server exclusively if you have the required resources.
Method 3: Set your Server to be Public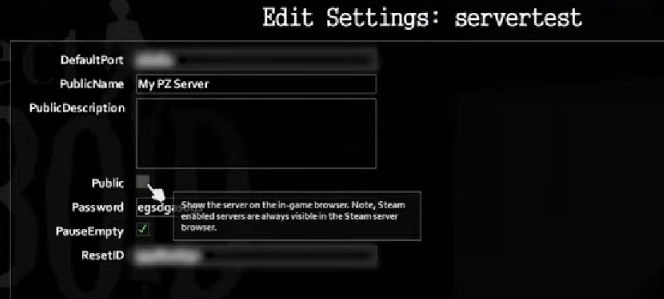 If your server is set to be private, then your friends will not be able to join. So, always put your server to be public and if you don't want any random players to join your server, keep a password and share it only with your friends. Make sure your password is unique.
Method 4: Set up a dedicated serve
Setting up a dedicated server is very intuitive and needs a lot of time and memory to work out. You can set up a dedicated server by watching this YouTube video.
Method 5: Stuck in infinite loading world loop

If you are stuck in the infinite loading world loop, the only fix is to crash the server. There is no other known fix for this, and this is the only working one.
Steps to crash the Project Zomboid Server:
Open Task manager (Ctrl+Shift+ESC)
Search for the Project Zomboid64 process and click it to access a drop-down menu.
Under the drop-down menu, End the process called "Zulu Platform x64 Architecture"
Doing this will crash the server and fix the issue.
Method 6: Update the Game to the Latest version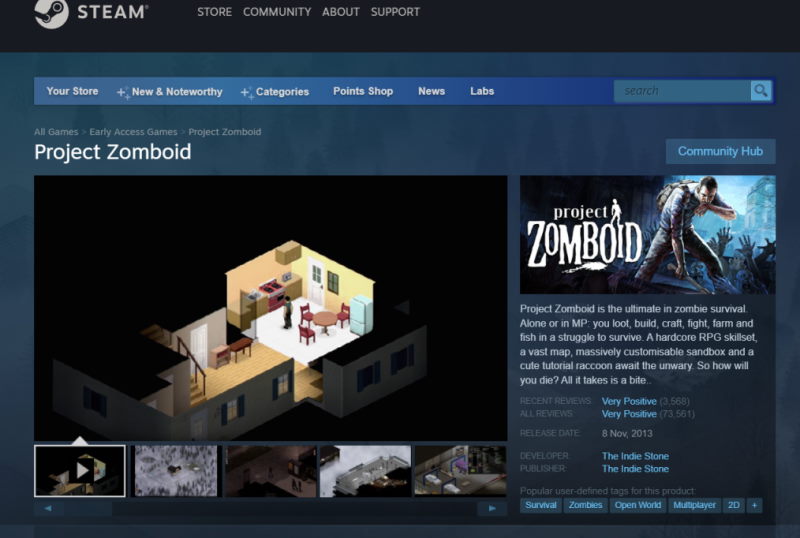 Usually, the developers of the Project Zomboid rollout quick updates to fix these type of issues. So, make sure you are on the latest version of the Project Zomboid, i.e., Build 41. If you have purchased the game from Steam, you can easily update it by following the below steps:
Steps to update Project Zomboid to the latest version:
Open Steam and search for Project Zomboid.
Close all the background apps, then click on update.
Wait for the Project Zomboid to get updated to the latest version.
Restart your PC and then open the game.
Method 7: Uninstall and Reinstall the game
Project Zomboid stores the game files in the Secondary memory of the pc. The data it stores is called cached data, which accumulates over time and might also get corrupted due to unforeseen reasons. You can fix this issue by uninstalling and reinstalling the game.
Steps to uninstall Project Zomboid on windows:
Press the Windows key and search for

Apps and features.

Locate the Project Zomboid and on the right side, click on the three dots to access a drop-down menu.


Click on uninstall and wait for the game to be uninstalled.
Steps to uninstall Project Zomboid on Mac:
Open the Steam application
Now, Go to the Library tab. Here you can see every game you've downloaded and purchased through Steam.
Right-click on the Project Zomboid to uninstall it from your Mac.
Now, access the drop-down of options and Click Uninstall.
Steam will prompt if you're sure you want to delete it, confirming that it will permanently uninstall the local game files from your Mac.


Click Delete and wait for the game to be uninstalled.
Steps to install the game on Windows/Mac with Steam:
Go to Steam and Browse for Project Zomboid.
Buy it if you didn't purchase it before.
If you have already bought it, you will see an install button; click on it.
Choose the memory storage where the game should be downloaded and click on install.
Conclusion
These are some of the fixes for Project Zomboid Multiplayer not working issue. If you have found any other issue or any other fix for this issue, please feel free to comment down below.