It seems that Riot Games' Valorant is going through another error code and this time the VAN 68 eventually disconnects players from matchmaking and locks them out surprisingly. Since Valorant has been released, several errors are appearing to the PC players whatsoever whether it's the official launch or the closed beta. Now, if you're receiving Valorant Error Code VAN 68, check this guide.
It's one of the most common issues currently for the Valorant players where several reasons may take place like internet connectivity issues, Riot Games server issues, Riot Games' Vanguard regarding issues, and more. Sometimes your Windows Firewall blocking and DNS server configuration can also become one of the major factors.
How to Fix Valorant Error Code VAN 68
Well, the VAN 68 is an error code that indicates that your Valorant game client is unable to connect to the Riot Games servers either due to internet connection issues or possible faults from the game servers as well. Meanwhile, it can be Cloudflare's DDoS protection-related issues in Valorant. So, how to resolve this issue. Let's find out.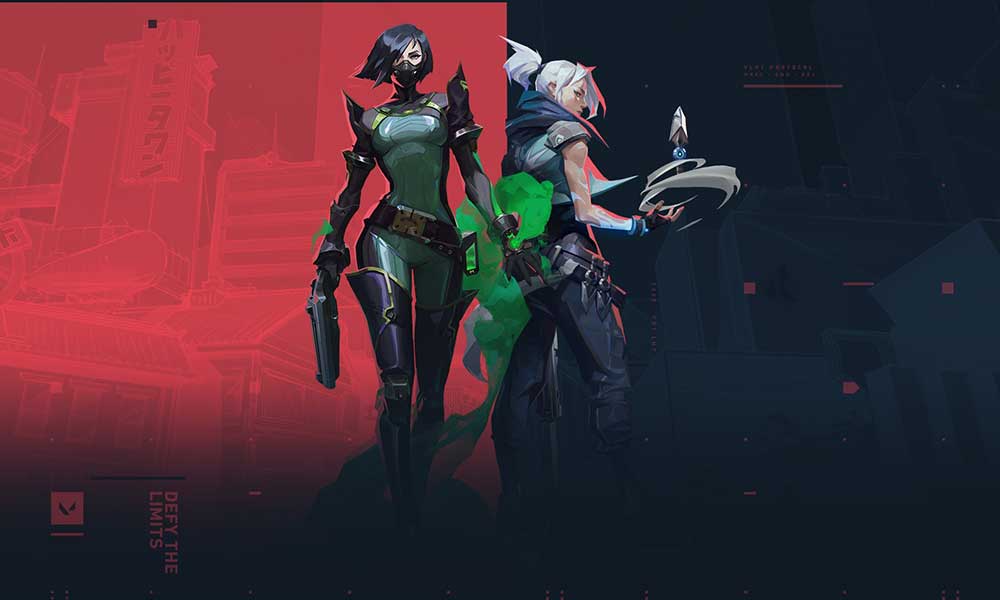 1. Restart Valorant
Although restarting the Valorant client may not fix every error code in most cases, it should work for some players. So, give it a try by just logging out of the game then restart it and log back into it. Sometimes a simple restart can also fix the system or game-related bugs in a jiffy.
2. Reboot Your Computer
We assume that the Valorant Error Code VAN 68 is one of the networking issues. However, sometimes restarting your computer may fix networking glitches or temporary cache data with your internet connection as well. So, it's not a bad idea to reboot your PC/Laptop in such scenarios.
3. Check Riot Games Server Status
There are a fair amount of chances applicable that the particular server connectivity issue is happening due to the game server. Either Riot Games service is going through the scheduled maintenance process or it may have an outage.
Ao, it's always better to check the game server status online before going to any conclusion. In this case, you can directly visit the official Riot Games Service Status page to check for the Valorant Server Status. Alternatively, you can also go to the third-party Down Detector Valorant Status page for outage reports, last 24 hours details, most reported problems, etc.
Now, if there is an issue with the game server, you don't need to do anything else. Just keep waiting for a couple of hours or so until the servers go back in the operational mode again.
Please Note: This may take some time and even a couple of days for some specific regions. So, have some patience.
At the time of writing this article, we can see that there are huge outage problems across the regions that mostly appearing while connecting to the server online and logging into the Riot Games account.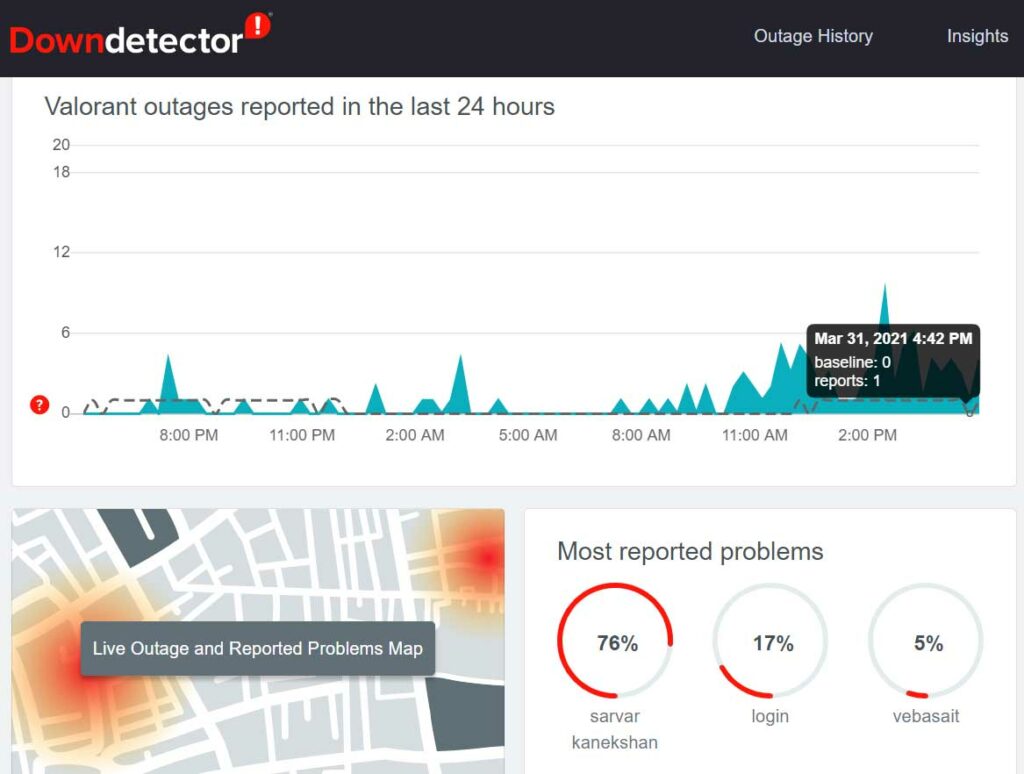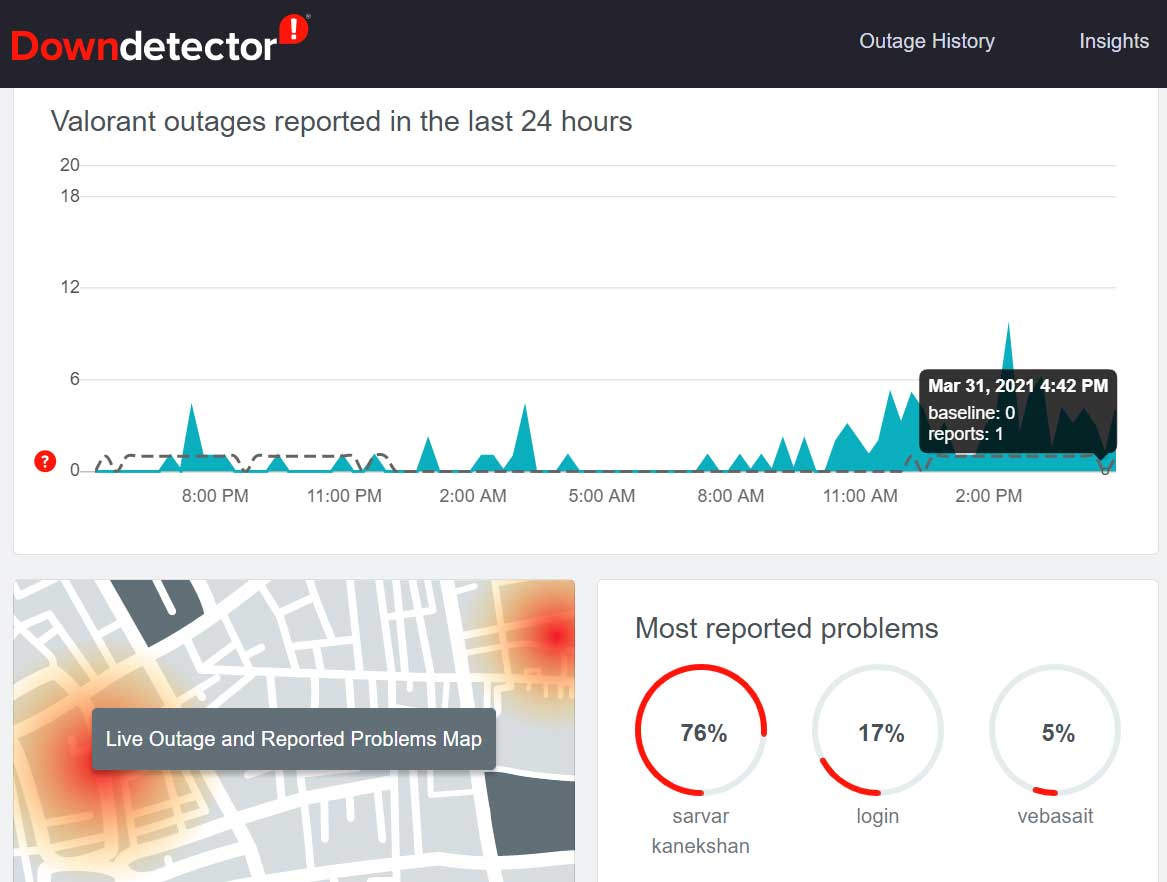 However, if there is no service outage or maintenance process ongoing for Valorant, you can follow the next method.
4. Power Cycle Your Router
Performing the power cycle to your networking device (Wi-Fi router) can simply clear all the temporary system glitches or previously-stored cache data issues. To do this:
Switch off the router and wait until LED indicators turned off.
Now, disconnect the power cable from the router.
Wait for around 30 seconds and plug back the power cable into the router.
Finally, connect to the Wi-Fi network, and try running the game again.
5. Reset Network Configuration
Well, resetting the network configuration on your Windows 10 computer can resolve most of the conflicts with your Network Settings. It basically clears corrupted DNS data etc and gets a new IP address assigned from your Wi-Fi router. To do so:
Click on the Start Menu > Type cmd.
Right-click on Command Prompt from the search result.
Select Run as administrator > If prompted by UAC, click on Yes to proceed.
Now, run the following commands individually to reset your Network Configuration:
netsh winsock reset

netsh int ip reset

ipconfig /release

ipconfig /renew

ipconfig /flushdns
Once done all, close the command prompt window.
Finally, make sure to reboot your computer, and check whether the Valorant Error Code VAN 68 has been fixed or not.
6. Use Google DNS
Changing the Google DNS server instead of a private DNS can quickly resolve several issues with your networking connectivity. To do that:
Click on the Start Menu > Search for Control Panel and click to open it.
Now, click on Network and Internet > Network and Sharing Center > Change adapter settings.
Click on the primary/connected network where you want to change DNS.
Right-click on the Wi-Fi/Ethernet connection details > Select Properties.
If prompted by UAC, click on Yes to allow the permission.
Click on the Networking tab > Select Internet Protocol Version 4 (TCP/IPv4).
Right-click on it and select Properties.
Click on Advanced > Select the DNS tab. (If any DNS addresses listed there, write them down for future reference, and remove them)
Now, click on OK > Select Use the following DNS server addresses. (If any DNS addresses listed there, write them down for future reference, and remove them)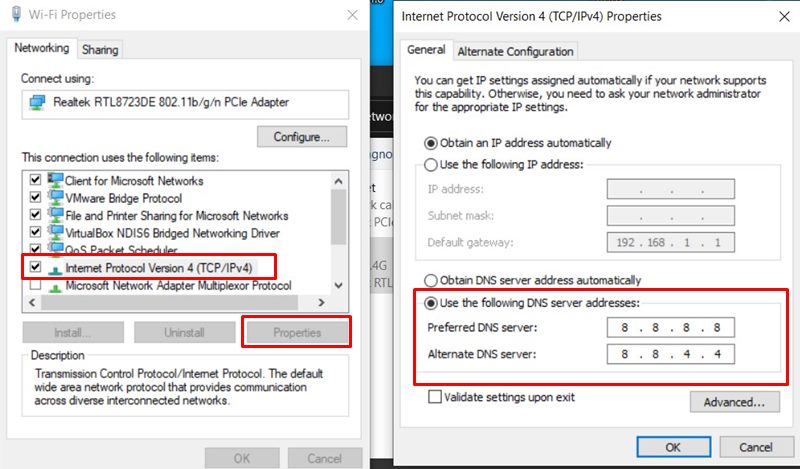 Input 8.8.8.8 for Primary DNS and 8.8.4.4 for Secondary DNS.
Next, run the command prompt and execute the following command to refresh the DNS cache:
ipconfig /flushdns
Once done, restart your computer and try running Valorant again to check for the issue.
7. Disable IPv6 Protocol
If in case, the above method doesn't work for you, try disabling the IPv6 (Internet Protocol Version 6) on your Windows Internet Settings menu. To do this:
Click on the Wi-Fi (Internet) icon from the Taskbar.
Select Network & Internet settings > Click on Change adapter options.
Right-click on the active internet adapter > Go to Properties.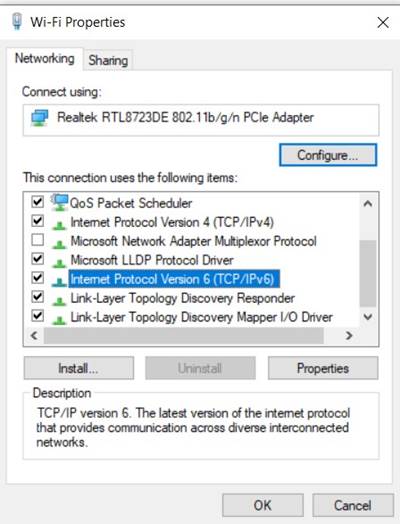 Make sure to uncheck the Internet Protocol Version 6 (IPv6) checkbox to disable it.
Now, click on OK to save changes.
8. Try Using Mobile Data (Hotspot)
Sometimes it can also possible that your internet connection or your specific ISP (Internet Service Provider) has some issues with the game server connectivity. In order to cross-check the issue, you can try using the mobile data hotspot on your computer as a Wi-Fi network.
If in case, the Valorant Error Code VAN 68 doesn't appear anymore that means you'll need to contact your ISP for technical assistance.
9. Whitelist Valorant through Firewall
Just like other video titles, Valorant and especially Vanguard service needs to be allowed through the Windows Firewall protection in order to access the ongoing connections easily. Otherwise, you may not be able to connect to the game servers by any means. To do this:
Click on the Start Menu > Search for Control Panel and open it.
Go to System and Security > Click on Windows Defender Firewall.
Select Allow an app or feature through Windows Defender Firewall from the left pane.
Now, click on the Change settings > Click on Allow another app.
Click on Browse > Go to the installed Valorant folder location.
Select Valorant.exe and RiotClientServices.exe also one by one.
Once added, locate from the list and enable both the Private & Public Domain.
Save changes and restart your computer.
However, if you're using any third-party antivirus program on your computer, make sure to add an exclusion to the antivirus for Valorant as well. This is necessary. Once done, restart your computer to apply changes. Finally, check whether the VALORANT error code VAN 68 persists or not.
10. Check Vanguard Service
It may also possible that your Riot Games Vanguard service isn't running properly on your Windows system. Vanguard is one of the security systems that prevent the Valorant game from hackers, cheaters, etc to provide a fair-play game for all. If in case, this service isn't running well the server connectivity issue may appear. To check it:
Press Windows + R keys to open the Run dialog box.
Type services.msc and hit Enter to open Services.
Now, look for VGC from the list > Once found, right-click on it.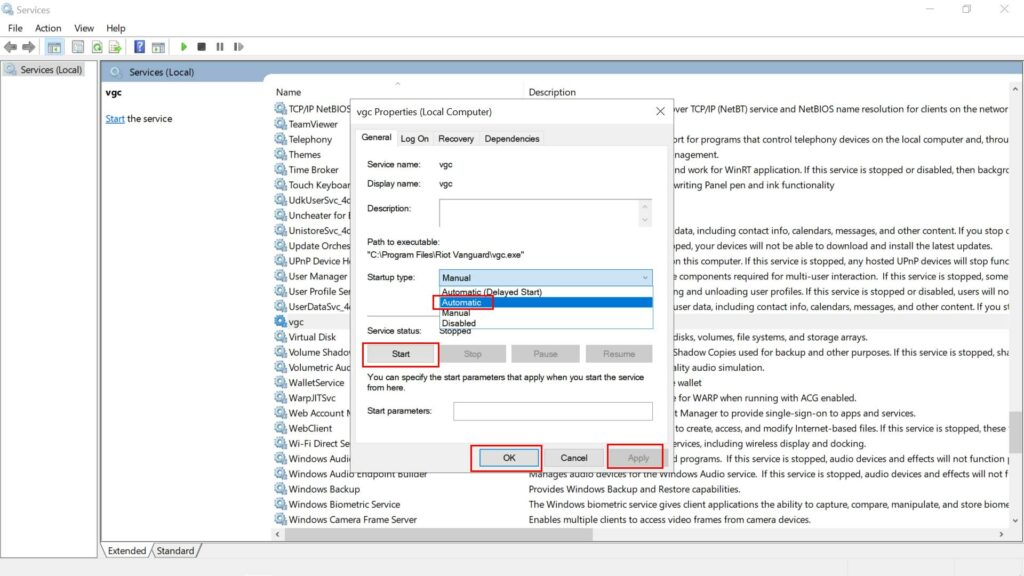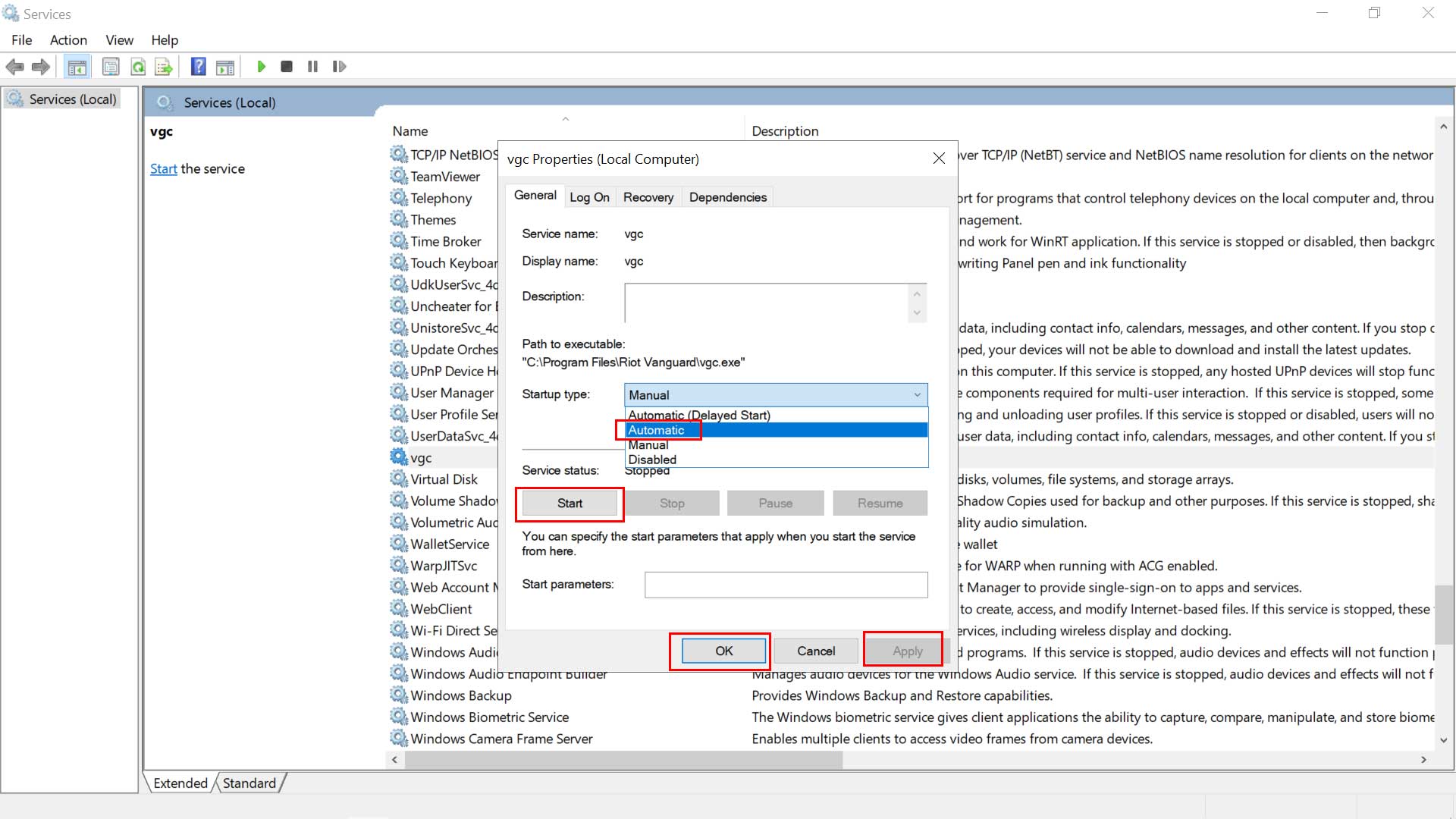 Go to Properties > Set the 'Startup Type' to "Automatic".
If not selected yet, make sure to select it.
If in case, it's not running, click on Start as well.
Click on Apply and then OK to save changes.
Finally, restart your computer to apply changes.
11. Automatically Detect LAN Settings
Your Windows LAN Proxy Settings can also be one of the main reasons behind the server connectivity issue. You should set the LAN Settings to automatic. To do so:
Click on the Start Menu > Type Internet Options and click on it from the search result.
Click on the Connections tab > Go to LAN settings.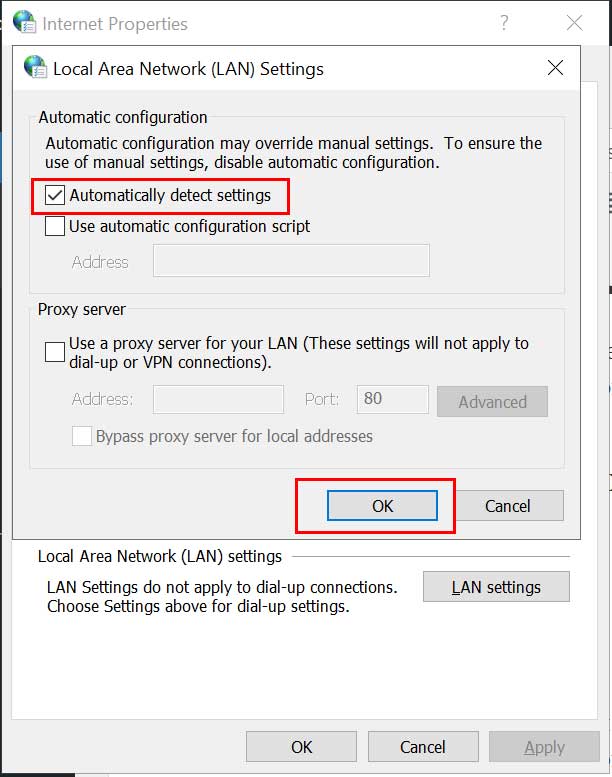 Select Automatically detect settings to enable it.
Once done, click on OK and then click on Apply to save changes.
Reboot your computer and check if the problem has been fixed or not.
12. Repair Valorant
If not fixed yet, you should try repairing your installed Valorant game in order to automatically verify and repair the missing or corrupted game files (if any). To do this:
Make sure to head over to the Valorant download page.
Download the installer file on your computer and run it.
Complete the installation process and open it.
Click on Advanced options from the Valorant game installation interface. [DO NOT click on Install]
Now, browse and select the path where you've already installed Valorant.
Select the Riot Games folder in order to verify and repair the full game files.
It may take some time to finish. So, have some patience.
Once done, restart your computer to check whether the VAN 68 error has been fixed or not.
13. Try Using VPN
It can also possible that somehow your specific server region of the Valorant game has some scheduled maintenance process ongoing or an outage issue. So, in order to cross-check it, you can try using the VPN (Virtual Private Network) service on your computer for free. You can get it online according to your preference.
14. Contact Riot Games Support
Riot Games has a dedicated customer support help desk that offers technical assistance over individually reported problems. If none of the methods worked for you and still receiving the same VAN 68 error code then make sure to visit the Valorant Riot Games Support page to submit a request.
However, if in case, the problem is appearing directly from Cloudflare's servers then we'll recommend you to wait for a couple of hours or so until the problem gets fixed by the technical team.
That's it, guys. We assume this guide was helpful to you. For further queries, you can comment below.