YouTube is one of the best-known platforms for learning, experiencing, and sharing valuable content using videos. However, in the modern era, many users have aimed their careers at YouTube. But, if we talk about viewership, then YouTube has many videos that every user uses regularly. And, as per the daily interaction with YouTube, many of the users report a common error occurring whenever they play any specific video.
Moreover, there can be any reason for this specific error, but our exclusive research and analysis found some common factors which are usually the cause of errors occurring while playing videos on YouTube. So, in this article, we will discuss more how to fix "An Error Occurred, Please Try Again Later" on YouTube.
Fix Youtube Error Occurred Please Try Again Error – Step by Step Guide
However, YouTube is working on the error to fix it as soon as possible. But, until the official solution comes, many users want to fix this issue. For this, we have analysed the common factor responsible for An Error that Occurred. Please Try Again Later. So, below we are stating some responsible factors along with their solutions.
Reload Your Web Page
If you surf the Internet for a long time, then it may cause some errors in functioning. That means it can be an issue for many users to face errors while playing videos on YouTube. So, it would be better to reload the page to get the proper Internet speed to run the video properly.
Update Your PC's Audio Drivers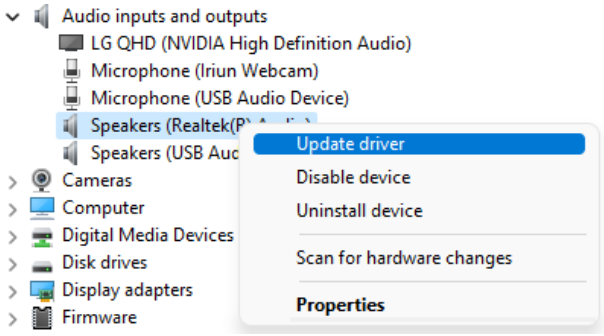 Many users who are getting the same error claim that updating audio drivers can fix the problem. Meanwhile, try to check your audio driver if it is outdated, then update it to the latest version through their official website.
Use your Windows Search to look for drivers.
Go to Device Manager
Click on Audio inputs and Outputs to expand the menus.
Then, choose your speakers and right-click on them.
Select Update Driver to start updating your drivers.
Follow the on-screen wizard to finish upgrading your audio drivers.
Change video resolution
If you directly play the video at the highest picture quality, it may cause the same error. However, you must first play at medium quality. Later, move it to the highest one. Because of the pain, users claimed that playing videos at medium or lower quality could fix the problem.
Update your web browser.

It may be possible if your web browser has gone outdated. Then it leads to a malfunction and can cause an error occurring while playing a video on YouTube. Moreover, it is suggested that you update your web browser to its latest version. For more suitability, you can follow the below steps.
First, open the Google Play Store.
Next, search for your Web browser's name.
Then, if you see any update option instead of Install,
Lastly, click on the Update button.
Change your Web browser.
If you are still facing the same issue while playing videos on YouTube, another way is to change your web browser to a different one (Like, Opera, OperaGX, Mozilla Firefox, Chrome, Microsoft Edge, Brave, or else). Because there may probably be some incompatibility between the browser extension and YouTube, it is advised to change your web browser.
JavaScript should be enabled.
JavaScript is the most essential factor for running Web pages properly. If your JavaScript is disabled, it may cause some malfunctions. Also, we can say it would be a hurdle in playing videos on YouTube. But if you enable JavaScript on your web browser, then it will surely fix that specific issue. Moreover, below are some steps to enable JavaScript.
First, open your web browser.
Then, head to the browser's Settings >> Advanced Settings >> Privacy >> Content Settings.
Now, scroll down the page and click on Java Script.
Next, click on Allow.
Then, click OK.
Clear Cache and Cookies on Your Browser
Cache and Cookies are files that can cause problems with your web browser. And, whenever you play any video on Youtube, the cached files stored in your web browser may create hurdles and display errors. Meanwhile, first, try to delete all the cache and cookies stored in your web browser to fix the error. However, anyone who wants to know the process for clearing the cache wants to read this. So, check out the below steps.
First, go to your web browser's settings.
Then, head to Advanced > Privacy and security.
Next, check out the cached files and cookies.
Finally, click on "Clear browsing data."
Conclusively, we have stated some common factors that may cause an error to occur. Please Try Again Later on YouTube. But, we hope that after improving the above factors, they may lead to a fix. However, if any user has any queries regarding the above subject, they can ask in the comment section below.