HBO Max is very famous for online streaming of popular shows especially related to the infotainment genre. HBO is running for more than 10 years now and recently have launched its services for smart TV users via the HBO Max app. With HBO Max, you can watch on-demand video services, including all exclusive documentaries and tv shows. The best part is that you can watch all these shows back to back, and that's ideal if you want to enjoy your weekend binge-watching. Although it can be mildly frustrating if the HBO Max app is not working on Samsung, LG, Sony, or other smart TV devices.
HBO is a streaming service, and just like any streaming service, issues are bound to happen. Issues like the HBO Max app not working are quite common with devices like Samsung, LG, Sony, and other smart TVs as well. The issue is most likely to be due to internet connectivity or other technical glitches. If you are facing the same, you can follow the below troubleshooting methods to fix the issue.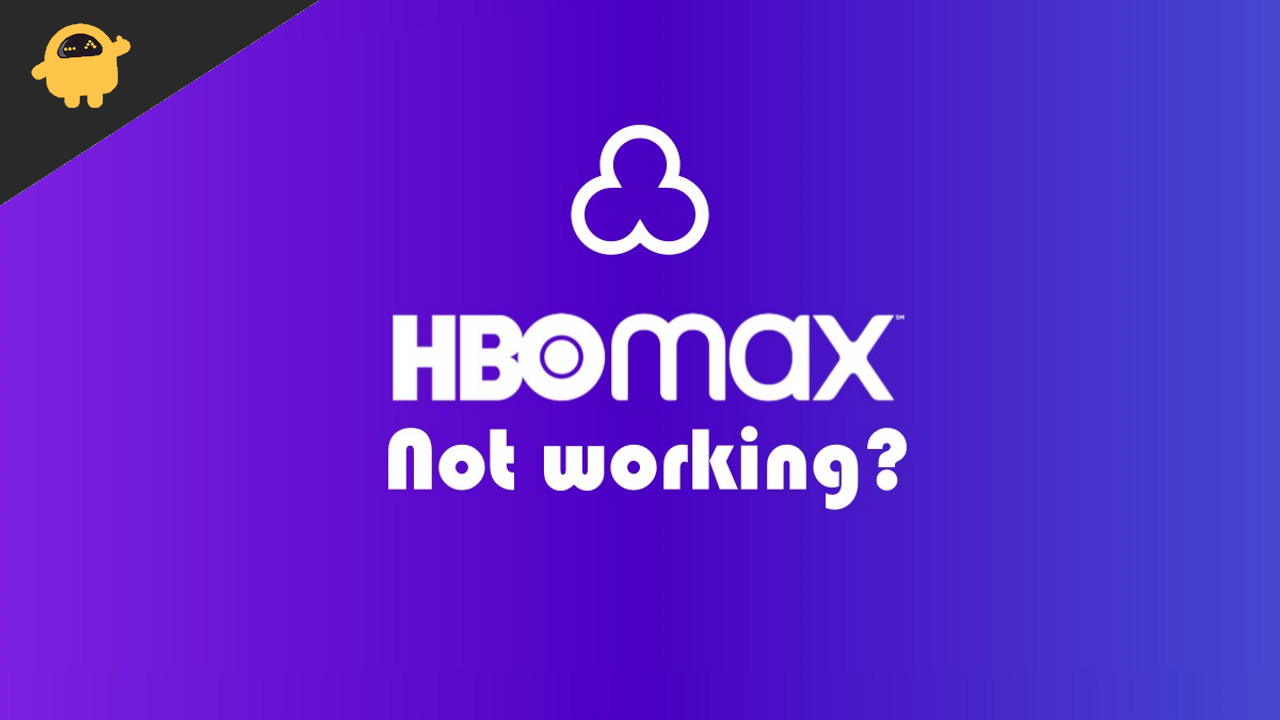 FIX: HBO Max App Not Working on Samsung, LG, Sony, or other TV
After a long hard day, you just want to watch your favorite shows on HBO Max. And nothing can be more frustrating than the HBO Max app not working. Such issues are quite common among smart TV users, and here s how you can fix them.
Reboot devices
This can be a little obvious, but rebooting your Smart TV and wifi router may help to solve the problem. Sometimes, the TV gets technical issues, and due to this app doesn't run properly. Such technical glitches can be easily fixed by rebooting the device.
Check HBO Max Servers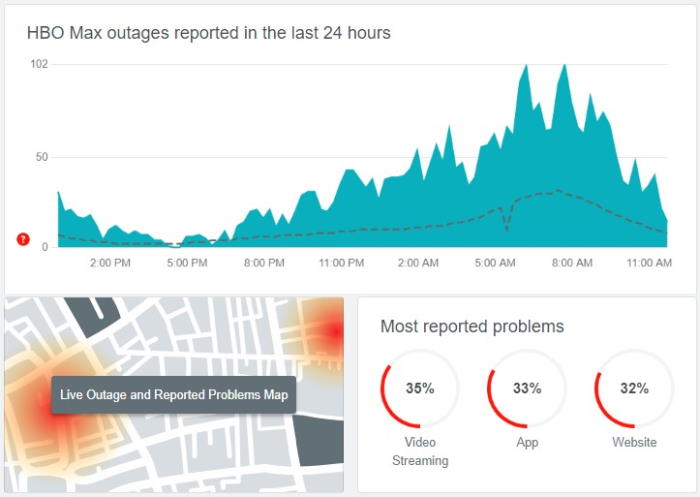 HBO Max has more than 60 million users, and to manage these huge numbers, developers have to run maintenance checks on servers from time to time. During such times, the servers are unreachable, and the HBO app will not work or load videos. You can easily check the downtime of HBO servers here, or you can check their official Twitter handle page as well.
Re-Login to Your Account
If you recently have changed your account passwords, then the app will not work as intended. You might have to re-login to the app with your new credentials to enjoy the services again.
Check your internet services
A working internet connection is very important if you wish to enjoy the services of HBO Max. Ideally, you need to have at least 1mbps speed if you need to steam in 480p resolution. In some cases, you might be using the cellular network, which is limited in bandwidth. So please troubleshoot your internet connection and also check with your ISP for new and better internet plans.
Update Smart TV OS
HBO Max uses the latest technology to make sure you watch your favorite TV shows and documentation with no lag or possible technical issues. But if your smart TV is running on some old version of Android, then the app might not work if properly or face request app crashing. That's the reason why the HBO Max app is not working on Samsung, LG, Sony, or other smart TV with old Android versions.
Open your Smart TV settings and navigate to software update.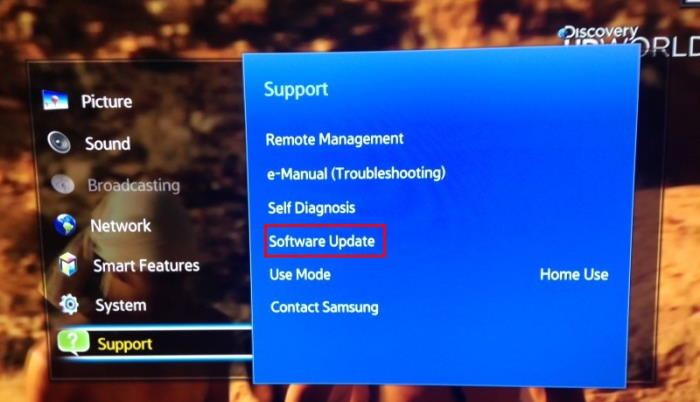 Here check for relevant updates available and install them by following the on-screen instructions.
Disable VPN services
VPN allows us to bypass any geo-restriction that HBO Max puts to limit the access of regional shows and documentaries. If HBO detects that you are using VPN services, they might disable the video streaming services to you, or the app might not work properly. Please disable your VPN services and then check whether the app is working or not.
In some cases, the VPN IP address gets blacklisted by some regions, and hence any services, including HBO max are not catered by such VPNs. We request you to please check the VPN services access and disable them in order to enjoy HBO Max.
Clear App Cache and Data
Streaming apps tend to keep video cache memory in order to give you better streaming services. But if this cache gets corrupted for unknown reasons, then you will face the app not working problem. But do not worry, as after clearing the app cache, you can fix this issue. Now all smart TV has a very similar method to clear an app's cache files. Here's how:
Open the Settings app and navigate to the Apps section.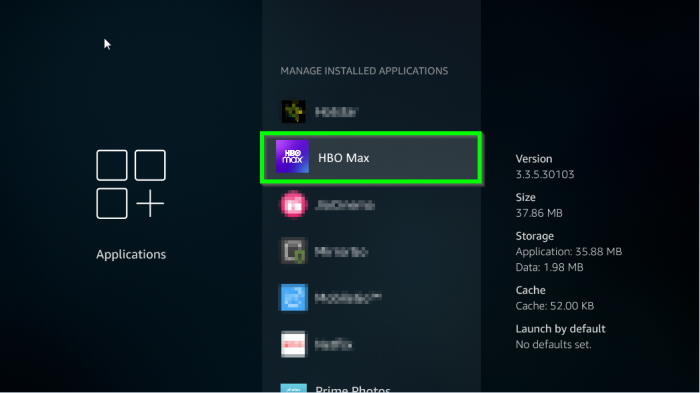 Here select HBO Max and click on the storage option.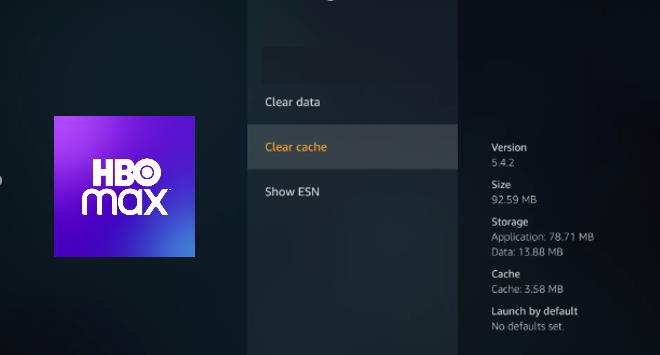 Now click on the clear data button. Once the data is cleared, restart the app and see if the issue is fixed.
Install HBO Max from TV Store
HBO Max is a premium app that you should update whenever new updates are released by the developers. In many cases, it is observed that people use HBO Max APK files from third-party websites, which sometimes work and sometimes do not. If you have also installed the HBO app from an untrusted source, we recommend you delete that and install it from the TV store app instead.
Conclusion
Just like any streaming service, HBO Max has more than 60 million users, and making sure that HBO Max is streaming properly on all these devices can be very tedious. Developers are working very hard to make sure the app runs well on all platforms, including smart TV. So make sure you keep the app updated with the latest version. And if the app is not working for some reason, you can follow the guide above to troubleshoot the problem.