Imagine that in your sleep, you are enjoying a wonderful dream, and suddenly your boring alarm tone wake you up. It is always very disgusting to hear a boring alarm tone. If you have Android devices with you, then you can set your favorite Spotify, Pandora, or Youtube Music playlist as your alarm tone.
Let's quickly go through how you can set it and wake up with pleasing heart music.
How you can use Spotify Music as your Alarm Tone on Android
The preliminary requirement for setting up Spotify music as an obvious Google alarm clock app and Spotify app should be installed. It is available free on the play store. For these, you do not need a premium version of Spotify. Do not forget to sign in to Spotify.
So quickly download the Google alarm clock app and Spotify app if you do not have it on your android device. For stock android phone users like Pixel, a Google alarm clock already comes installed. Let's move on to how to set it up.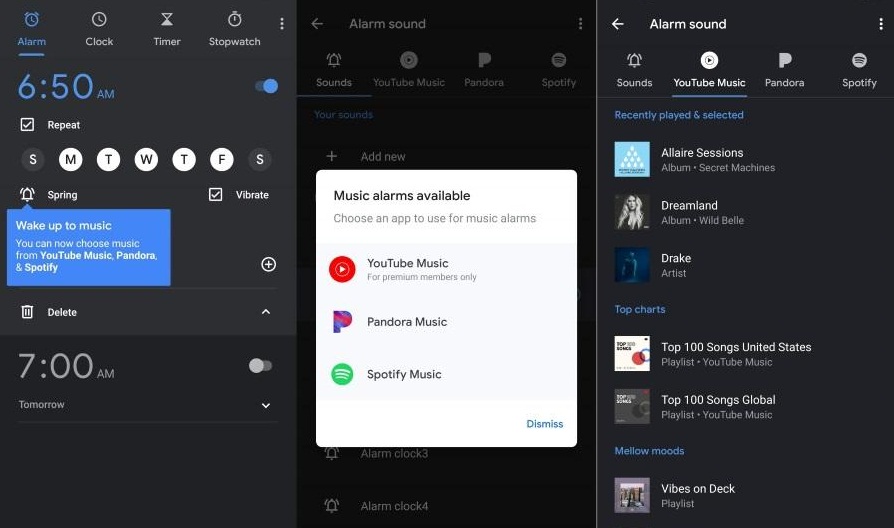 Open Clock app and tap on Alarm

If you have not set the Alarm, then you have to create a new one first. Click on an alarm and expand it

Now click on a bell icon, and it will take you to the sound settings

Select Spotify from the top of the screen

Now you have a playlist on your screen. If it is not visible, then you have to click on three dots on the right corner of the screen and choose Show Spotify

You can now set any track as your alarm tone. If you want to search for others, then you can search it and add it
The first time users are required to approve the linking between Spotify and Clock app so that it will play music as an alarm tone.
Once you turn off the Alarm, it will stop playing and show you one option of "Continue Playing." If you want to keep playing that song for you to get ready for your day, then you can click on that button and go on.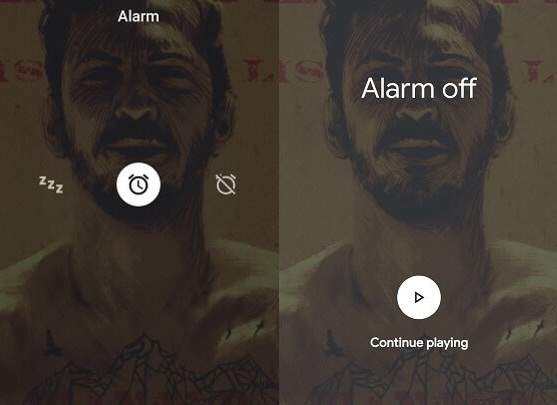 How to use Youtube Music or Pandora as your Android alarm tone
If you are not using Spotify, then no problem at all. The clock app supports Pandora and Youtube Music too. It's very similar to Spotify; you need to install and sign in to Pandora or Youtube Music. The clock app provides you with a shortcut for installing the app from the Google Play Store.
Just follow simple steps like tapping on the alarm tab in the Clock app and select a bell icon. Now you will see the Pandora and Youtube Music on the top of your screen. Go on and select the track which you want to listen to as your alarm tone.
We recommend you to change the track as after some time listening to one track may get you bored.
Let us know what you do to make your morning joyful by a wonderful alarm tone by dropping comments down below.