Huawei launched their new mid-range device, Huawei Enjoy 20 pro, in June 2020. After some dispute of Huawei regarding the privacy of the users, it has come up with some of the best devices in recent times to make them worth buying. Huawei's Enjoy 20 pro was expected to get a waterproof feature like most of the other flagships. However, we could not found any official information regarding the same. So let's check whether it is waterproof or not.
Most of the flagship smartphones which Huawei produces mainly comes with the waterproof feature. And today, Waterproof protection has become necessary feature and has quite good demand in the market. The waterproof device creates an extra amount of protection on your phone and also gives some great features like underwater selfies or using the phone during rain.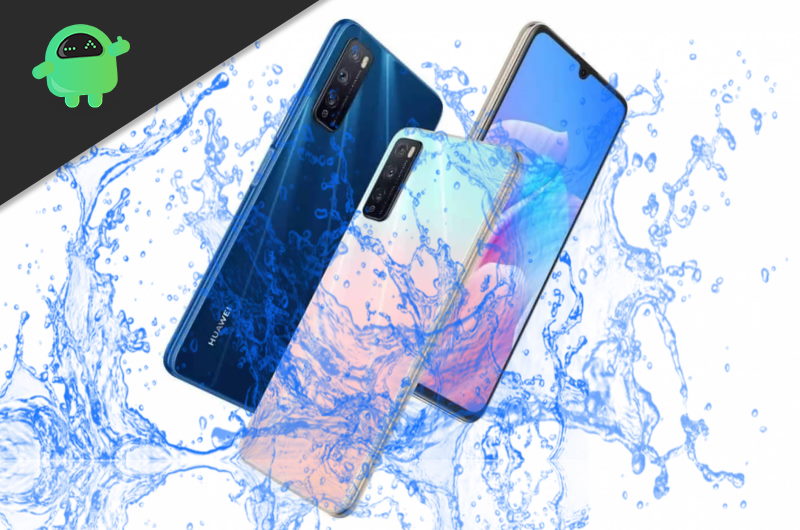 Did Huawei Launch Huawei Enjoy 20 Pro With Waterproof Ability?
Most of the people only buy waterproof devices to use them underwater. A waterproof device can easily work very fine under the water for a good amount of time. With a waterproof device, people can use some of the best features like underwater photography, underwater selfies, etc. These are the things that make the waterproof device very much demanding in the market. And a modern device should have these features.
But if we talk about the Enjoy 20 pro, then there are no official IP ratings of this device. However, the company claims it to have some water-resistant features. So, we can not consider it an official waterproof device. But we will do a test of it to check how much it can survive the water.
Huawei Enjoy 20 Pro Device Specifications
Huawei launched the Enjoy 20 pro with some of the best specifications. This device comes with a 6.5 inch IPS display that has a pixel density of 405 PPI. It runs on the Android 10 version and powered by the Mediatek Dimensity 800 chipset. This smartphone comes with two storage options 6GB/128GB and 8GB/128GB ram and internals, respectively.
You can also use a micro sd card to increase the storage up to 256 GB. The battery of this device is 4000 mah, which comes with 22.5w fast charging support. This device is available in 3 different color options, which include black, silver, and dark blue.
Huawei Enjoy 20 Pro comes with a triple rear camera setup. This includes the main camera of 48 megapixels, 8-megapixel wide-angle camera, and the two mp macro lens. The front camera of this device is 16 megapixels. This device also has 5G connectivity and a fingerprint sensor that is mounted at the side of the device.
Huawei Enjoy 20 Pro Waterproof Test
As you know that the Huawei Enjoy 2o pro does not have any official IP68 or 67 waterproof ratings. So, we can not consider it a waterproof device. But it some times claims to be a splashproof smartphone. So, it may withstand some of the water exposure. So, let's do check its result from the waterproof test.
Disclaimer
The waterproof test results are purely based on individual/team observation. These tests will only give an idea of whether a device is waterproof or not. We recommend users not to try this test at home, as it might damage your device.
| | |
| --- | --- |
| Display | Does not have any issues |
| I/O Ports | Fingerprint sensor is not working |
| Waterproof & Splashproof | Only Splashproof to some extent |
After doing the waterproof test of this smartphone, we get the result that this device is only splashproof, but not completely waterproof. You can not use it underwater or in a pool, as it may get damaged. The speaker of this device was working were well even after the test, but some of the buttons were not responding.
Conclusion
The waterproof test of the Huawei Enjoy 20 Pro shows us that it is only a splashproof device. It also does not have any official IP waterproof rating. So, if you want to buy this device for a waterproof feature, then it may not be a better choice considering its pricing.