A screen issue has been troubling iPhone 12 and iPhone 13 users since their inception. And now, the problem has also trickled down to the latest iPhone 14 model. When this happens, the screen on the iPhone completely freezes and goes blank. It does not respond to any touch inputs from the user.
There are several reasons why this could be happening with an iPhone. And if you are one of the troubled users, this article will help you. We have listed all possible solutions to fix the Black Screen of Death error in an iPhone 14 Pro or iPhone 14 Pro Max. So, without any further ado, let's get into it.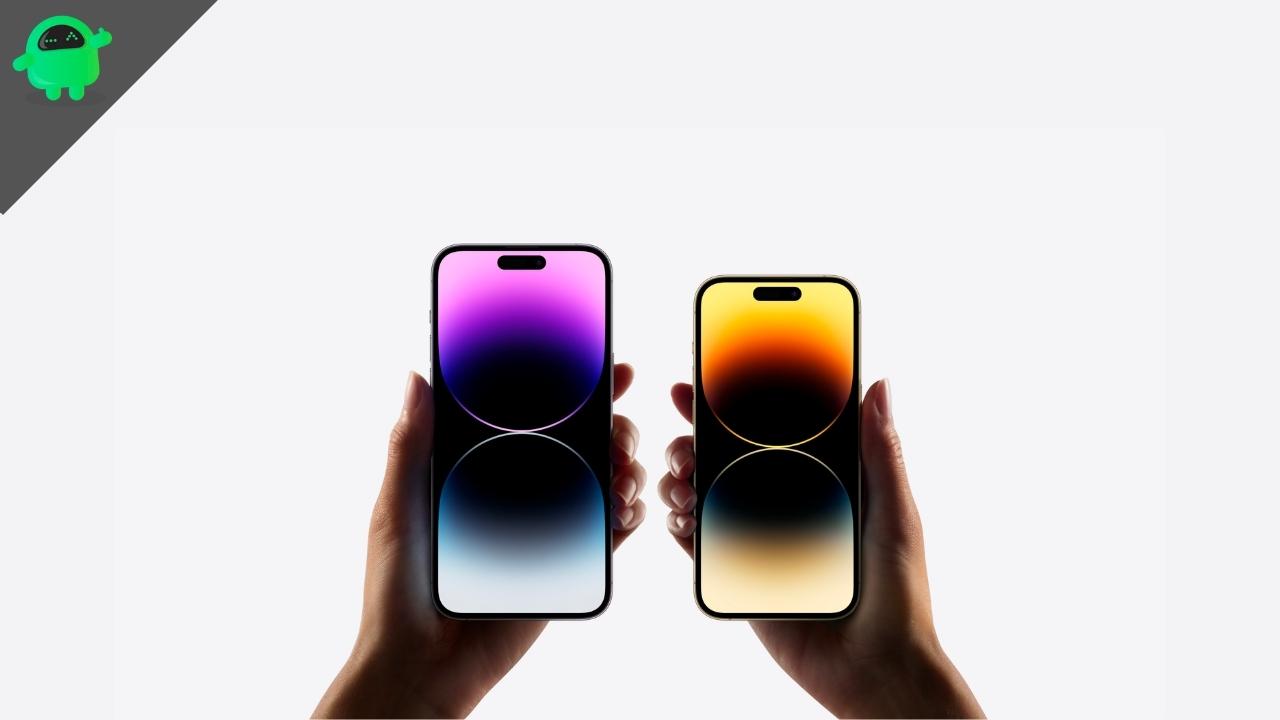 How Can the iPhone 14 Pro / iPhone 14 Pro Max Black Screen of Death issue be fixed?
There are multiple reasons why one could be facing this issue. There might be software update failure, crash, lousy firmware, malware attack, jailbreak attempt, dead battery, water damage, or even hardware corruption. With this in mind, we have mentioned all the possible solutions for you to try and fix the Black Screen of Death issue.
Use Apple's official charger:
Apple has a stringent policy when it comes to accessories. Only a few third-party accessories are fully compatible with Apple smartphones. Only the magnetic wireless charger and Apple's adapter are compatible with the iPhone 12, iPhone 13, and iPhone 14 lineup smartphones. So if you use a charger from any other company, that could cause your problems too. Since most other chargers are not compatible with iPhones, you must use Apple's default charger for your charging needs with the iPhone 14 Pro and iPhone 14 Pro Max.
Third-party chargers might push abnormal wattage into the smartphone, which is enough to cause a system freeze or Black of Death issue. So if you are using a third-party charger, switch to an original charger and check whether that solves your problem.
Try the next solution if the official charger also does not help you.
Force restart:
You can force a restart when your iPhone screen is not responding to your touch. In times of need, it is the only quick fix that you can try to start using your smartphone again. To perform the force restart, follow the steps mentioned below.
Press the Volume Up button and release it.
Then press the Volume Down button and release it.
Now, press the side button on the right of your phone until you see the Apple logo on your screen.
Once the logo disappears, your phone should boot up normally without any issues.
But if you still encounter the Black Screen of Death issue, try the next solution.
The Black Screen of Death occurs when the iPhone 13, 13 Pro, or 13 Pro Max display remains unresponsive, rendering the device unusable. But iPhone Black Screen of Death (BSOD) can be caused by various factors, including software glitches, hardware malfunctions, or conflicts with third-party apps. If you have encountered a frustrating issue known as the Black Screen of Death issue. it is thankful that a reliable solution called Tenorshare ReiBoot provides an effective solution to get your device up and running again.
Tenorshare ReiBoot is a powerful iOS system repair tool designed to resolve 150+ common iPhone problems like the Black Screen of Death, stuck on Apple logo, screen won't turn on, recovery mode loop, etc. Its user-friendly interface and advanced features make it an ideal choice for troubleshooting problems and restoring your iPhone to normal functionality and Reset iPhone without iTunes or Finder.
If you find yourself dealing with the frustrating Black Screen of Death issue on your iPhone 13 series device, follow the step-by-step guide!
After installing

Tenorshare ReiBoot

, launch ReiBoot and connect your iPhone 13 series device to your computer.

Select "Repair Operating System" from the menu, then follow the on-screen instructions to enter the firmware download mode.

Download the firmware package compatible with your iPhone model, and click "Start Repair" to begin fixing the Black Screen of Death issue.

Wait for the process to complete, and your iPhone will reboot normally.
Remove external screen protector:
The screen protectors we use on our phones often make the touch glitchy and unusual. In rare cases, an incompatible screen protector can even contribute to a screen not responding to simple touches and eventually ending up with a frozen screen or black screen of death error. To fix this, one should install only official Apple screen protectors on their phone and remove any pre-installed third-party screen protectors.
If removing the screen protector does not help your problem, try the next solution.
Update your iOS:
If you are one of those users who installed the latest version of iOS 16 right when it was available, then there is a chance that you are using a buggy build. The first build of a new update is mainly filled with bugs that make the device malfunction in most scenarios.
To address this, Apple will release updates that clear out the bugs in the previous build. So, if you have not updated your iPhone after the initial iOS 16 update, it is time to check for new updates immediately.
To check for a new iOS update, open up Settings on your iPhone and go to General. Then select Software Update, and if there is a pending update, it will show up here. If you see a new pending update, install it on your phone.
After the update, if you still encounter the Black screen of death issue, try the next solution.
Re-install iOS Firmware using iTunes:
As mentioned above, the software can also contribute to the black screen of death issue. You need to update or re-install your phone's firmware to address this. Since the screen is not responding to your touches, you can try to use the iTunes application. Just use the iTunes app on your PC and connect your phone to the PC via the cable provided by Apple in the box.
Then, using the iTunes application on your PC, you can re-install iOS 16 on your iPhone 14 Pro or iPhone 14 Pro Max. Remember that this process will clear out every bit of data on your phone. So if you have anything important to you on your phone, you should keep it or create a backup on your personal computer.
Once the reinstallation is complete, try using the phone normally again. If you still encounter the black screen of death, try the final solution mentioned below.
Check for any physical or hardware damage:
If none of the above solutions worked for you, it is certainly a hardware fault. You should check your smartphone for any physical damage, and if you spot anything, you should check the impact it could have on your phone's hardware. Other than this, there are some instances when the phone from the manufacturing plant has internal physical defects. In this case, only an Apple technician can help you out.
So in this scenario, the best possible solution for you is to take the iPhone to the nearest service center and inform them about your issue. Everything should be resolved without any costs if your device is under warranty. Ensure you have the proper billing documents for your iPhone to claim the warranty.
So these are all the solutions to fix the iPhone 14 Pro / iPhone 14 Pro Max Black Screen of Death issue. If you have any questions or queries about this article, comment below, and we will get back to you. Also, check out our other articles on iPhone tips and tricks, Android tips and tricks, PC tips and tricks, and much more for more helpful information.