Your iPhone is on, but the screen is black. Your iPhone rings, but you can't answer the call. This is a very common issue for iPhone and you are too facing the same issue with your iPhone 8 or 8 Plus. Here, in this article, we have discussed the simplest and straightforward methods to Fix if iPhone 8 Stuck on Blank or Black Screen.
A black screen is usually caused by a hardware problem with your iPhone, so there usually isn't a quick fix. That being said, a software crash can cause your iPhone display to freeze and turn black, so let's try a hard reset to see if that's what's going on.
There are mainly two kinds of reasons why your iPhone screen is black and won't turn on. Firstly, your iPhone could have a black screen of death because of a hardware problem, for example, your phone screen is broken or damaged after the device is dropped or water damaged.
Also, the iPhone black screen of death could be caused by a software problem, for example, a software crash can freeze your iPhone screen and make it turn black.
If the black screen of death on your iPhone is a result of hardware damage, you should take the phone to Apple Store.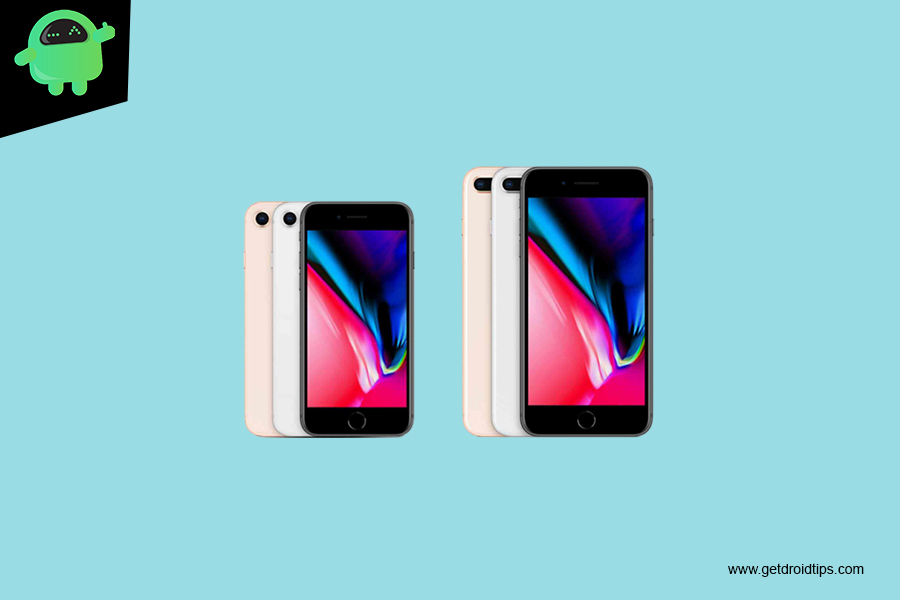 Fix, iPhone 8 Stuck on Blank or Black Screen
Force Restart
But since your device is not responding to touchscreen input commands given its current state, you will need to do the alternative restart method that is called force restart. It's still a soft reset but using the hardware keys. No data will be affected in the process so need to worry about data loss. Here's how it's done:
Press and quickly release the Volume Up button.
Press and quickly release the Volume Down button.
Press and hold the Side/Power button until the Apple logo appears.
Force Restart While Charging
Sometimes a device refuses to power on when they run out of power due to some bugs affecting the charging and/or power system on your iPhone. So what happens is that this bug is preventing your device from carrying out its usual operations from charging to booting up. A possible solution you can try on, in this case, is a force restart while your device is connected to the charger. Make sure your device has already accumulated enough battery charge to power up. Then follow the previous steps to force your iPhone 8 to restart while it's connected to the power source. See if that works. If not, then try the next applicable solution.
Reset All Settings
Tap on the Settings icon from the home screen on your iPhone.
Tap on General.
Next, scroll down to the bottom and tap on Reset.
Select Reset All Settings from the given options. This will erase the system settings and restore the original values or defaults without affecting internal data.
If prompted, enter your device passcode to continue.
Then tap Reset All Settings again to confirm.
Your iPhone should reboot automatically when the reset is complete. After the reset, configure individual options and enable core features including Wi-Fi networks to use them again on your device.
Restore your iPhone in iTunes via Recovery Mode
It's an advanced type of iOS restore you can do when dealing with more intricate system errors that caused a device to malfunction. In this case, you will need to put your iPhone in a recovery mode state first and then restore iOS in iTunes.
Press and quickly release the Volume Up button.
Press and quickly release the Volume Down button.
Press and hold the Side/Power button when you see the Connect to iTunes screen. Do not release the buttons when you see the Apple logo since you'll need to enter recovery mode.
On the next screen, you should see the option to Restore or Update.
Select Update first to update iOS. Otherwise, select the option to Restore.
Wait for iTunes to attempt to reinstall iOS without erasing your data. iTunes then downloads the software for your device. If the download takes more than 15 minutes, your iPhone exits the Connect to iTunes screen. If this happens, wait until the download is finished then go back to the previous steps to enter recovery mode again.
Restore your iPhone in iTunes via DFU mode
It's regarded as the deepest type of system restore you can do on your iPhone. It allows your device to communicate with iTunes on a computer without loading the operating system or bootloader
Here's how to perform a DFU mode restore on your iPhone 8:
Close any running programs on your computer.
Connect your iPhone to your computer using the Apple-supplied USB connector or Lightning cable.
While your phone is connected, press and hold the Side/Power button for about 3 seconds.
Keep pressing on the Side/Power button then press and hold the Volume Down button for about 10 seconds. If the Apple logo appears, it means you've held the buttons too long and that you'll have to start all over again.
If you see no logo, release the Side/Power button but keep holding the Volume Down button for another 5 seconds.
If the screen stays black afterward, it means that you have successfully entered DFU mode. At this point, you will be prompted with an alert message on your computer saying that iTunes has detected your iPhone. If you see that message, follow the onscreen prompts to complete the DFU mode recovery process.
If you see the Plug into iTunes screen, it means you haven't entered DFU mode and that you will need to start all over again.
If none of that works, then most likely what you're dealing with is a hardware problem.
Get iPhone Screen Repair Service
If your iPhone screen turns black after screen replacement or after the phone has been dropped/ water-damaged, the black screen of death is probably caused by hardware damage, especially when the iPhone screen is black but the phone is still on.
If you fail to fix iPhone black screen with the above methods or the iPhone screen went black but the phone still works, you should get an iPhone screen repair service from the local store. If your iPhone is still under warranty or the AppleCare plan, take the phone to the local Apple store to get help.
Conclusion
That was it, this was the easiest way to Fix if iPhone 8 Stuck on Blank or Black Screen. Are you facing any problems and issues with your iPhone 8 Series? Then there is nothing to worry about, we have an article dedicated to iPhone 8's issues and guides. Here is the iPhone 8 Troubleshooting Guide. Although it's rare, some cases of the issues on Apple devices may have bad hardware as the origin. If a factory reset won't help in fixing your issue, visit your local Apple Store or Service Center so a qualified technician can examine the hardware. If needed, they may send it in for repair or replacement.
Do you own an iPhone 8, or any Apple device and need these types of simple tutorials? Then stay tunned to GetDroidTips' iPhone Tips & Tricks column because many simple tutorials for Poco are coming soon.

If you have any queries regarding this, the comment section always available for you.