Lost Ark is one of the top-down 2.5D fantasy massively multiplayer online action role-playing games (MMORPG) that has been co-developed by Tripod Studio and Smilegate RPG back in December 2019. Although the game is doing really well, some unfortunate players are having the Lost Ark Purchase Failed for the Royal Crystals issue during the gameplay which is quite frustrating. Now, if you're also facing the same issue, you can follow this guide to fix it.
According to a bunch of reports on the Lost Ark forum, it seems that an unlimited number of players are getting affected while trying to buy Royal Crystals from the store in-game. It basically says purchase failed whenever players are trying to pick any of the crystal options. Although the support team has provided a couple of possible workarounds to deal with this issue, not everyone is lucky enough to resolve this particular problem.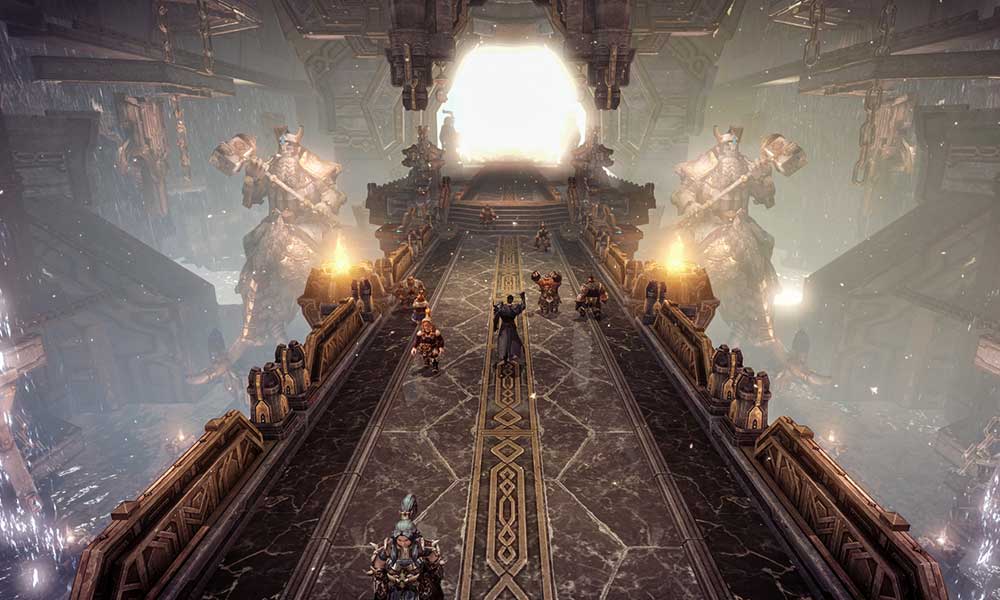 Fix: Lost Ark Purchase Failed for Royal Crystals issue
It's worth mentioning that Lost Ark server maintenance may take place sometimes for patch fixes or improvements. Now, if you're still facing the issue then you can follow the official @playlostark Twitter handle for all the latest updates and info regarding patch notes or any sort of widespread issues. It looks like that at the time of writing this article, players might have encountered issues with purchasing Royal Crystals in the game.
Maintenance has been completed and the servers are back online. Thank you for your patience. https://t.co/2eklaaXHnG

— Lost Ark (@playlostark) March 24, 2022
Some players may be able to purchase crystals but that's rarely happening. Meanwhile, we've provided all the troubleshooting methods below that have been suggested by the support forum to the affected players. So, without wasting any more time, let's jump into it.
1. Close the Lost Ark completely
First of all, you should close the Lost Ark game completely from Steam and exit Steam too. Reloading the game can fix such issues in most scenarios.
2. Force Stops Steam
Try force-stopping the Steam client because even a temporary glitch can cause multiple issues whatsoever. After exiting Steam, make sure to right-click on the Steam icon from the taskbar and select Quit/Close. You can also directly jump into Task Manager (Ctrl+Shift+Esc) and End Task of Steam under the Processes section.
3. Run Steam as administrator
Another thing you can do is simply run the Steam client as an administrator on your PC by following the steps below to grant the user access control.
Right-click on the Steam exe shortcut file on your PC.
Now, select Properties > Click on the Compatibility tab.
Make sure to click on the Run this program as an administrator checkbox to checkmark it.
Click on Apply and select OK to save changes.
4. Verify game files on Steam
Sometimes running corrupted or missing game files on the PC may also trigger several issues with the game launching as well as in-game tasks. So, it's better to verify the game files via Steam which will automatically fix if any game file is missing or corrupted. To do that:
Launch Steam > Click on Library.
Right-click on Lost Ark from the list of installed games.
Now, click on Properties > Go to Local Files.
Click on Verify Integrity of Game Files.
You'll have to wait for the process until it gets completed.
Once done, just restart your computer.
5. Re-launch Lost Ark
You should also reboot the PC to clear out temporary glitches or cache data issues of the system. Then you can try re-launching the Lost Ark game via the Steam client to check for the issue again.
6. Disable Steam Overlay
Having Steam overlay enabled on the PC may come in handy in several ways, especially while in gaming. But sometimes it can also cause multiple issues with the system resources because it always runs in the background and takes a lot of CPU/Memory usage. So, turning it off while gameplay can fix the issue.
Open the Steam client > Go to Library.
Now, right-click on Lost Ark > Select Properties.
Head over to the General section > Here just uncheck the Enable Steam Overlay while in-game checkbox.
Note: If it's already unchecked then you can jump into the next method.
7. Purchase Cancelled or Service Interrupted
Purchases within the in-game store require you to confirm your selection before completion. This error message may appear as follows:
If you cancel the purchase before it completes.
If you experience any kind of service interruption during the purchase process like poor internet, payment issues, payment processing delays, transaction not completing at your bank's end, etc.
8. You've Reached the Purchase Limit for this Product
There is a limit to the number of times that you can purchase some in-game store products. For example, there is a weekly purchase limit apart from single or one-time-only purchases. If you try to make a purchase an item consistently that fails to complete then you may get such errors. So, ensure you're not running out of your purchase limits by retrying multiple times unnecessarily. If there is an issue, after a second attempt, you should wait for a few hours.
9. Contact Amazon Games
If none of the methods worked for you then make sure to contact Amazon Games for further assistance. If required, raise a ticket to solve so the developers can take a deep dive into it.
That's it, guys. We assume this guide was helpful to you. For further queries, you can comment below.