Do you feel that your iPhone's sound is not loud enough.? When someone calls you up, you don't hear the ring. Again, you may try to play music or video from your iPhone. The sound output you hear may not be sufficiently audible. There are a few ways to make your iPhone louder. Some of them involve tweaking a little bit of audio and iPhone settings.
There are some silly ways as well but I promise that even works wonder. You will hear the sound output pretty loudly from your iPhone if you follow the tips that I have shared in this guide. Even tweaking the EQ settings and setting the equalizer to a particular mode can make your iPhone ring loudly. If you have a set volume limiter on your device, then that can cause the sound to exert less than usual presence. Let us get into the guide and fix all these factors to make your iPhone louder.
Tricks and Tips to Make Your iPhone Louder
So, here are some of the tips that involve accessing the iPhone sound settings and adjusting a few features.
Turn off the Volume Limiter on your iPhone to Make it Louder
iPhone is one of the technically advanced devices. So, Apple has provided this feature Volume Limiter to control the volume level so that the user's hearing is not affected by that. It's a great feature no doubt but if you are missing out on important phone calls and alarms, then that needs to be fixed.
Go to the Settings app
Then navigate down to Music
Under that, you will find the Volume Limit
You can turn it off
Otherwise, if it's On, make sure to drag the volume slider to the maximum
Now, when the phone rings in case of a call or alarm, the sound will be really loud and audible.
NOTE: Keep in mind that if you have updated your iPhone to iOS 14, then you may not see the Volume Limiter option in the music section.
Instead, go to Settings > Sounds & Haptics > Ringer and Alerts. Slide the volume bar to the maximum. You will even hear the sample ringing volume as you drag the slider. As per your convenience, set the volume.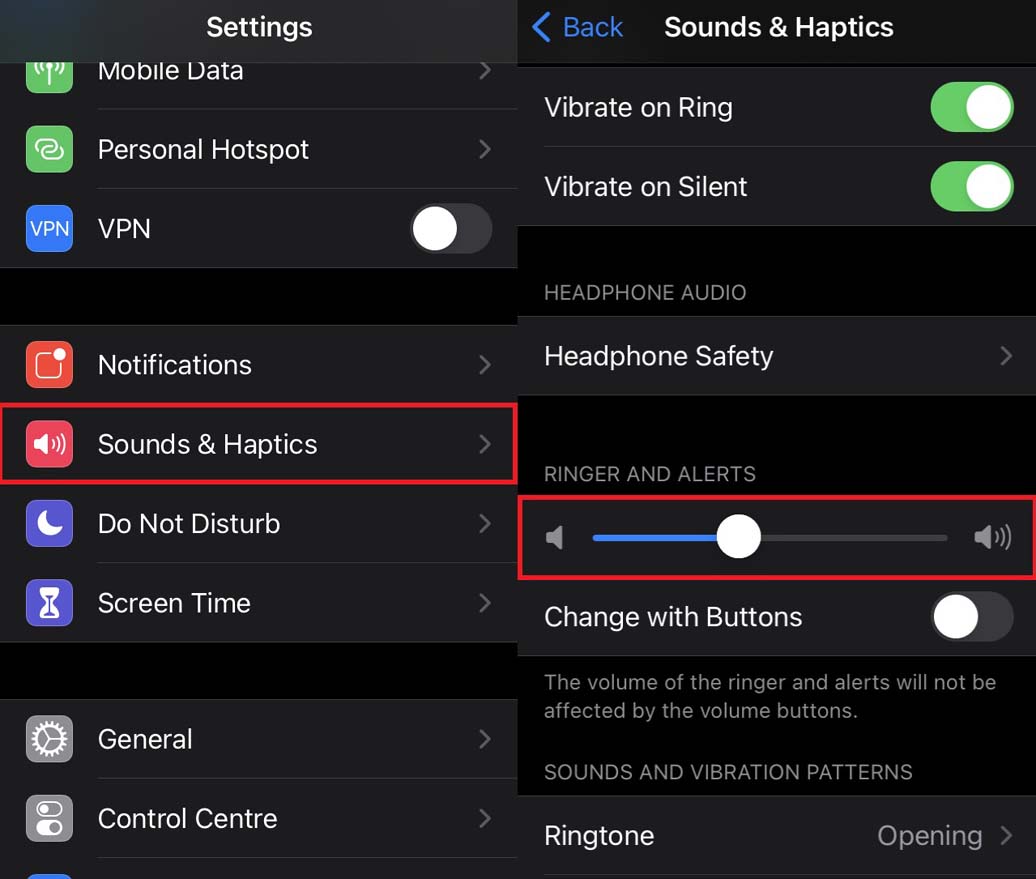 Enable iPhone EQ and Set it to Late Night
Before you get confused about what Late Night is, it is an EQ option that you have to set to get make your iPhone sound louder. To set it, you have to first enable iPhone EQ.
Go to the Settings app and open it
Scroll down to Music
Inside Music, tap on EQ
EQ will have a list of presets

Navigate to Late Night and tap on it.
Unconventional Methods to Make Your iPhone Louder
Funny it may sound, but you can try to position your iPhone in an upside-down form. Normally, the speaker grill of the iPhone is at the bottom. So, if we keep them upwards then definitely the sound output may have the better presence to it and make it more audible for you. There are phone stands available that you can use to keep your phone in a bottom-up manner.
Secondly, you can try to put the phone in a bowl. Again, I may sound silly but this is actually an effective hack in getting a loud sound on your iPhone speaker. When you keep the phone side the bowl and it rings up for call or alarm, then the sound will reflect on the surface of the bowl. Thus, it will lead to loud sound output.
So, that's all about how to make your iPhone sound louder. If you like this guide, do check out our other guides regarding iPhones.