YouTube is an online video streaming platform owned by Google. YouTube lets you stream exciting videos on your smartphones, tablets, computers, and TVs. Certainly, it is the most viewed online video platform that has more than 15 billion viewers on average.
Now, this YouTube does not contain any problem so far, but some of our users have complained that they are unable to hear anything. There is no sound coming out when they are playing any YouTube video. So this came to our ears, and we are hence out with the fixes for you. If you're facing the same issue, don't worry, you've landed on the correct page. So let's get started.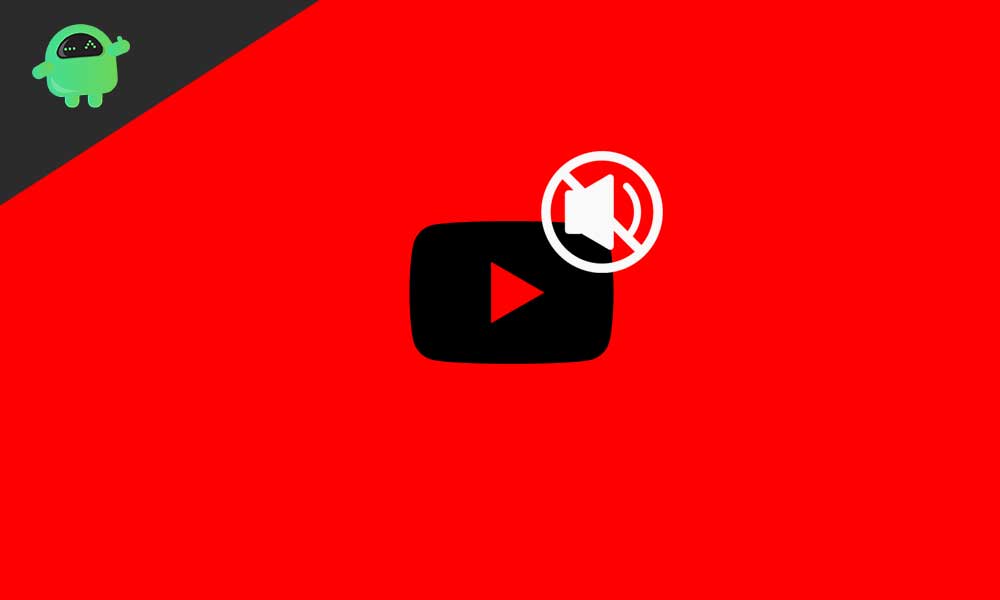 Why is there No Sound on YouTube Videos?
There can be many reasons for no sound on YouTube. Starting with the external hardware changes to simple software errors. And most of them are done by the users themselves, but they don't remember. Some issues are also caused due to Adobe Flash Player, although flash player won't be an issue for Google Chrome users as it features an inbuilt flash player. Some times the plugins are not accurate, or an extension may cause an error. Numerous tiny issues can produce no sound output on YouTube. By the time you reach the end of this guide, we are sure you will be able to solve all your YouTube-related problems. So let's continue our guide
How to Fix No Sound on YouTube Videos?
Now we will give you the best fixes to solve this issue, but before that, we want you to check that the sound isn't disabled on your YouTube videos. To check that, simply open a video and correct at the bottom left corner if you see any speaker cross marked, and the volume is full. Now let's get on to the fixes.
Fix 1: Check the Volume of Your Device
The first thing you need to do is to check the system sounds of your device. To do this, simply follow the steps below.
At the bottom right on your taskbar, locate the speaker icon
Click on that and turn up the system volume
After that, right-click on the speaker icon and select "Open Volume Mixer."
Then check that all the volume bars are turned up.
After doing all this, your YouTube sound might come back to normal. But if it did not, don't worry, we have more fixes for you.
Fix 2: Check Your Browser
Now to next thing, you need to do is check your browser. Try to check for the plugins and extensions that can cause an issue with the sound. Or try switching the browser. Play the YouTube video in another browser that is available and check if there is any sound coming or not. Restart the browser after checking then change the sound mixer settings then again try. If all fails consider moving on to the next fix.
Fix 3: Clear Browser Cache and Cookies
If you have checked with restarting the browser and all the sound settings, its time to clear the cache and cookies that might are corrupt and don't allow playing sound. If you're using Google Chrome, follow the steps below to clear cache and cookies from your browser.
Open your browser by double-clicking on it.
At the top right corner, you will notice three small horizontal dots. Click on that.
Then select Settings.
In the settings menu, scroll down a bit and see under the "Privacy and Security" tab there is "Clear browsing data" click on that.
Check the boxes that show cache and cookies now click on Clear Data.
Doing this will clear all the cache and cookies from the browser that were corrupt, and your sound might return to normal. If this does not helps move on to the next fix.
Fix 4: Uninstall and Update the Browser
Uninstall or updating the browser can be the solution if the problem appears only on the browser. We suggest playing a piece of local music from your storage first before performing this step. Now let's go the steps you need to follow.
Click on the file explorer.
After that in the file explorer window, at the top right side click on the Computer Tab.
Then select "Uninstall or Change a program" then uninstall your browser with the on-screen instruction.
After the uninstallation, try to download the updated version from the store.
This might fix YouTube with no sound problem for many users. But if the browser is not your problem, move to our next fix.
Fix 5: Check the Sound Card Driver
Checking and updating the Sound Card Driver will solve most of the audio-related problems form your device. To do this, follow the steps below.
Click on the start button.
Now in the search box, type "Device Manager" then press the enter key
Then click on "Sound Video and Game Controller" and click on the small arrow at the left side to expand.
Now double click on "Realtek High Defination Audio."
In that context menu, click on uninstall
Uninstall the driver and restart your PC.
Now after a restart, go to your manufacturer's website and download the audio driver.
Install that driver
Now after the installation is complete restart your computer to check if your issue is solved. If not consider moving to our next fix
Fix 6: Run the Audio Troubleshooter
Running the audio troubleshooter will solve all the problems as it will connect to Microsoft support for addition files and features that are corrupt. To do this, follow the steps below.
Right-click on the sound icon at the taskbar
Then select "Troubleshoot Sound Problems."
This will guide you through the process, and you will be able to regain your sound. But wait we have one more fix that will help you.
Fix 7: Restore Your Device
If your device earlier did not have any sound problem earlier, then this will be your best solution because after doing all the above steps, only this solution comes handy and probably is the best. To do a proper system restore, follow the steps below.
Click on the start button
Then in the search box type "Recovery" and press the Enter Key.
Now select the option which tells "Open System Restore."
Then restore your PC with the recommended restore.
After this solution, your problem will be solved entirely. In case it isn't resolved, you can also go on with a fresh installation of windows. But in any case, your system is still unable to provide sound, and then there might be a hardware issue for which you may need to visit a service center.
Conclusion
This guide was all about the users who had an issue with music or audio not playing on their YouTube. We hope this guide was helpful to you. If you have any queries or feedback, feel free to comment down below with your Name and E-mail ID. Likewise, check out our iPhone Tips and Tricks, PC tips and tricks, and Android Tips and Tricks for more such tips and tricks. Thank You.