Imagine you are enjoying your favorite movie or TV show when suddenly the screen goes black. The problem of "Black Screen" on Amazon Prime Video is a very common issue and can happen on any device including Android, iPhone, laptop, or any streaming device like Roku or Fire Stick. In most cases, it's due to outdated software and can be fixed by simply updating the Amazon Prime app to the latest version.
Amazon Prime Video is Amazon's premium on-demand subscription-based home video service. On monthly to yearly subscriptions, it provides consumers content, ranging from top Hollywood shows to your local TV hits along with original content. But it can be quite challenging when you want to watch your favorite movie or TV show just to find that the screen is going black every time you try to watch it. So here are some troubleshooting steps which will help you to overcome this no matter what device you are using.
Fix: Amazon Prime Video black Screen Issue
Is your Amazon Prime video having a Black Screen issue and you are not able to watch your favorite movie or TV show? Don't worry, as this black video screen issue is very common and can easily be fixed. In most cases, the issue just fades away after a simple device reboot. Here are some troubleshooting methods you can follow to fix this.
Reboot your Device
Sometimes rebooting the devices is the easiest and the best way to fix issues with Amazon Prime video issues. When you reboot your device,e we also recommend users reboot their wifi routers as well.
Crosscheck internet connection
If you face the black screen issue while watching your favorite movies or TV shows then the most probable reason is slow network speeds. Amazon Prime needs at least 2Mbps internet speed to run without any buffering. Please connect with your internet service provider to increase your internet speed.
Update Amazon Prime app
If you are using the Netflix application and still facing difficulty watching your favorite content, try updating the app. Amazon Prime releases new app updates every month or so. These updates bring new features and added functionality, so make sure to update the app.
The process of updating Amazon Prime may vary on the type of device you use. If you use Android or iPhone, then you can go to Playstore/Appstore to update the app. If you use streaming devices like Roku or Firestick, you can update the app via app settings there.
Disable VPN services
Amazon Prime is an OTT video streaming service and they need to cater to the video demand from different regions. Not all content is available to watch and the availability or language choice differs based on your location. So if you use any VPN service to connect to a different region, then you will face several problems like Amazon Prime Video Black Screen Issue. Make sure to disable or turn off VPN apps before using Amazon Prime.
Disable overlay apps
All on-demand video streaming services have to cater to DRM regulations where any third-party app cannot record what is appearing on Amazon Prime. And if there are any such apps, then Amazon Prime will go into black screen mode.
Most famous overlay apps include Facebook messenger, Bluelight filter, Day-night mode etc. These apps have permission to draw over your screen. You can either uninstall these apps or revoke their overall permission from settings.
Nowadays smartphones are coming with features like Night mode or Dark mode which can dim the screen so cause less strain to your eyes. This can also create issues related to a black screen. So make sure to disable these modes while watching Amazon Prime.
Install VLC media player
If you use your laptop or computer browser to stream Amazon Prime, then this method will fix the issue. In most cases, the screen goes black because the computer is not able to render the video. This is due to incompatible browsers or video codecs. Now it gets very tricky to find the right drivers or video codecs to install on your computer.
The VLC media player is a freeware video player application, which comes bundled with different video drivers and codecs to support Amazon prime video needs. Once you install VLC, the issue of the black screen will go away.
Update Browser
If you primarily use your browser to stream Amazon Prime services, then you need to make sure that the browser you use is updated to the latest version. The most recommended browser for streaming videos is Google Chrome as it comes with the latest updates.
Troubleshoot Display connection
If you are using Amazon Prime on any streaming device such as Roku or Firestick, then you have to connect the streaming device to your output TV. So pls check your HDMI cables for any possible wear and tear. Any loose connection or damaged cable will lead to a black screen issue. If you find any damaged cable, change the cable immediately with a new one.
Clear App cache
If you have been using the Amazon Prime app on your smartphone, then you might need to clear your app cache from time to time. App cache is temporary storage that your app keeps to give you a streamlined viewing experience. But sometimes this cache gets corrupted and you face issues like a black screen.
Open the Settings app on your smartphone and navigate to the Apps section.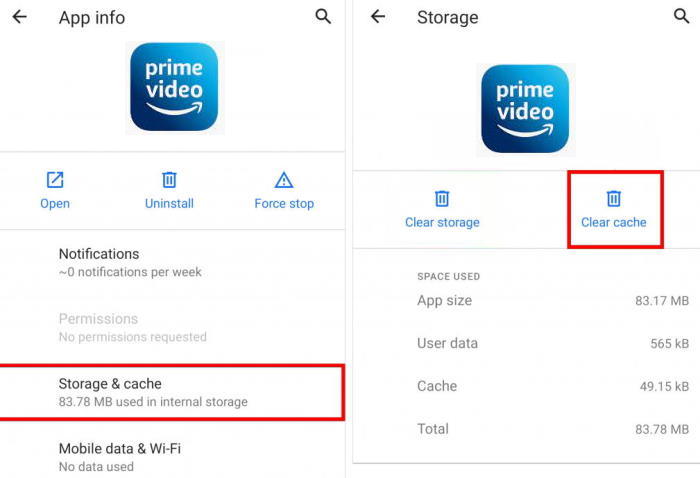 Here find Amazon Prime App and click on the clear cache button.
Note: For iPhone users, there's no way to clear cache, so users have to uninstall the app and reinstall it from the App store.
Crosscheck resolution
In many cases, the resolution of the video is much higher than your TV can support. In such cases, you will see the black screen issue and this is very common when you are chrome casting your smartphone display to your TV. We recommend you lower the resolution and avoid playing in full HD resolution if you have a smaller TV display.
Conclusion
A black screen is a common error on every streaming service and Amazon Prime is no exception. Although the above troubleshooting methods will help you to fix the problem. But if not, then we recommend you to download the shows and then watch them until you find a suitable solution. The above methods will work for any device you have including Android, iPhone, computer or Roku.