While sometimes you might face an issue or two with your games, other times, the problem might stem out from the console itself. We have already listed out the ways to fix PS4 Error Code CE-32930-7 and PS4 Cannot Download Corrupted Error CE-36244-9. However, there's another pretty common error that has started bugging quite a few users as of late. Many PS4 owners have complained about the Error Code WS-37505-0 on their PS4 console. This error isn't because of the game that you might be trying to currently access.
This is another one of those errors that is directly related to the console itself. One of the major reasons of this error is when the connection between your PS4 and the server isn't successfully established. But this doesn't really mean that the PSN servers are down. There could be some other reasons directly from your console itself leading to this issue. Fortunately, in most cases, you could easily identify the real culprit and hence act accordingly. With that said, here are the required instructions to fix the PS4 Error Code WS-37505-0. Follow along.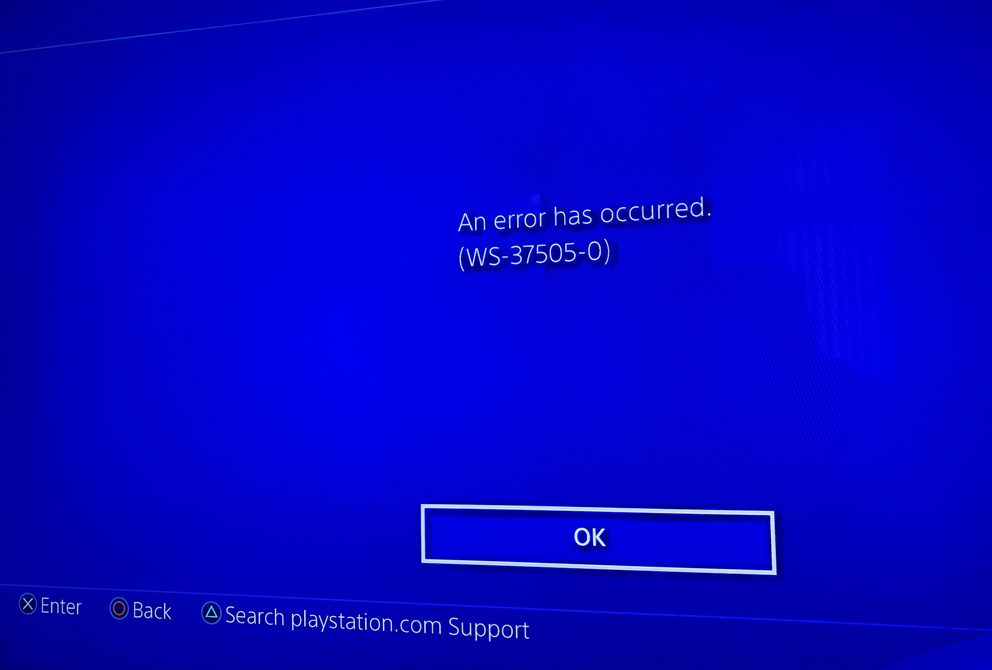 PS4 Error Code WS-37505-0: Potential Fixes
There are quite a few users who are facing this issue. Across the Reddit forum as well, some concerned users are voicing their displeasure over this and are looking for a fix at the earliest.
Nit only that, even across the microblogging site Twitter, people are asking for help to rectify this issue.
I'm receiving this notification when I try to access the PS store or any PSN features.
Steps I've already taken:
-Checked PS Services (says network is up)
-reset router and ps4
-tested connection (no issues)
-rebuilt database
-repeated above steps

Error code: WS-37505-0#help pic.twitter.com/WdUOj4KBU2

— Zac Schubey (@Schubeasty) May 5, 2019
So if you are among one of them, then you have landed at the right place. In this tutorial, we have listed some of the potential fixes for the aforementioned errors. Try each one of them until you achieve success.
Check PSN Status
First and foremost, you should check the status of the Play Station Network. it might be the case that the PSN network might be temporarily unavailable. Or the game servers might be down as well.
Head over to the game developer's website and see if everything's fine on their end.
If game's server are working well and good, then check the status of the Play Station Network. For that, you might consider heading to their network service status page.
If it is a server issue on their end, then the only thing you could do is wait until the networks are up and running again. If the servers are running fine, and you are still facing the PS4 Error Code WS-37505-0 issue, then proceed to the next fix given below.
Run the Internet Connection test on PS4
You should also try running the internet connection test on your console and check whether there are some issues with your home network or not. To do so, head over to [Settings] > [Network] > [Test Internet Connection] and make sure you can connect to the network. If not restart your router or change the network connections if possible and see if the PS4 Error Code WS-37505-0 is rectified or not.
Make sure Ports are Open
The Play Station Network servers make use of the following port numbers to access your routers.
TCP: 80, 443, 3478, 3479, 3480.
UDP: 3478, 3479.
If the abovementioned port numbers are blocked on your routers, it is anything but obvious that you will be greeted with the said error message. Therefore, log in to your router dashboard, (you could search Google for your router's IP Address) and for the credentials, username and password are usually <blank> and <blank> or Admin and <blank> respectively. Once you are logged in, follow the on-screen instructions to unblock the above listed UDP and TCP port numbers. This should fix the PS4 Error Code WS-37505-0 error. If not, here is what else you could do.
Other Possible Fixes
If none of the aforementioned tips managed to fix the issue, then here are some handy tips that more often than not work out.
Restart your PS4 console.
Update your router to the latest version.
You should also consider turning off all the other devices connected to the router or reduce network stress.
So this was all from this guide on how to fix the PS4 Error Code WS-37505-0 error. Anyone of the above tips should have worked out in your favor. Do let us know as well in the comments which one of the methods managed to rectify the issue. On that note, here are some useful iPhone Tips and Tricks, PC tips and tricks, and Android Tips and Trick that you should check out too.